Are you busy getting ready for back to school season? It is just a few more weeks here before my girls return to school and I return to a more normal work schedule. Of course, a new school year means that we have some shopping to do. We are pretty good on clothes, but our school supplies sure take a beating each year. So those are the kinds of items we usually find ourselves replacing. As a mom of three girly girls I consider myself something of an expert on what girls like. All of the following school supplies for girls come with a seal of approval from my three daughters. Of course, boys would probably like lots of these items as well, but I can only speak for my girls. For some fun lunch ideas and free printable notes check out Back to School Lunch Ideas and Lunchbox Notes.

School Supplies for Girls
Unicorn Pencil Case Your kids will love carrying their pencils and other small school supplies to school with this adorable pencil case featuring a 3D unicorn on the front!
Trendy Fashion Back to School Bundle If you're looking for a one-stop-shop, then this bundle is for you! Lots of cool fashion supplies like folders and notebooks and some of the everyday basics like colored pencils and highlighters.
Colorful 3 ring binders Why settle for a solid color binder when you get ones as cute as these?? Even though these are cute school supplies for girls, I may just pick up some of these binders for myself.
Crayola inspiration case art supplies This case full of art supplies will help your girl put all of her ideas into pictures and will help her keep her supplies organized as well.
Scented pencils-5 pack Scented everything seems to be the rage at the moment, and now your girls can get their scented pencils to enjoy as they complete their homework each night!
Swirled gel pens Gel pens are a lot of fun and can be used to decorate anything and everything! The fun is even better with these swirled gel pens - you can use more than one color at a time!!
Cute cat pencil bag This cute little cat pencil bag has two different compartments in it to store all of your child's small school supplies.
Expanding file folder This expanding file folder has 13 compartments and is as functional as it is adorable!
12 count decorative folders She can keep all of her papers organized while looking stylish with these fashionable folders!
Crayola Metallic crayons Take coloring up a notch with these awesome metallic crayons from Crayola.
Fashion mechanical pencils What's not to love with these mechanical pencils?!? Great eye appeal, thicker lead for less breakage, and a thicker size to make writing easier for kids!
Swirly retractable pens The school might not allow for colored ink for writing assignments, but that doesn't mean that the pens can't be fun. They may write with black ink, but these are not your typical black pens.
Burlap pencil pouch It's convenient to have a pencil pouch in your binder. Why not make it a cute one?
Cut Cat Composition notebook Composition notebooks don't have to be boring. This adorable composition notebook proves that!
This First Day of School sign printable is perfect for celebrating the 1st day of school. Print out the sign that corresponds to your child's grade level and have them hold it for a back to school photo. Since this printable bundle contains 16 grades, you can buy this once and use it over and over again through the years. Get your 1st Day of School printables here.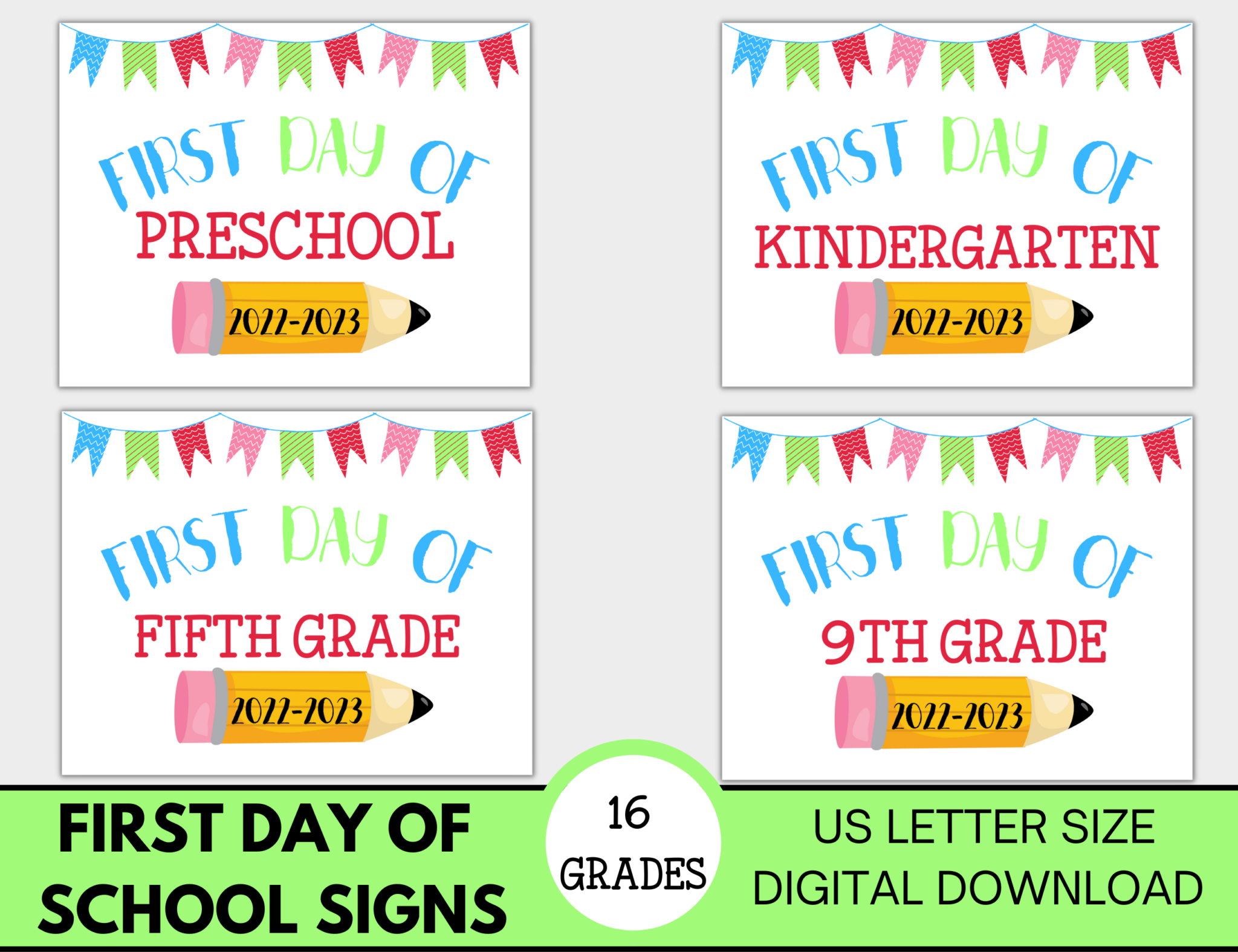 GOT A CRAFTY KID?
The folks at Annie's know crafting, so you know they have put together some amazing kits for your kids.
For girls:
The Creative Girls Club subscription box will get your girl's creative juices flowing. Girls get two kits each month full of crafting fun. Best of all, the crafting can be done with minimal adult supervision. While she is creating, she will be learning valuable skills such as painting, beading, stitching, paper crafting, and much more!
For boys and girls:
These Young Woodworkers Kits have everything your little builder needs to create crafts and toys they can enjoy, while learning important woodworking skills along the way. Your child's first three kits will include 5 kid-sized, high-quality tools they'll use again and again. A new woodworking project is delivered every four weeks, with a new and exciting skill to master. Each project teaches a real world skill that kids will use for years to come.
If you liked these school supplies for girls, you'll love:
Best Unicorn Backpacks