If you are looking for ways to make learning fun, look no further. We have been having lots of fun with some simple science experiments such as Baking Soda Experiments and Erupting Play Dough. What I love about simple science is that it uses supplies that most of us already have at home. This simple science rising raisins experiment is a great way for kids to learn about gas bubbles and practice making a hypothesis and testing out theories.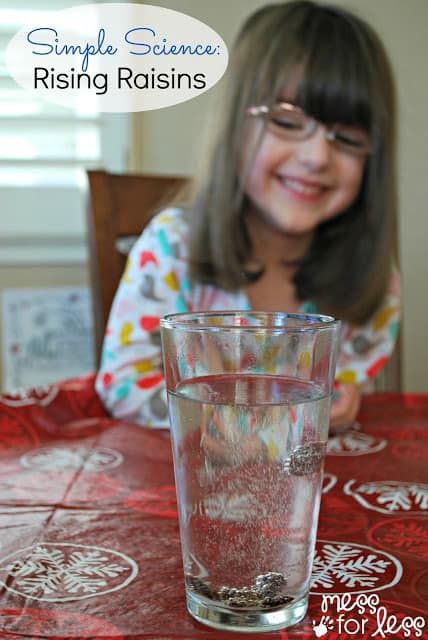 Simple Science Rising Raisins
You will need: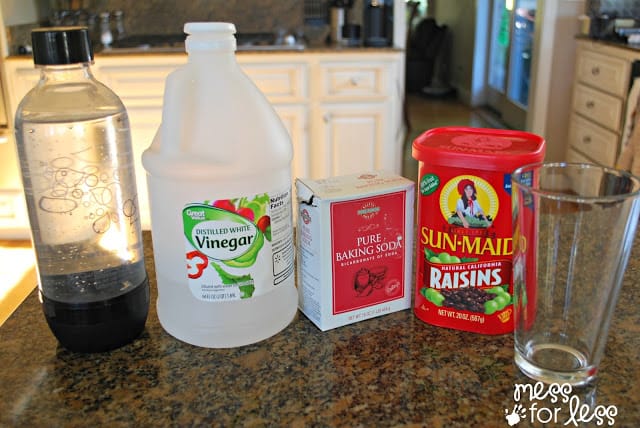 To start, fill a glass ¾ full with water. Then add 5-6 raisins.
Observe what happens to the raisins. My kids noticed that they sank to the bottom of the glass.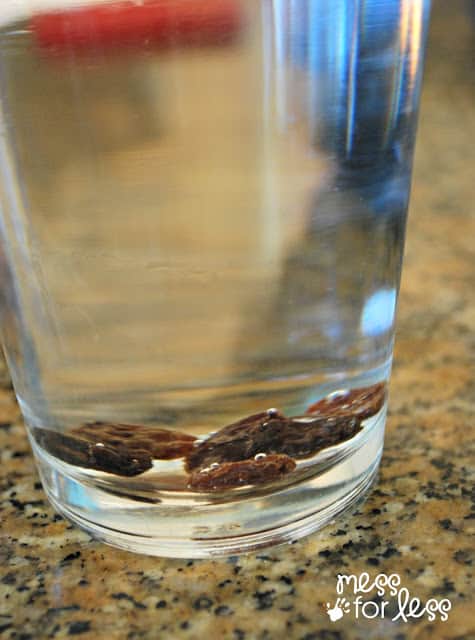 Add 1 tablespoon of baking soda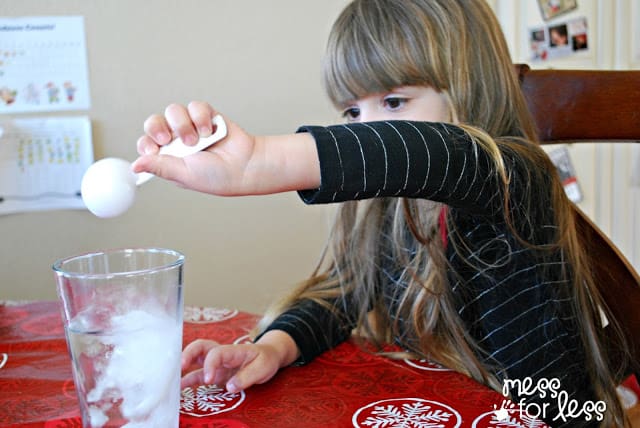 and stir until it dissolves.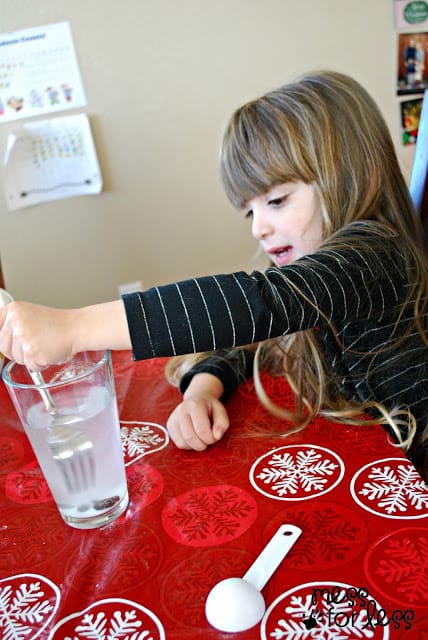 Next, add 2 tablespoons of vinegar and stir to combine the vinegar and baking soda.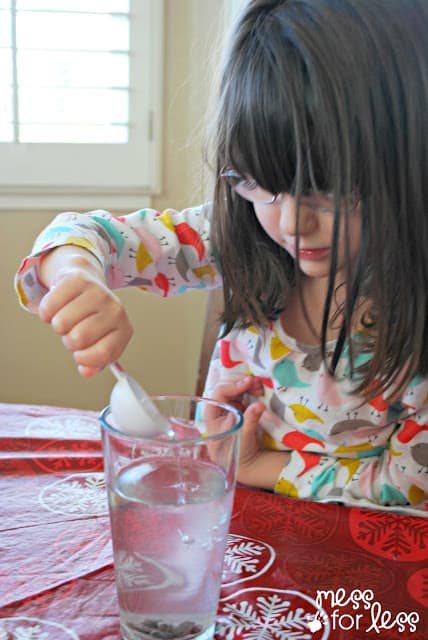 You'll want to have a camera handy for this part of the experiment as the expressions on the kids faces when the raisins start rising are priceless.
My daughter started out keeping a close eye on the raisins and watching bubbles form on them. When she saw the first raisin rise she exploded with glee.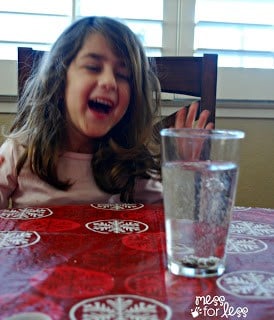 All of my kids had similar reactions.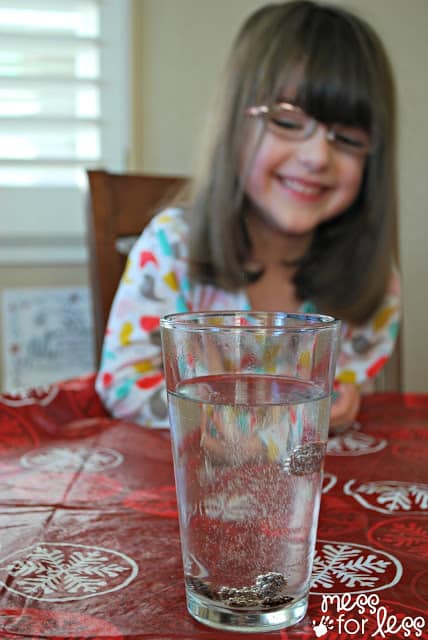 The raisins would take turns rising and sinking back to the bottom. It was like a carousel of raisins! We talked about how the baking soda and vinegar combined to make gas bubbles. When enough bubbles formed on the raisins they were able to rise until they got to the surface when they popped and the raisins traveled down again.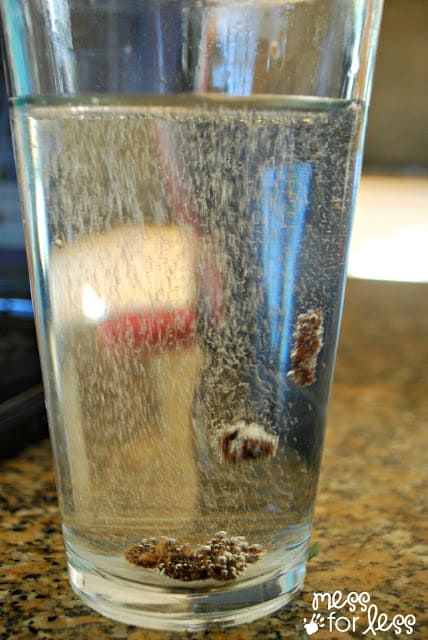 We had such success with the baking soda and vinegar combo that we decided to try to levitate the raisins using a carbonated beverage. We made some seltzer water using our Soda Stream, though any carbonated beverage would do. I would stick with something clear though so you can see the raisins.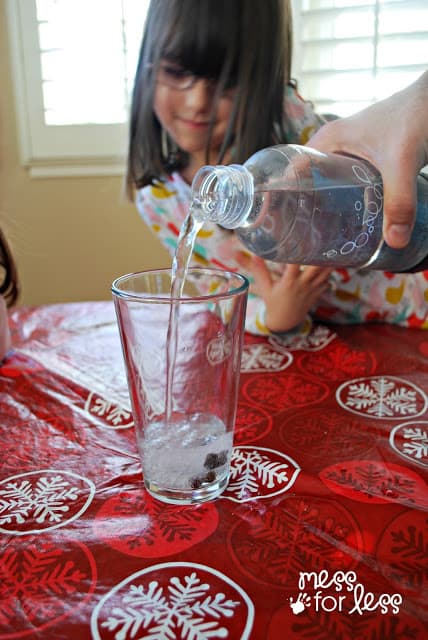 We poured the seltzer water into a glass filled with raisins and waited. The raisins started getting bubbles on them like when they were in the baking soda and vinegar mixture. It took a while, but one raisin did bob to the top and sink back down. Unfortunately, I was not quick enough with my camera to catch it.
Our conclusion was that the raisins in baking soda and vinegar had more bubbles surrounding them and rose quickly and consistently while the raisins in the carbonated beverage really did not. I would love to hear about your results, especially if you use other carbonated beverages. Leave me a comment below and tell me how your experiment turns out.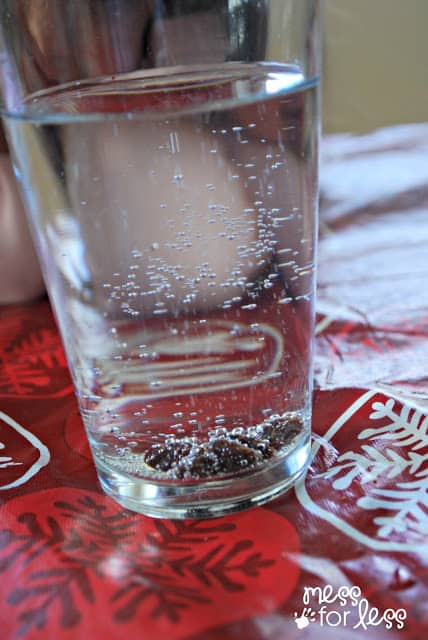 If you are looking for a fun and engaging way to keep kids passionate about learning, check out Groovy Lab in a Box. These boxes are presented in partnership with Popular Mechanics so you know you'll be getting some great stuff each month. Kids will love Groovy Lab in a Box because it contains everything they need to do experiments focused on science, technology, engineering and math (STEM). Kids will get all the supplies they need to complete the activities in addition to a cool lab book. Subscribe here.
If you liked simple science rising raisins, check out: