Time for week 7 of Get Ready for K Through Play, the8 week series I am working on with my favorite bloggers. We will be providing you with all the tools you need to prepare your child for Kindergarten in fun, hands-on ways. Each week we have been focusing on a different Kindergarten readiness skill. This week's topic is Alphabet and Phonics and I will be sharing a fun water balloon game to help kids practice their phonics skills.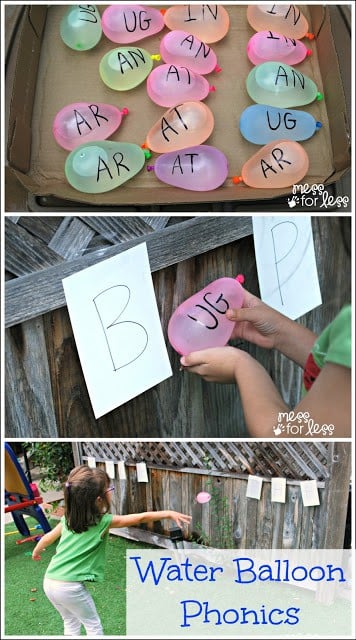 You will need:
Water balloons
Permanent marker
Index cards
Tape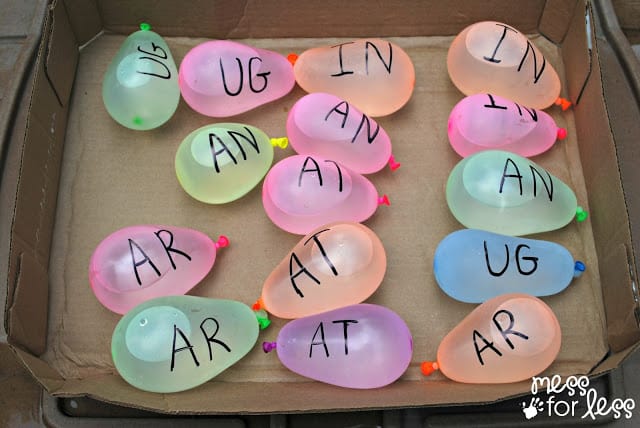 Kids love water balloons and since it's summer can there be a more fun way to learn? For this phonics activity, I filled 15 water balloons and wrote some word endings on them - at, an, ar, ug, in. I made 3 balloons for each ending.
Then I wrote the following letters on index cards: F, H, C, J, P, B, and M. I taped those cards to the wall.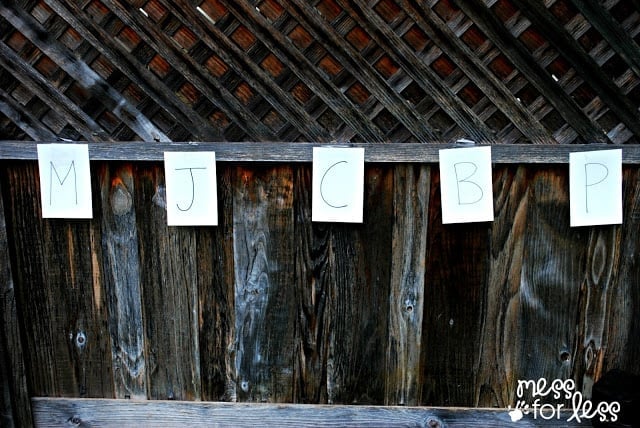 I gave the kids the box of water balloons with the word endings. They would pick a balloon and bring it up to a letter to see if it made a word. If it did, they had to read the word and they got try and throw the balloon on the letter to pop it.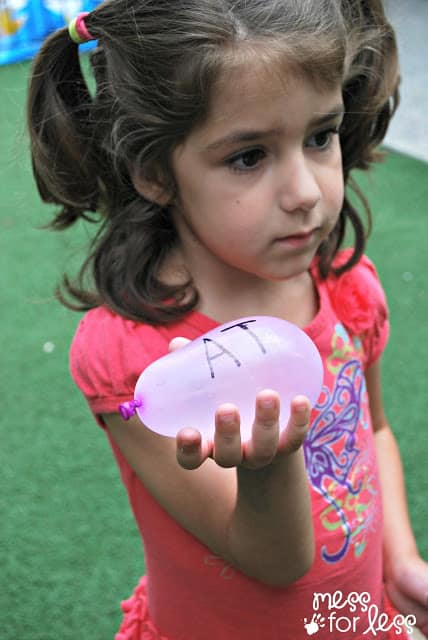 In addition to being a fun phonics game, my kids had the opportunity to enjoy some gross motor play.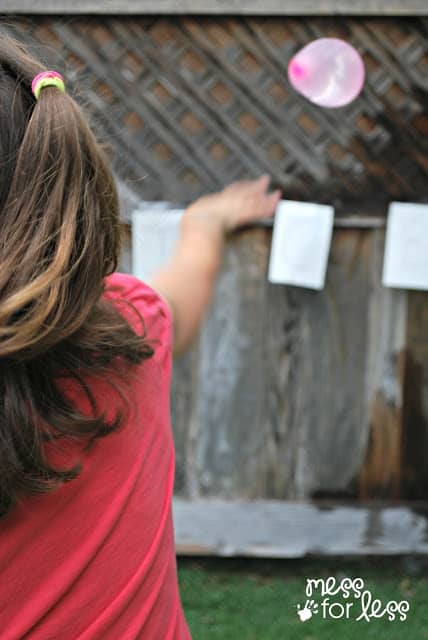 Sometimes they really surprised me with their good aim!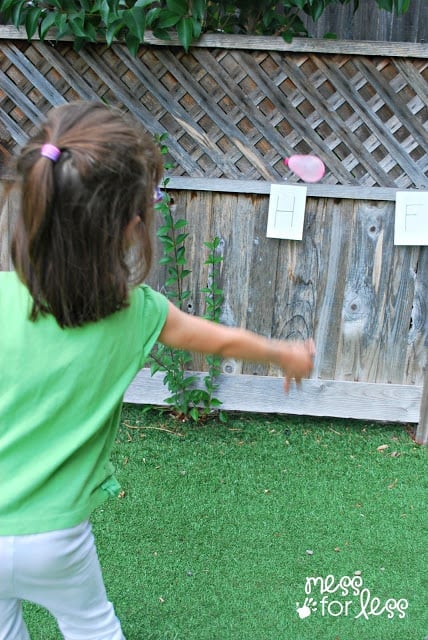 Whenever they got a new balloon, they would go down the line of letters to see if they had a word. "Har is not a word, but car is!"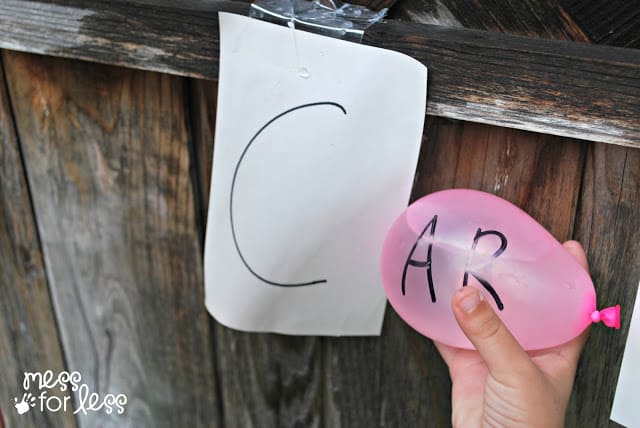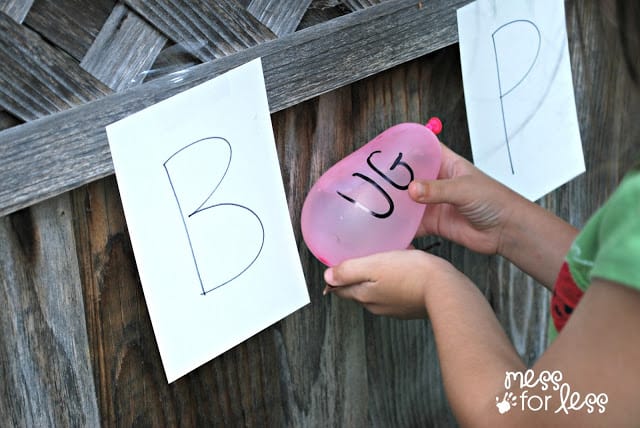 As we played, we kept a list of the words that we made. At the end we read and reviewed them.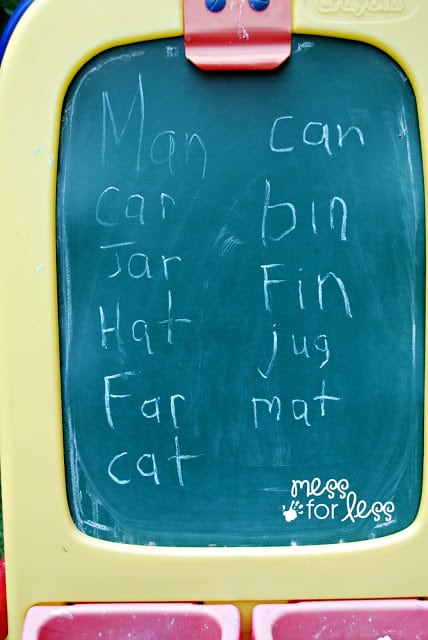 If you are looking for a way to practice phonics that doesn't involve worksheets and you want to beat the heat as well, then you need to try water balloon phonics.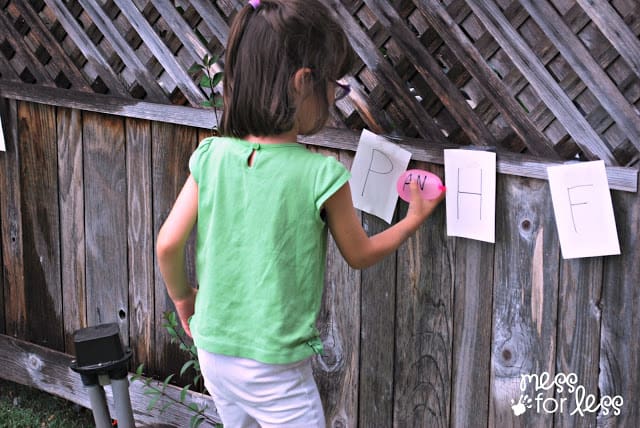 You'll make a splash with your kids!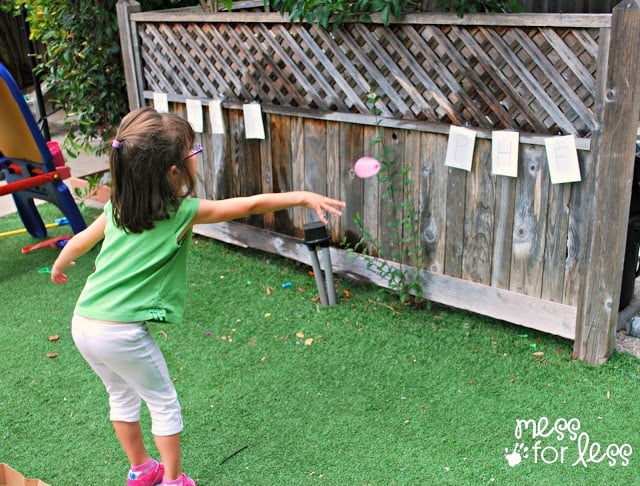 For more fun Alphabet and Phonics activities hop on over and visit my friends:
Alphabet Phonics Activities for Kids from Mom to 2 Posh Lil Divas Walk the Word Gross Motor Phonics Game from Coffee Cups and Crayons Learning Letters and Their Sounds from Mama Smiles Chalk Letters from Rainy Day Mum
Active Alphabet Activities from Toddler Approved