Last year we went to a 4th of July parade. The kids enjoyed watching the parade and I thought it would be fun for them to make some 4th of July noisemakers so they could take part in the festivities. This 4th of July craft is great for preschoolers, but you will want to make sure that it is used by kids who don't put things in their mouths, noses or ears since there are small beans inside. Please use your best judgement. For more fun 4th of July ideas, check out this Patriotic Snack. When you are done, try this fun Uncle Sam Craft for Kids.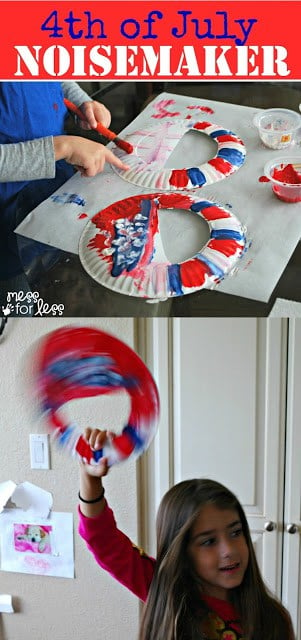 4th of July Craft
2 paper plates
dried beans
stapler
scissors
paint brushes
tape
Cut out a smile shape from the inner circle of both paper plates.
Cut across so you have removed a "D" shape from each plate.
Your child will be painting both plates on the outer rounded side using the red, white and blue paint.
My daughter decided to add some patriotic stripes.
I just love how colorful and festive these are. They are certainly getting me in the 4th of July spirit!
When the paint on the plates has dried, staple the bottom edges. I used 9-10 staples on the bottom of the plate. You want to make sure to make the staples close enough together so that no beans will spill out.
Fill the large inside pocket with a few tablespoons of dried beans, then staple that pocket closed. If you are giving this to a younger child, you can even cover the back of the staples with some tape so they don't catch on anything,
I used tape to stick the two sides of the handle together and did so over the length of the handle. I used tape rather than staples here because it is less rough for little hands as they are holding this.
Now all that is left to do is play your 4th of July craft. This is perfect to bring to a 4th of July parade or celebration.
For more 4th of July craft ideas check out: