Please welcome Brittany from Crafty Mischief to Mess For Less. She is sharing a great Bird's Nest Craft for Kids that involves recycling, nature and peeps - three of my favorite things! This is an easy craft to make with kids and is a fun way to use some of that Easter candy.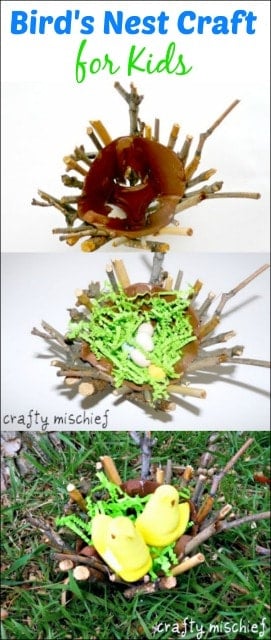 Hi! I'm Brittany and I blog at Crafty Mischief. I'm a lover of all things crafty, but I especially love making crafts with my 3 kids and creating fun memories while we craft.
I'm super excited to be here at Mess For Less, sharing a fun Easter craft with you today!
I'm always looking for new craft to do with my kiddos, as well as new materials to craft with. My kids just love taking ordinary, every day things and making them into something exciting and new.
Last week we went through the drive through at McDonald's and I looked at the cardboard cup holder and thought, "Hmm..what could I make out of this?"
I considered tossing it in the recycle bin like I usually do, but I knew it had potential! So, it sat on my counter for days as we brainstormed.
Would it be a mask?
A spider?
A ball?
A nest?
Ding! Ding! Ding!
Spring is in the air and the birds are happily chirping in the trees outside. A nest would be a perfect craft!
To make this Bird's Nest Craft for Kids you will need the following supplies:
-fast food cup holders
-small sticks and twigs
-Easter grass
-glue gun and glue sticks
-Peeps!
Take a walk with your little one and gather sticks up sticks. When your basket is full, you're good to go!
Using some sturdy scissors cut your cup holder into 4 "nests".
Make sure you cover up your table and dress your kids in "play clothes" because painting is a messy business!
Then, hand over the brushes and paint and let your kids go to town!
If your kids are anything like mine one of them will point out that the paint is the color of poop and they'll burst out in a fit of laughter until their veins are bustin' out of their necks! *sigh*
Once your kids regain their composure and finish painting let the paint dry completely.
After your nests have dried completely, it's time to add your sticks.
I used a hot glue gun to attach the sticks to the nests. Craft glue would probably work, it would just take longer to dry than hot glue.
I let my kid help with this part by picking out the stick they wanted and showing me where on the nest they wanted the stick to go.
My kids are 10, 9 and 6 (the oldest was much too busy playing soccer with her cool friends to be bothered with Easter crafts! It's ok, more candy for us!) They are probably old enough to use the glue gun, but I'm a paranoid mom and see visions of third degree burns on their faces, so I won't let them near my glue gun! Use your best judgement.
Glue the sticks all the way around the nest.
Now your basket is ready to be filled! You can add grass, Peeps and candy eggs or whatever you'd like.
Repeat these steps and you can make a whole village of nests!