This Counting Bead Fun activity was inspired by an activity that my kids did when they were in preschool. I loved the idea for counting and it reminded me of this Fine Motor Skills Counting Activity math activity we had done in the past. This is a very simple activity to set up requiring just a few items which you probably already have at home. Be sure to also check out these Number Activities for Preschoolers.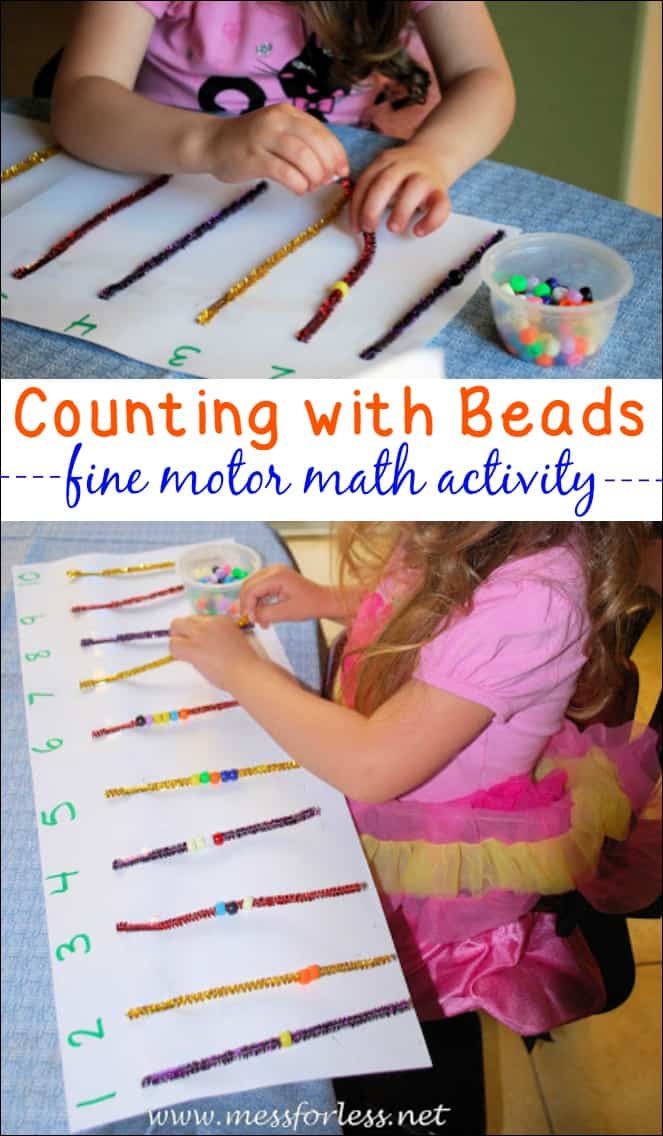 Counting Bead Fun
Supplies you will need:
Paper (I used two sheets of copy paper taped together)
Tape
Pipe cleaners cut in half
Tape two pieces of copy paper together and write the numbers 1-10 on top. Cut pipe cleaners in half and tape them under each number. Be sure you just tape the top of the pipe cleaner to the paper so your child can still lift it up to insert the beads. Fill up a small cup with the some beads and instruct the kids to place the appropriate number of beads on each pipe cleaner.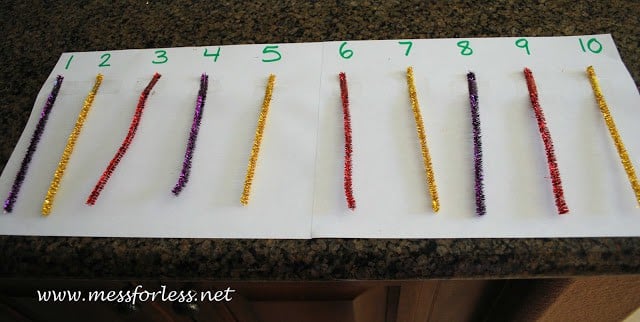 Besides helping with counting, this activity also strengthens fine motor skills as little ones work hard to grasp the beads and string them on the pipe cleaner.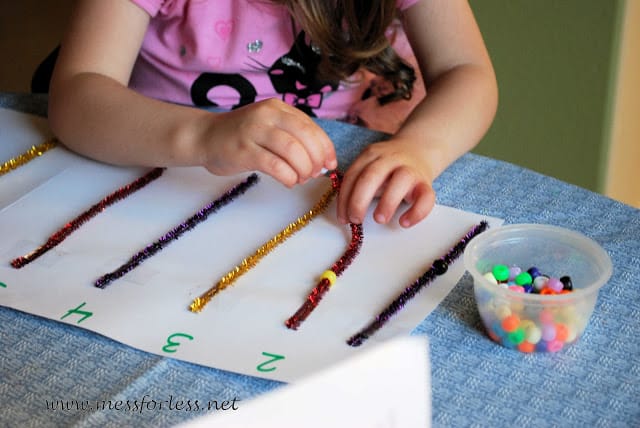 Even young kids who aren't counting yet can enjoy counting bead fun.
After your child is done stringing their beads, have them count over the beads and check their work.
As an extension to this activity, you can have your child string the beads on the pipe cleaners in a pattern for example - red, blue, red blue...
ENVIORNMENTALLY FRIENDLY KIDS CRAFTS?
If you are looking for more fun activities for kids, check out Green Kid Crafts, an earth friendly monthly craft subscription box for kids that sparks creativity while teaching kids a respect and love for the environment. These boxes are themed and each month will be filled with fun projects and creative activities that can be enjoyed by kids from ages 3-10.
Since Green Kid Crafts is an earth friendly company, they use sustainable, safe materials in all of their products. They also give a portion from each sale to environmental non-profits. Learn more about a monthly subscription of fun!
If you liked this counting bead fun activity, you'll love: