B has been working on improving her hand strength andfine motor skills. I have tried a variety of tweezers/tongs and they all have proved relatively challenging for her. I found these wooden tongs at Cost Plus World Market and they are much easier for her to manipulate. I created an easy fine motor skills activity using tongs, pom poms and paint palette trays. These skills are so important for kids this age which is why we have done Fine Motor Practice with Straws.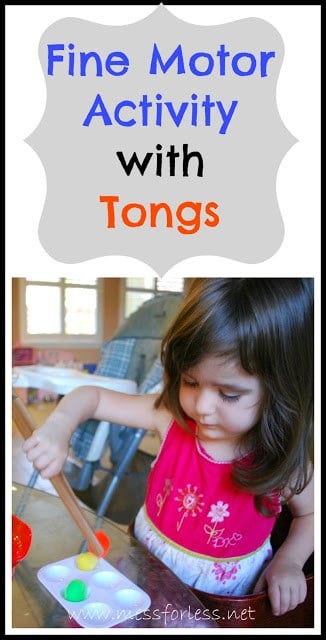 WHAT DO YOU NEED FOR THIS FINE MOTOR ACTIVITY?
HOW TO CREATE A FINE MOTOR ACTIVITY USING TONGS
I bought the Pom Poms and trays at Oriental Trading. You can find lots of great items to use for fine motor skills there and they are usually pretty affordable. My daughter loved moving the pom poms from the cup to the paint palette trays.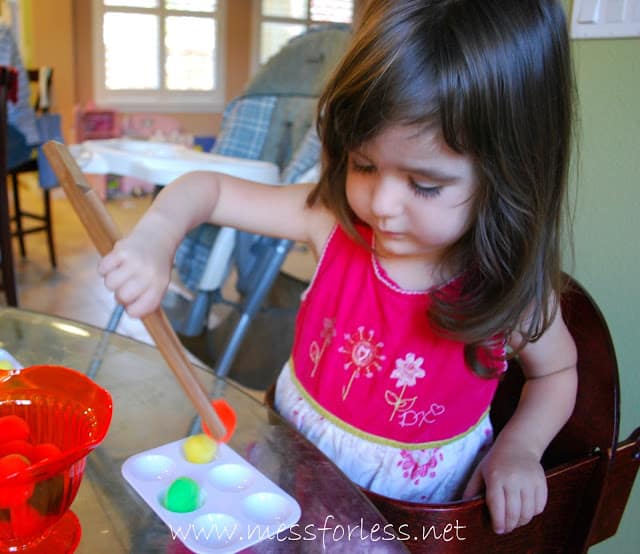 I also used the opportunity to help her with her color recognition by asking her to move a green one and then a yellow one.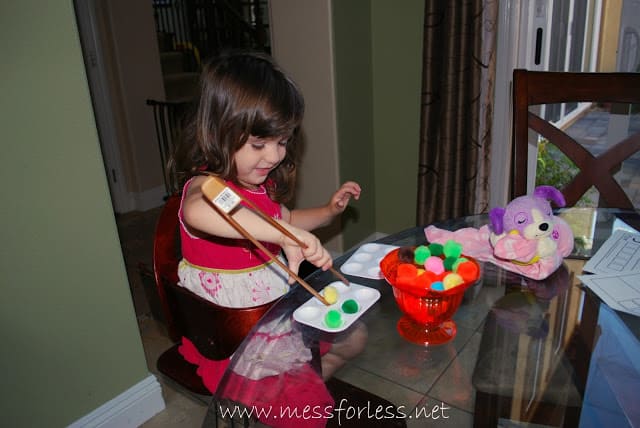 To create your own fine motor skills activity, simply use the tongs with your choice of manipulatives (cotton balls would work well). If you don't have a sorting tray or paint palette an empty egg carton will do the job.
GOT A CRAFTY KID?
The folks at Annie's know crafting, so you know they have put together some amazing kits for your kids.
For girls:
The Creative Girls Club subscription box will get your girl's creative juices flowing. Girls get two kits each month full of crafting fun. Best of all, the crafting can be done with minimal adult supervision. While she is creating, she will be learning valuable skills such as painting, beading, stitching, paper crafting, and much more!
For boys and girls:
These Young Woodworkers Kits have everything your little builder needs to create crafts and toys they can enjoy, while learning important woodworking skills along the way. Your child's first three kits will include 5 kid-sized, high-quality tools they'll use again and again. A new woodworking project is delivered every four weeks, with a new and exciting skill to master. Each project teaches a real world skill that kids will use for years to come.
FOR MORE FINE MOTOR ACTIVITIES CHECK OUT: