It's no secret that fine motor development plays an important role in a child's development and success at school. When I was teaching Preschool and Kindergarten, I saw many kids who had weak fine motor skills. I created a variety of fine motor activities to use in the classroom for students of all skill levels, as everyone can use a little help. Many parents wanted to work on fine motor skills at home too and they often asked me for ideas. The cheap fine motor activities for preschoolers that I will be sharing today will help kids strengthen their skills while incorporating learning from various parts of the curriculum. I just love sneaking in some learning wherever I can, don't you?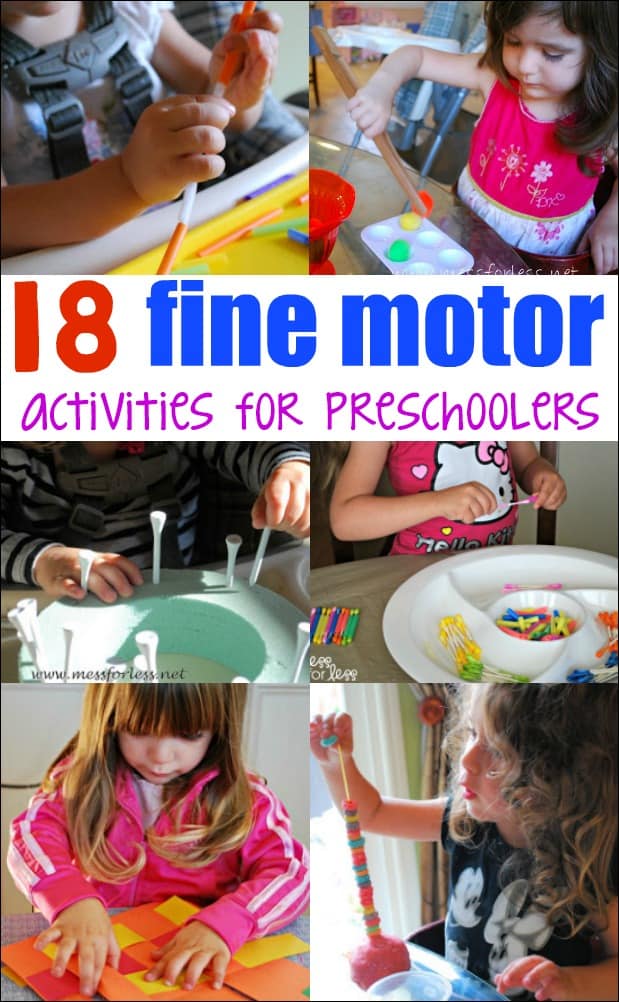 Jump to:
Why are fine motor skills important?
Fine motor skills are important for young children and they affect everything from self feeding to using scissors to writing with pencils. As children grow, there will be a greater demand placed on their motor skill development. They will be expected to dress themselves and use zippers and buttons. Drawing and writing will be easier if your child has strong fine motor skills.
What items are helpful for practicing fine motor skills for preschoolers?
Stickers
Tweezers - pinching these and picking up objects with them is a great activity.
Pipettes or droppers - use these to draw up and release water in a cup.
Ice cube tray - for sorting
Lego toys - helps to work the pincer grasp while kids are pulling them apart.
Lacing cards - they are great to keep in a car for road trip or to take to a restaurant.
Paper clips - attach them and take them apart.
Fine motor skills activities for 3-5 year olds
Please supervise children while they are doing these activities.
Pushing Toothpicks
I just love easy fine motor activities! This one requires 2 supplies and is pretty easy to take anywhere. It really works on those small muscles! You can find the cheese shakers here.
Stringing beads on a pipe cleaner is a great way to work on fine motor skills. Add some fun by creating a snake. You can also use this as a way to teach colors and patterns.
Fun for little fingers! This is another activity that my preschoolers and toddler both enjoyed. When they are done threading the straws on to the pipe cleaners, they will have colorful pasta jewelry to wear and incorporate into pretend play.
Small hand muscles get quite the workout as they weave paper under and over to create a pretty place mat. You can laminate these when they are done and use them for meals.
Math combined with fine motor work? Count me in (pun very much intended)! This is another one of those activities that just use a few items you probably already have.