I like how this fine motor skills activity utilizes dyed oatmeal since you can also use it in so many other ways. Just place a bin of dyed oatmeal out and you have an easy sensory activity. Kids can scoop, pour and measure with it. By adding a few simple supplies to the dyed oats, you can create a fun fine motor activity for your child. Kids will be working the small muscles in their hands and practicing color sorting while playing. There are lots of materials you can dye and use for fine motor activities. In the past we have dyed pasta and had great results.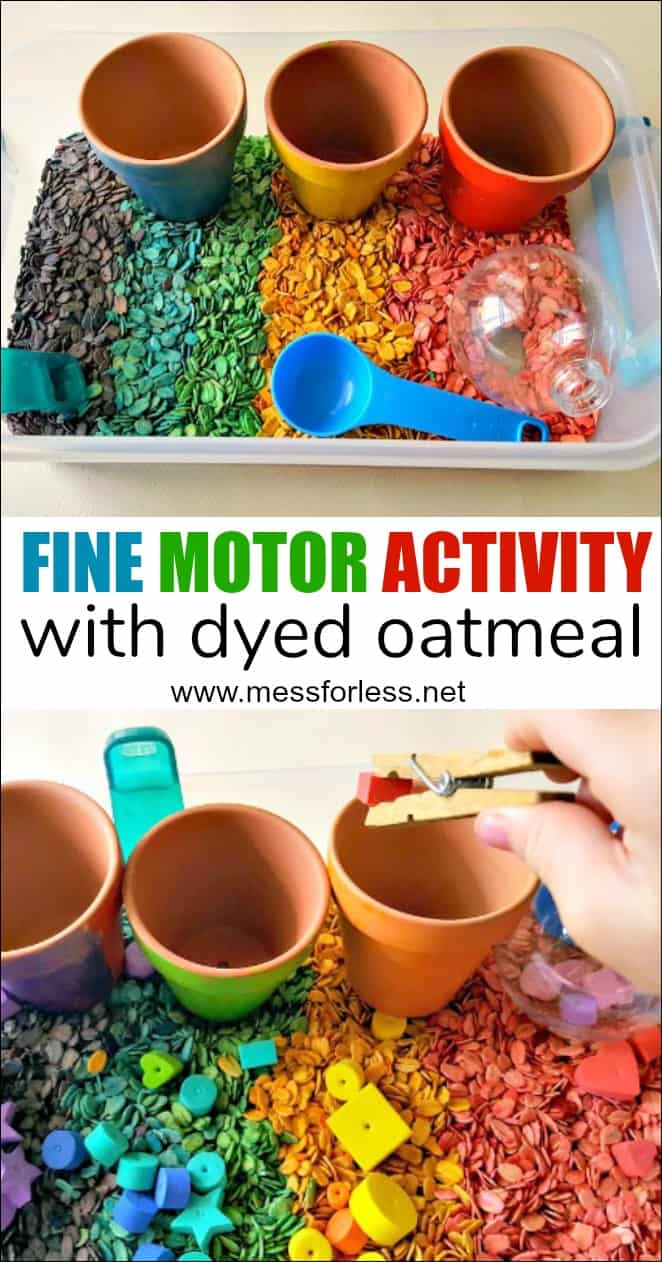 Fine Motor Skills Activity with Dyed Oatmeal
Please supervise your child while playing. This is not edible.
You will need:
Rainbow dyed oatmeal (instructions to follow)
Foam beads in assorted colors
Wooden clothespins
Clear plastic ornament with removable top
Terra cotta pots
Paint markers or acrylic paint
Oatmeal - Old fashioned, uncooked
Hand sanitizer
Food coloring
Zip top bags
A plastic bin with a clip case top
Plastic measuring spoons
How to Dye Oatmeal
Oats make a wonderful sensory material, straight from the container or dyed. Fun-a-Day has some fun ways to use oats for sensory play.
Place 1 cup of dry old fashioned oatmeal in a zip top bag. Add 2 tablespoons of hand sanitizer. Make sure the bag is sealed and shake it until the oatmeal is evenly coated. Kids really enjoy this shaking process.
Open the bag and add 10-15 drops of food coloring. Again, seal the bag well and shake again. Pour the dyed oatmeal onto paper towels or paper plates and allow it to dry for about 12 hours. Repeat this process for each color of oats you want to make. For this fine motor skills activity you can make 5 colors - purple, blue, green, yellow and red. You just want to make sure the the color oatmeal you make somewhat matches the foam beads you will be using.
Paint your small terracotta pots with the paint markers in the colors of the rainbow, the paint markers I used will dry in about 60 seconds, but if you are using acrylic paint you will want to allow for adequate dry time.
Pour the dyed oatmeal into the bin in the pattern of a rainbow.
A few of your supplies to the sensory bin. A clear plastic ornament with a removable top is great to use in the bin. Kids can use some measuring spoons to scoop some dyed oatmeal and pour it carefully into the ornament. They can also scoop the dyed oatmeal into the corresponding pots.
Next, you can add some foam beads to the oatmeal.
Add a few clothespins to the bin and allow your child to explore.
This is so much fun for working on both fine motor skills and color sorting at the same time.
The great thing about housing this fine motor skills activity in a bin with a snap top lid is that that you can just close it up when playtime is over, and store it until next time.
Check out Green Kid Crafts, a monthly craft subscription box for kids that promotes creativity while developing a love and respect for the environment, if you're looking for more entertaining things to do with kids.
If you liked this fine motor skills activity check out:
Fine Motor Activities for Preschoolers
Fine Motor Skills from the Dollar Store