Week 6 of Get Ready for K Through Play will provide you with lots of fine motor ideas to help get those little hands ready for writing. If this is your first week joining us, Get Ready for K Through Play is an 8 week series I am participating in with some amazing kid bloggers. We will give you all the tools you need to prepare your child for Kindergarten in ways that are fun and hands-on. Each week we have focused on a different Kindergarten readiness skill. Join us today to see how you can help your child improve their fine motor and writing skills by getting fine motor practice with straws then check out Handwriting Practice with Shaving Cream..
Fine motor skills are important for all children but especially for those entering Kindergarten. There children will be expected to use a pencil, cut straight lines, and take care of themselves but buttoning and unbuttoning their clothes. We have long been fans of fine motor activities here at Mess For Less. Our 18 Fine Motor Activities for Preschoolers post has some great ideas for kids of all ages. Since I have a 3 year old in addition to twins who will be starting K this Fall, I wanted an activity that she could do as well. I found some straws I never used and had a variety of tongs/tweezers and an idea took shape. You will need:
Shaving cream
Colored straws
Scissors
Variety of tongs and tweezers
Plastic container
Timer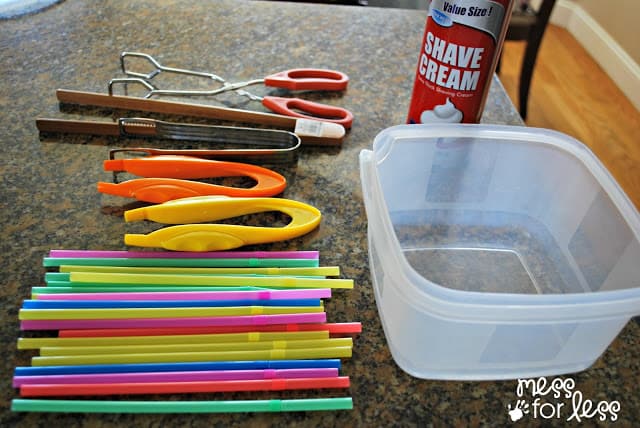 A number of our tongs are just items found in a kitchen drawer. They are used for ice cubes or salad. I bought a few children's tweezers to use for science and interestingly, those were the least popular with my kids. They were very stiff and hard to maneuver. So look through your kitchen and see what you have on hand that might work for this activity.
Cut the straws into a variety of sizes and place in a container.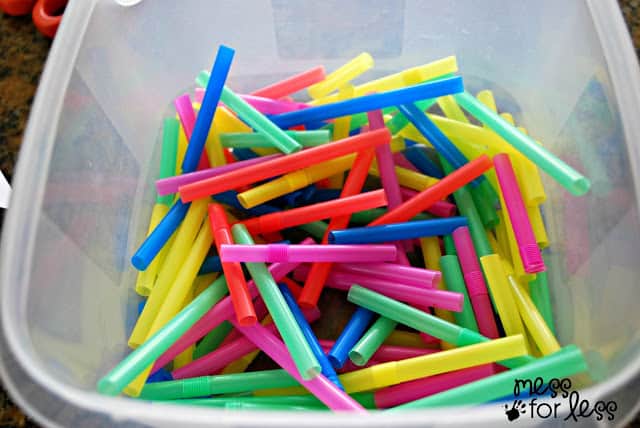 Provide your child with a pair of tongs (we have so many that I let the kids pick their pair). Set a timer for 1 minute and have them see how many straws they can remove from the container in that time. My kids are very competitive and because certain tongs picked up more than others, I didn't want them to try and beat each other. I kept track of how many straws they were able to remove on their first turn and they tried to beat their own number on each subsequent turn.
It took a lot of concentration to pick up the straws.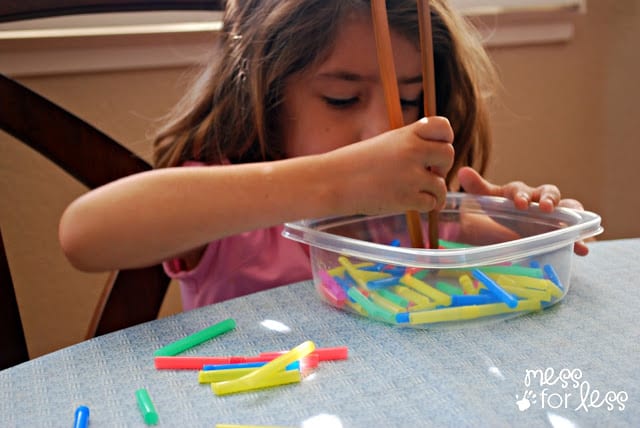 One of my daughters really liked these larger salad tongs and she noticed that they picked up the most straws. The handle on these tongs are shaped much like scissor handles so as she worked to open and close them, she was using the same muscles that she will use for cutting.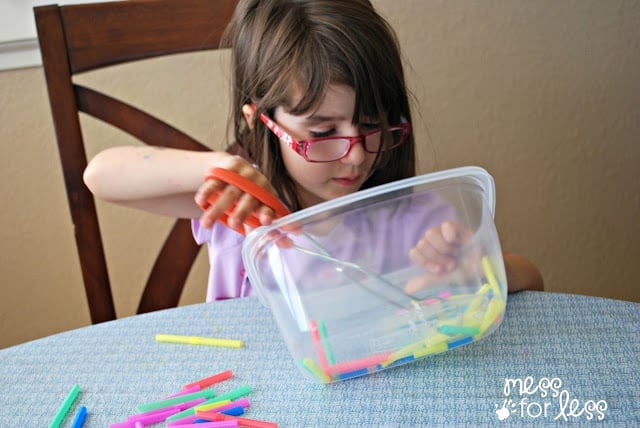 My youngest preferred the two handed approach. It was easier for her to close the tongs using both hands.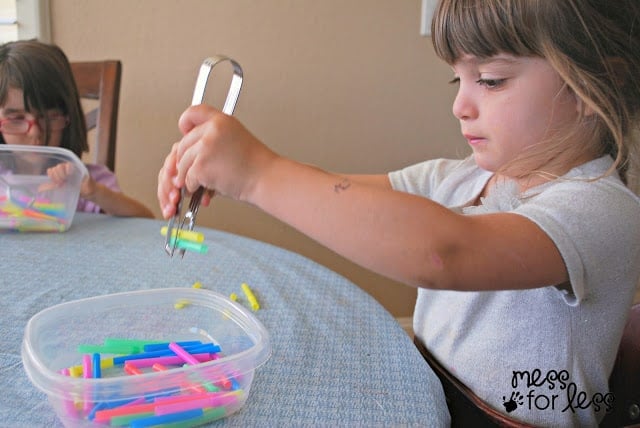 After the one minute was up my daughter counted to see how many straws she got out.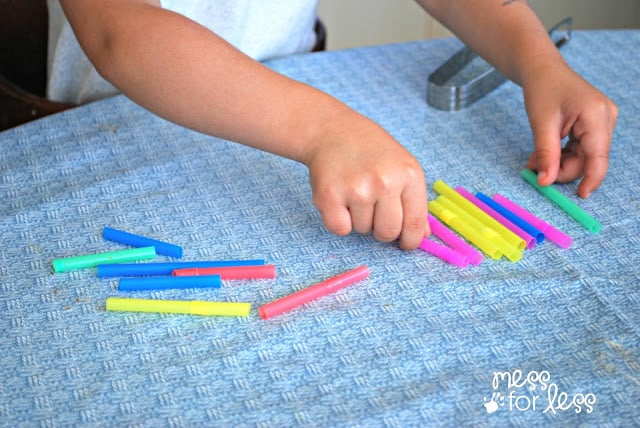 To make our fine motor play a little more challenging, I added some shaving cream to the containers and pushed the straws into it.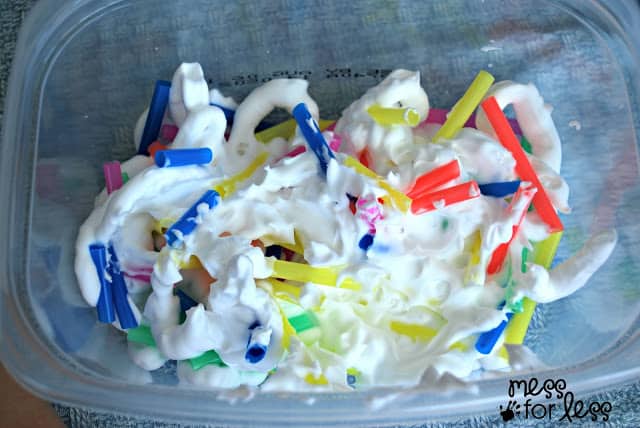 In addition to being harder to spot, the straws were now "stuck" in the shaving cream and required more work to get out. You will want to be sure to have a large paper towel nearby where kids can dump the shaving cream covered straws.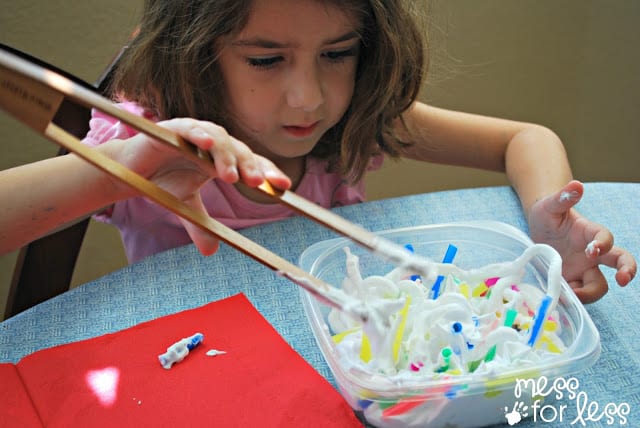 My kids really worked the small muscles in their hands trying to free the straws from the shaving cream. For this part of the activity, I did not use the timer since it took the kids longer to get the straws.
There are so many fun ways to practice fine motor skills with children preparing to enter Kindergarten. Be sure to visit the following bloggers and check out their posts on the subject:
55 Ways to Make Handwriting Practice Fun for Kids from Mom to 2 Posh Lil Divas
Playful Ways to Develop Fine Motor Skills from Mama Smiles
Simple Fine Motor Activities for Home from Rainy Day Mum
Fine Motor Skills Crafts from Toddler Approved