This adorable craft is perfect for spring or St. Patrick's Day. It is easy for kids to make and they will love the fact that they can snack while making it. My favorite thing about it is that it helps kids work on many important skills while having fun. So settle in, and learn How to Make a Cereal Rainbow Craft with your child. If you enjoy this, check out our Scented Art.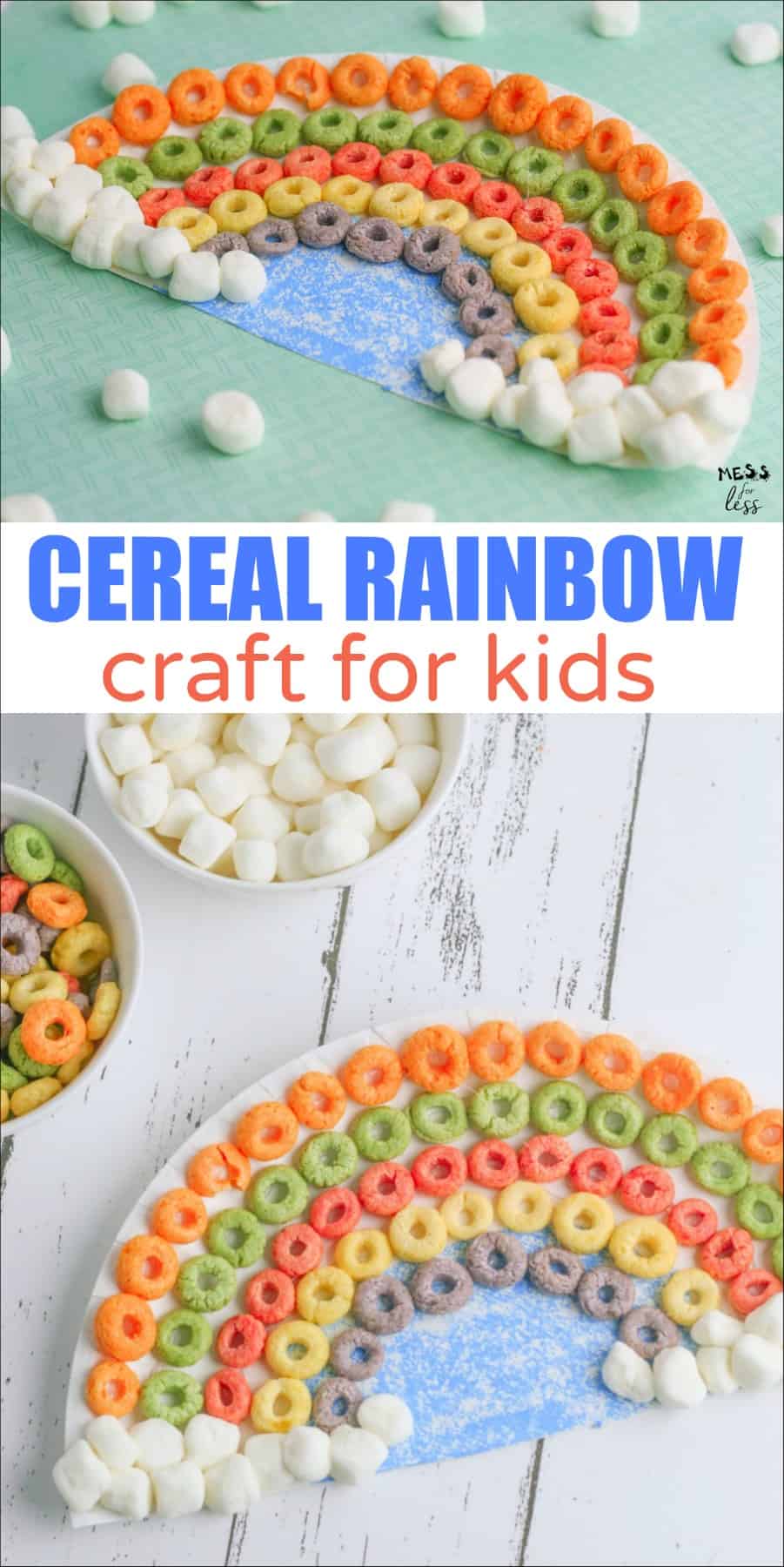 Please supervise your kids while doing any craft or activity.
Jump to:
Why this St Patrick's Day Craft is awesome
Uses supplies you already have at home
Kids can snack while making it
Helps with fine motor skills
Supplies
Paper plate
Scissors
Blue crayon - I really like the vibrant blue in this oil pastel set, but any blue crayon will work.
White glue
How to Make a Cereal Rainbow Craft
Kids can learn many valuable skills while making this craft project. They can practice color sorting and counting as they prepare the cereal. Then their fine motor skills get a workout as they squeeze a glue bottle and pick up and place each piece of cereal onto the plate.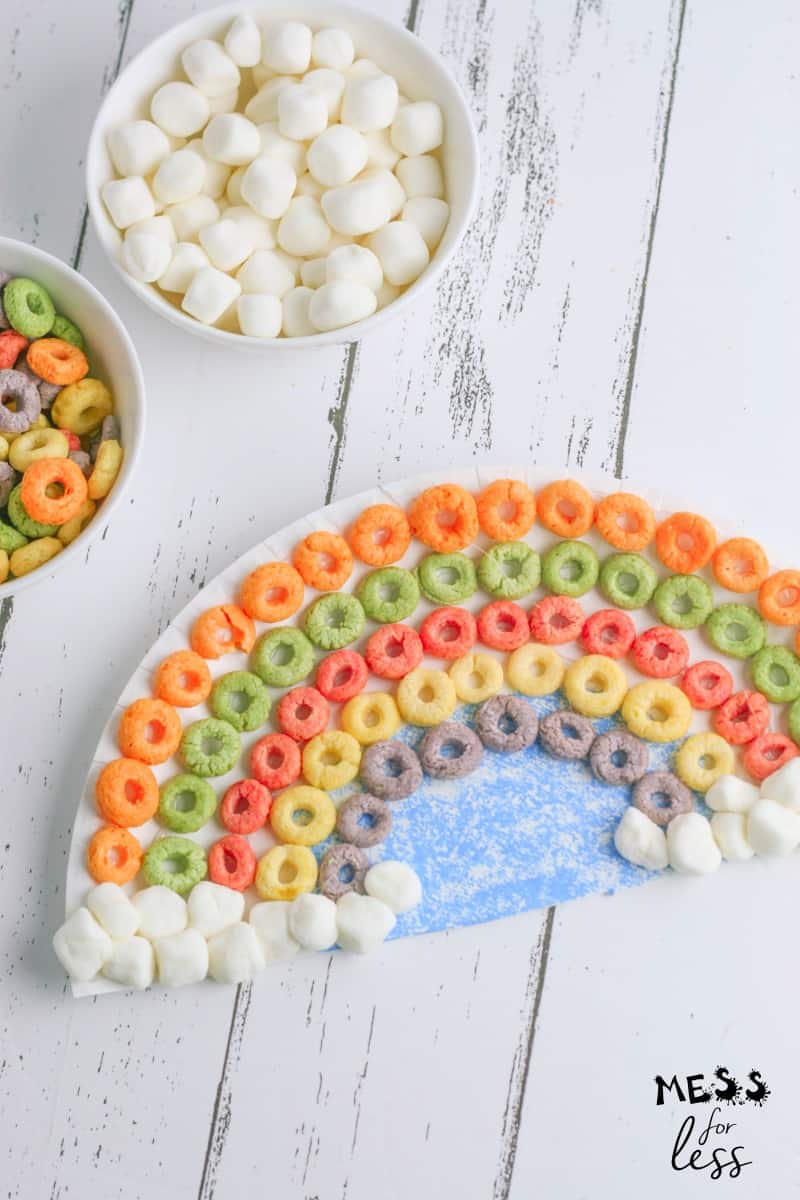 The base of this craft will be a paper plate that you have cut in half. The paper plate is sturdy and the arch shape of half a plate makes it perfect for a rainbow.
The colors of cereal you have will depend on the type of cereal you are using. Some brands of round cereal have different colors than others. Let your child choose 5 colors of cereal and have them sort the cereal into piles according to color.
Have your child use the blue crayon to color the bottom half of the paper plate blue.
Starting at the outer edge of the paper plate, glue one color of cereal along the arc of the plate. Leave space on each end for the marshmallow clouds.
Repeat this process with each color of cereal.
Your child can glue each piece of cereal individually, or squeeze a bunch of glue onto each row and then add the cereal.
Continue to leave space on the ends for the mini marshmallows.
When your child has glued on all the colors of cereal, have them glue some mini marshmallows at each end of the plate as puffy clouds.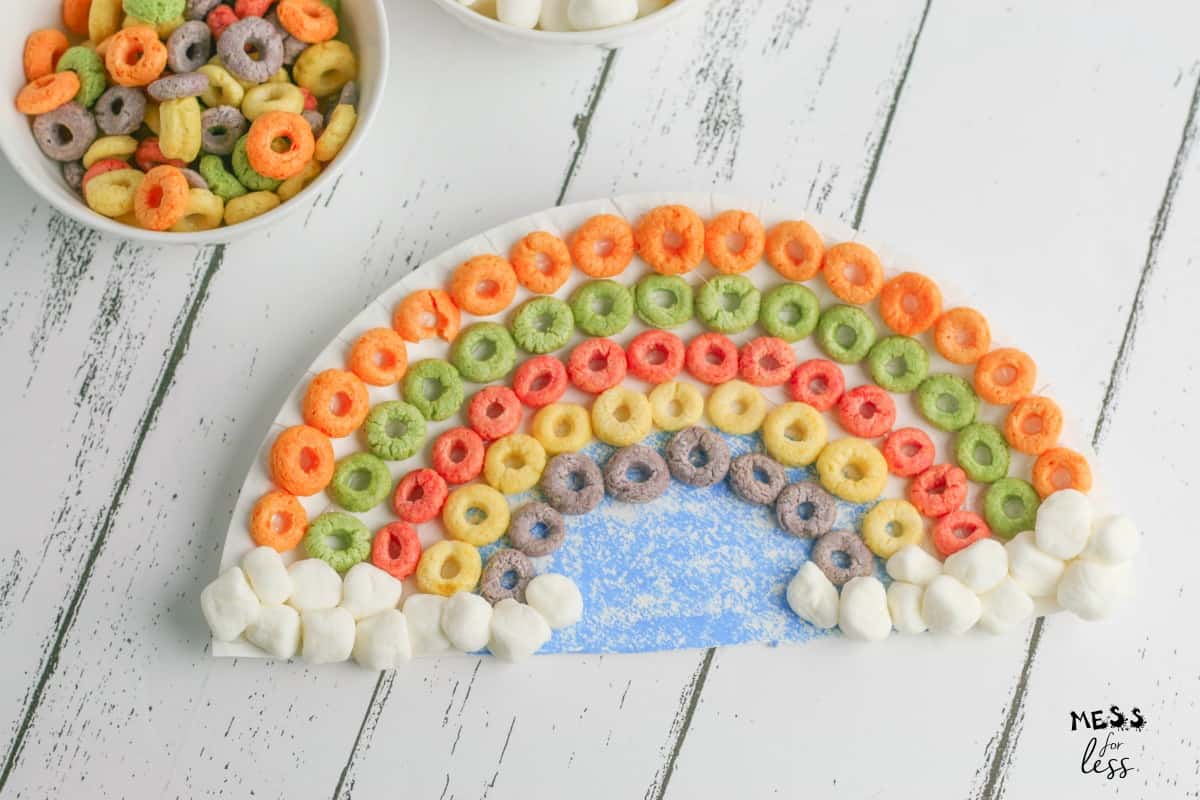 You can glue a ribbon to the back of the cereal rainbow to hang it up.
This craft is sure to please little ones as it is the perfect way to celebrate St. Patrick's Day and spring.
🍀Saint Patrick's Day Worksheets
Enjoy St. Patrick's Day with these fun and educational Printable Fine Motor Worksheets! These sheets are perfect for young kids, who will have fun while strengthening their fine motor skills.
Related posts