I love activities that combine a fun craft with an essential skill. This Shamrock Lacing Craft is the perfect example of a double duty activity. Kids will create an eye catching shamrock while working on those all important fine motor skills. This St. Patrick's Day craft does require some adult assistance, but kids get to do all the fun lacing! Don't miss our 10 Shaving Cream Activities for Kids.
Jump to:
Why kids will love this Shamrock Lacing Craft
They will have fun while working on their fine motor skills
It can be displayed for St. Patrick's day
Colorful craft that will entertain them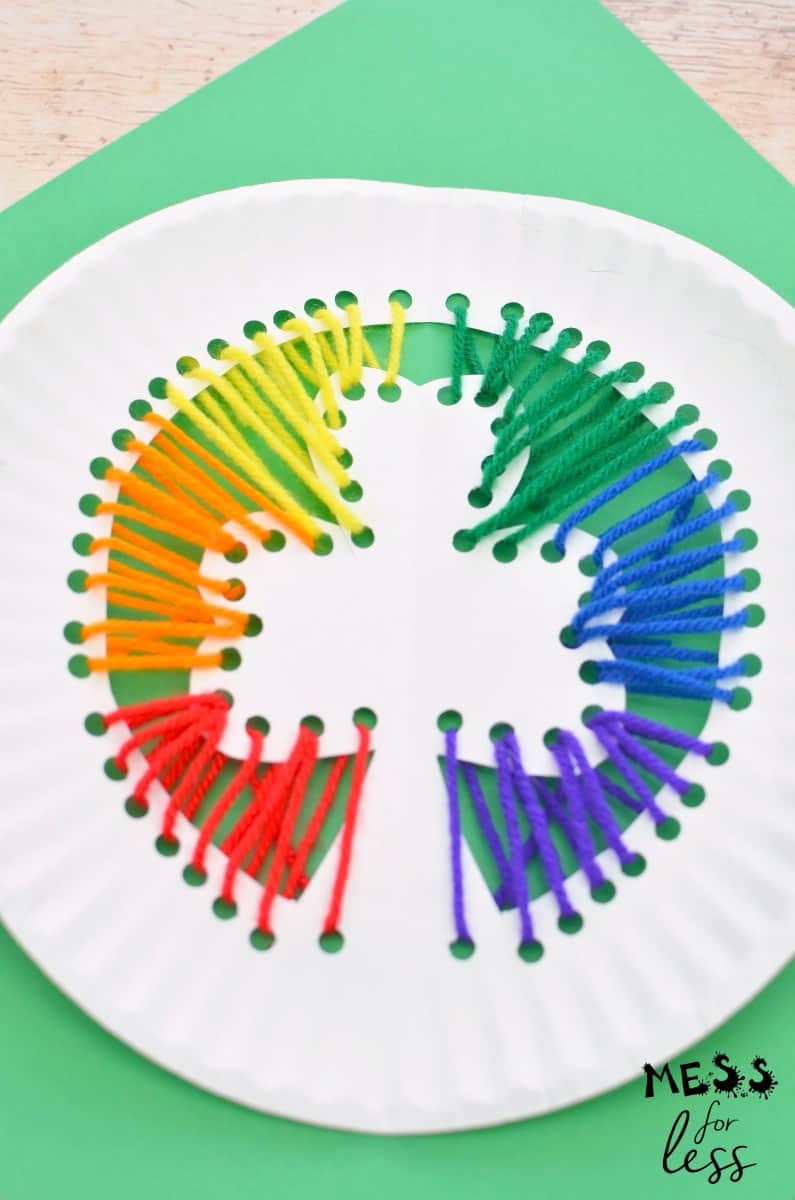 Supplies
Pencil
Paper plate
Scissors
How to make a shamrock lacing craft
To make this fun St. Patrick's day craft, start by folding a white paper plate in half. Most paper plates have a ridged boarder. Trace this border to form the inside circle. Using a pencil, draw half a shamrock in the middle. When you do so, make sure to connect the bottom of the shamrock with the border.
Cut out the shamrock shape with scissors, leaving the stem intact.
Keeping the plate folded in half, use the hole punch to punch holes around the entire inside of the plate and on the edge of the shamrock.
Now comes the fun part for kids - the lacing! Have them start with the red yarn and push it through the bottom left hole. Make a knot to secure the yarn. Then lace it through the holes in the shamrock to the holes around the boarder. If you warp the end of the yarn with a piece of tape it will prevent the yarn from fraying while your child is lacing.
Repeat this same process with the orange, yellow, green, blue and purple yarns to form a rainbow.
Secure each color end with a knot on the backside on the plate.
Now your shamrock lacing craft is complete!
These shamrocks look so pretty hung in a window to celebrate St. Patrick's Day.
May the luck of the Irish be with you!
Check out the subscription box from The Creative Girls Club if you want to find more entertaining projects. Girls get two kits full with creative fun each month. The best thing is that the craft may be completed with little adult supervision.
Related posts