You are going to love this fun Pot of Gold Craft as much as your kids. It is a fun craft project that results in one of the most eye catching pots of gold I have ever seen. But if you look beneath the surface, you'll find a fine motor activity designed to strengthen fine motor skills for kids. Cool craft + fine motor activity = mom win!
Jump to:
Why this Pot of Gold Craft is awesome
This craft works on fine motor skills.
Makes a fun St. Patrick's Day decoration
Supplies
Paper plate
Scissors
Markers: black and green
How to make a Pot of Gold Craft
To make this fun St. Patrick's day craft, fold a white paper plate in half. Most paper plates have a ridged border. Trace the border to form the inside circle. You can make the pot of gold by drawing a circle with a long skinny triangle on top. Any shaped pot will do, so don't stress so much about this part. Just make sure the top rim is large enough to have room for 6 hole punches.
Cut out the pot of gold shape with scissors.
Using the hole punch, punch 6 holes along the top of the pot of gold while the plate is folded in half. You'll need one hole for each color of the rainbow. Then hole punch along the inside circle of the plate. Older kids can help with this step. Punching holes is really a great way to strengthen hand muscles.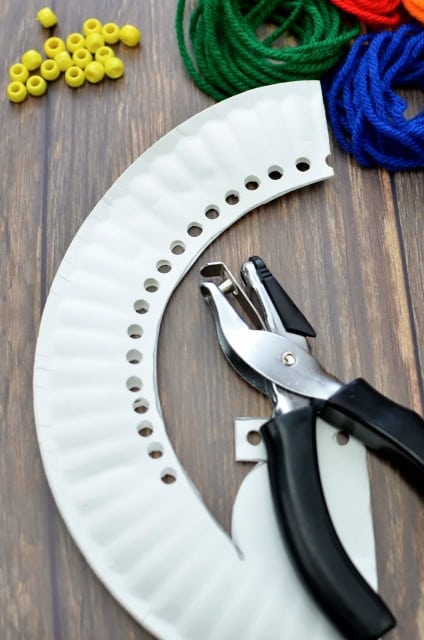 When the plate is unfolded it should look like this.
Using the green and black markers, color the pot of gold black and the bottom green for the grass.
Now it is time to start the lacing! This is the part of the craft that really works those fine motor skills for kids. Start with the red yarn on the first pot of gold hole and thread through and tie to secure.
Then thread through the border hole on back of the pot.
Sporadically add a yellow pony bead to the yarn before threading it back through the next hole. When finished, the beads will look like gold filling the pot.
Use this technique with all the colors of the rainbow, each color will have it's own hole at the top of the pot of gold. Secure each end on the back with a knot.
When you are done with the last color, secure it on the back of the plate with a knot.
This pot of gold craft is complete and ready to be hung up for St. Patrick's Day!
This St. Patrick's Day activity will keep kids busy for some time as they thread to create some beautiful art.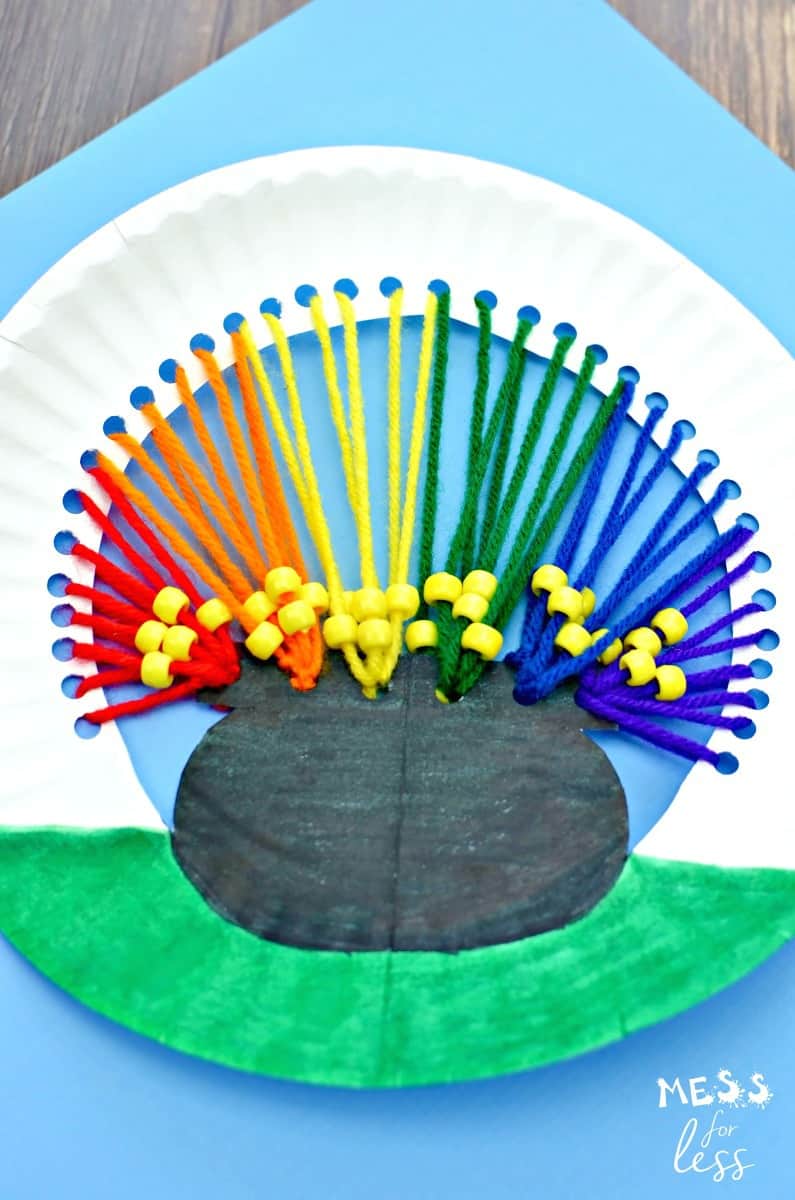 Happy St. Patrick's Day! I hope you find what you're looking for at the end of the rainbow!
GOT A CRAFTY KID?
The folks at Annie's know crafting, so you know they have put together some amazing kits for your kids.
For girls:
The Creative Girls Club subscription box will get your girl's creative juices flowing. Girls get two kits each month full of crafting fun. Best of all, the crafting can be done with minimal adult supervision. While she is creating, she will be learning valuable skills such as painting, beading, stitching, paper crafting, and much more!
For boys and girls:
These Young Woodworkers Kits have everything your little builder needs to create crafts and toys they can enjoy, while learning important woodworking skills along the way. Your child's first three kits will include 5 kid-sized, high-quality tools they'll use again and again. A new woodworking project is delivered every four weeks, with a new and exciting skill to master. Each project teaches a new, real world skill that kids will use for years to come.
Related posts