We have lots of rocks in our backyard and I having been trying to come up with fun ways for the kids to use them such as our Garden Sensory Bin. Recently, we collected some rocks, painted them and incorporated them in our sand play. This panning for gold activity is a fun way to brighten up some rocks (literally) and add new life to a sand table. Be sure to also check out these Backyard Activities for Kids.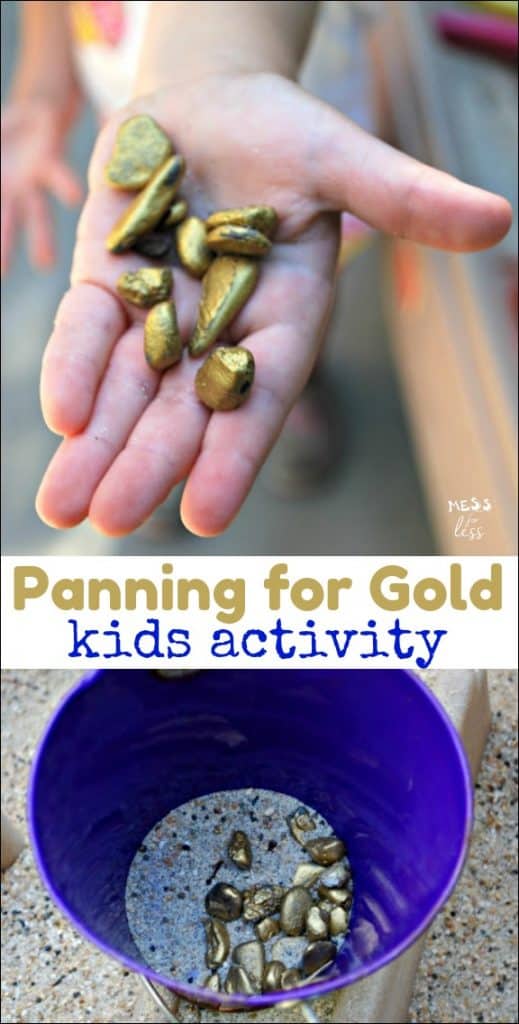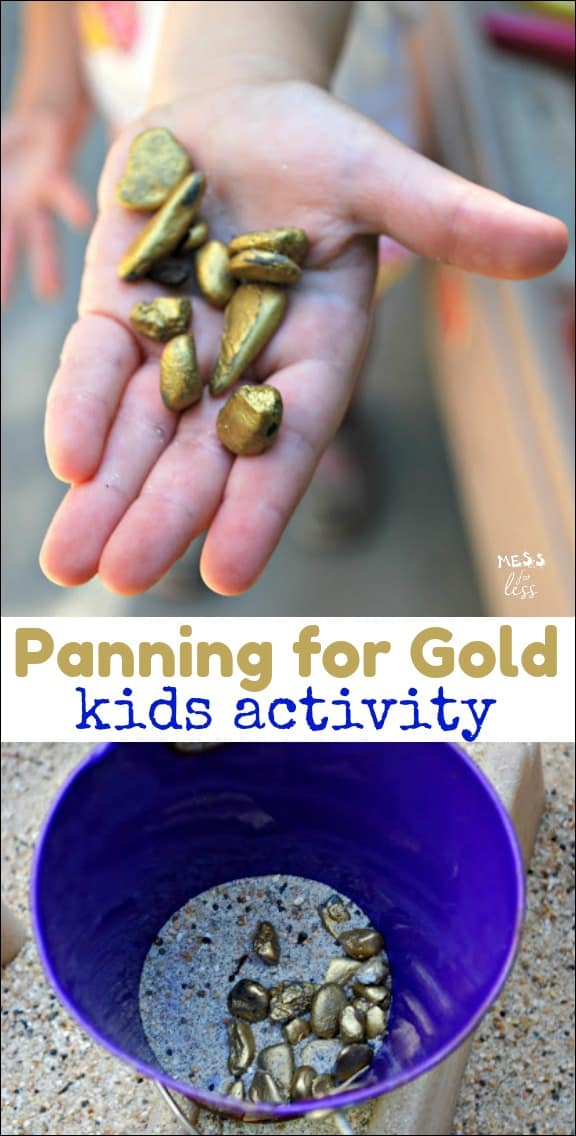 Panning for Gold Activity
We went outside in search of some small rocks. If you do not have any in your yard, a quick walk around the neighborhood or to a local park will turn up some. We collected our rocks in buckets with each child taking 15-20 rocks.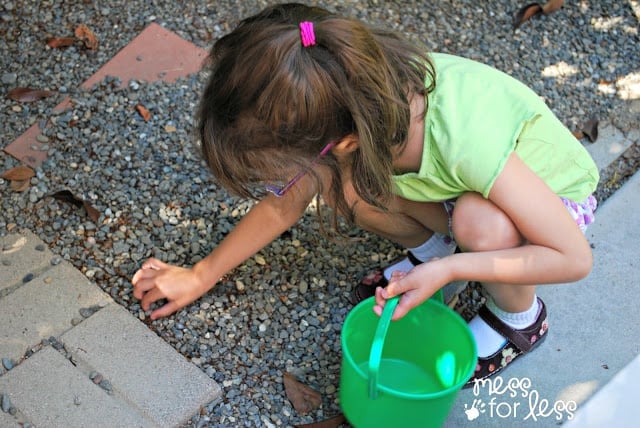 Panning for Gold Activity Supplies:
Small rocks
Small paint brush
Paper plate
Tongs
Parchment paper or foil
Sand table or container filled with sand
Sand shovels, sifters and colanders
I made a palette on a paper plate by squirting some gold craft paint onto the plate. The kids just painted the rocks on the plate which made for an easy clean up.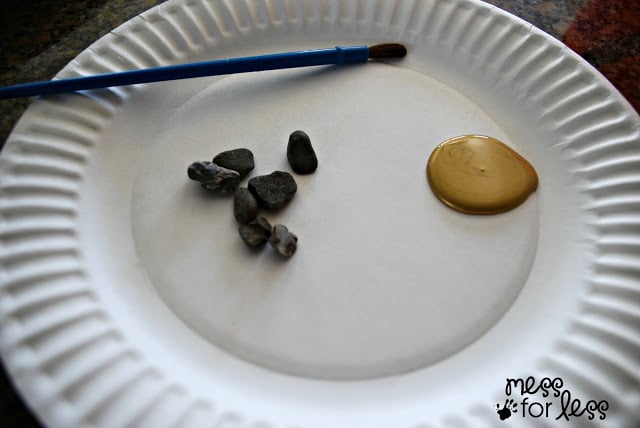 My youngest paints a rock and her finger. This activity was actually not as messy as I thought it would be. We quickly discovered that when we were done painting one side of the rocks we could use the brush to flip the rock over and paint the other side.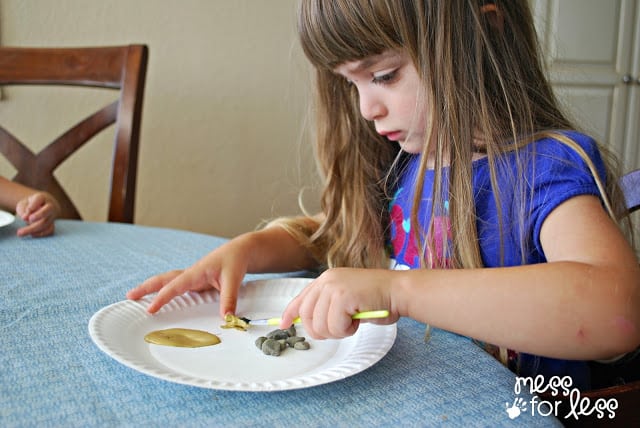 The rock painting went much quicker than I was expecting. These kids were motivated!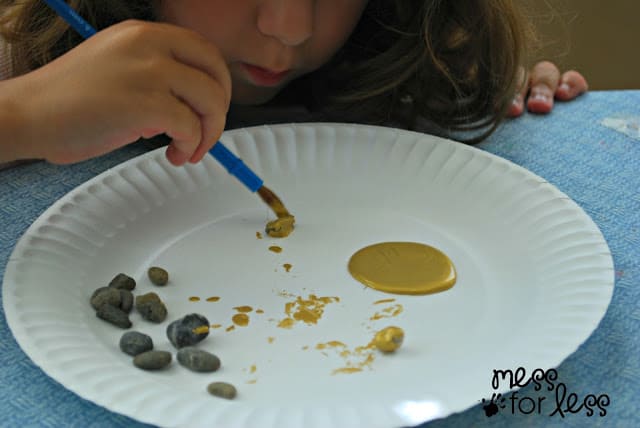 When the rocks were painted, I picked them up with tongs and placed them on a sheet of parchment paper to dry. If you don't have parchment paper, you can use foil.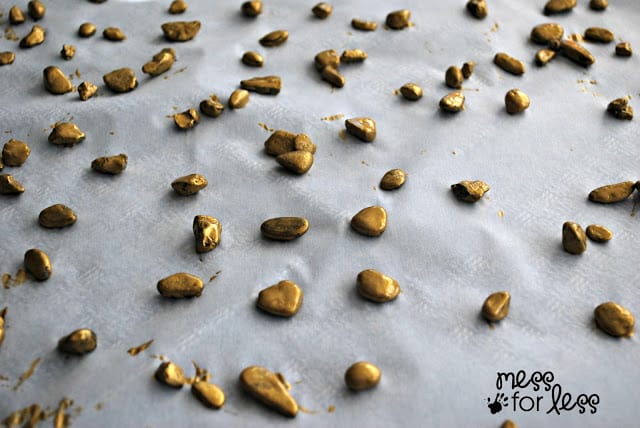 The next day when the rocks were dry, I buried them in our sand table. If you don't have a sand table, a container filled with sand will also work. I also supplied the kids with some sand tools such as shovels, sifters and a kitchen colander.
I covered most of the gold with the sand, but did leave a few in view.
Each of my kids got a bucket to collect their loot and they got started panning for gold.
Each child used a different sifting tool to find their gold.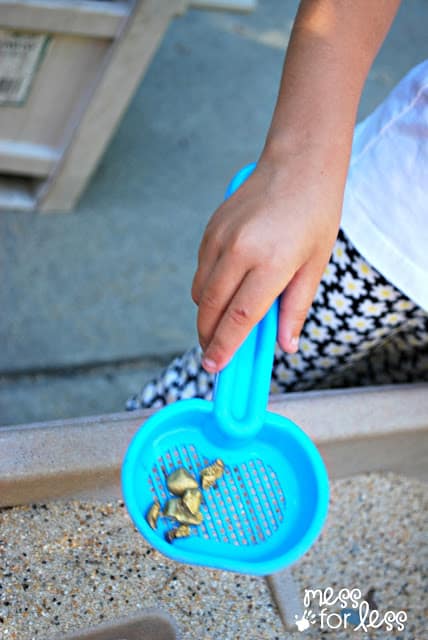 They would shake out the sand and be left with the "gold" nuggets.
Now if only that were real gold!
My youngest counts her treasure. In addition to being fun, this panning for gold activity is helping her get in some math practice!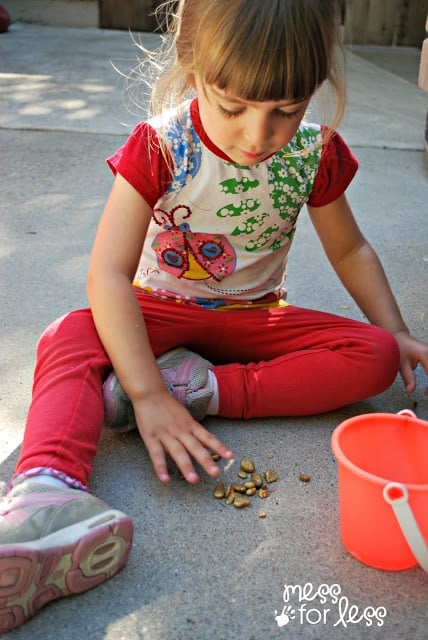 This gold has become a staple at our sand table. The kids love hiding it and then panning for it and seeing who found the most.
What are some fun things you like to add to your sand table?
If you are looking for more engaging activities for kids, you'll love Green Kid Crafts, an earth-friendly monthly craft subscription box that encourages creativity while teaching kids respect for the environment.