This is a sponsored post on behalf of ScholarShare. I received compensation but all opinions are my own.
When we moved to Northern California we were shocked at the high cost of living. We had lived in a New York City suburb before and that isn't cheap, but it looks like a bargain compared to the prices of everything here. Saving for three kids to go to college while living in this area is tough. Even though my kids are young (ages 5 and 6) we have been saving for college since they were babies. I hope that the learning they are doing now is something that they will continue through their college years. In the spirit of learning, I am sharing some
free summer tracing printables
to help your child keep the learning going this summer. Read on to find out how you can get them. For more learning printables, check out our free printable
number book
.
What is ScholarShare?
If you live in California then you can take advantage of ScholarShare which is a 529 College Savings Plan. Since it is a state-sponsored, tax-advantaged investment vehicle, it can help and encourage families to save for future qualified higher education expenses. The plan is managed by TIAA-CREF Tuition Financing, Inc. (TFI). Account holders have lots of options since ScholarShare offers 19 investment portfolios. There is something for every savings goal and risk tolerance.
With ScholarShare you get tax-deferred growth and withdrawals free from state and federal taxes when the funds are used for qualified higher education expenses, such as tuition and fees, books or even certain room and board costs. As long as you are a U.S. citizen, or resident alien with a valid Social Security Number or Taxpayer Identification Number, you can open a new account, for as little as $25. ScholarShare has no annual account management fee, no income limit and offers a high maximum account balance.
You can trust ScholarShare. Since its inception in 1999, the number of ScholarShare accounts has grown to more than 260,000 with over $6.3 billion in total plan assets. In 2014, nearly $300 million was withdrawn by families to pay for qualified higher education expenses.
I love the fact that ScholarShare offers a "Give a Gift" option where family members and friends can open a new account as a gift or make a gift contribution to an existing one. If you have people always asking what they can get your child for their birthday, this is a great option. Be sure to follow ScholarShare on Facebook and Twitter.
Free Summer Tracing Printables
For some of you college might seem a long way off, but I can tell you the time to start saving is now. If you have a child in preschool or kindergarten, it is a great time to start a ScholarShare College Savings Plan. You may also enjoy these free printables I made for kids that age to practice some all important skills.
If your child enjoyed these tracing printables, check out our other free worksheets: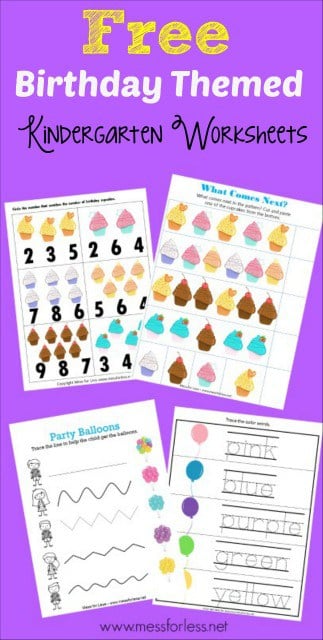 Want more Mess?