Does your child have a summer birthday? My twins do and while this unfortunately means they don't get to celebrate their birthday at school with friends, we do try and lots of birthday themed activities during the summer. With months of summer vacation ahead of us, it is often the case that kids will slide backward academically. To keep my children's skills sharp over the summer, I have created these Birthday Themed Free Kindergarten Worksheets. You can use these over summer vacation or use them in a homeschool or classroom setting if you are a teacher. Of course, these free printables are not only for summer. They would be perfect anytime you are celebrating a birthday or doing a birthday theme or unit. These free kindergarten worksheets are perfect for kids in Preschool and Kindergarten depending on their skill level. You can use these Birthday Themed Free Kindergarten Worksheets to help reinforce valuable fine motor and pre-writing skills in addition to working on basic math and number concepts. You might also enjoy our Free Summer Tracing Printables. If you are still looking to supplement, this is our favorite Kindergarten workbook.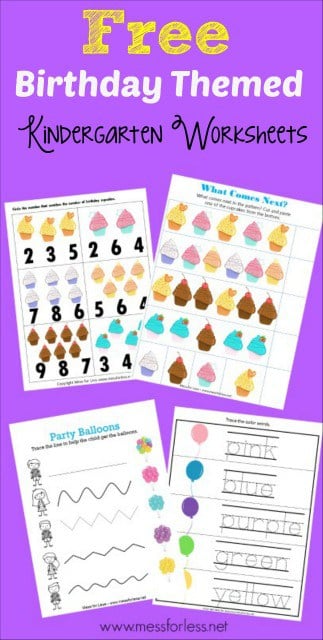 Terms of use
These free worksheets may not be copied and sold or reproduced in any way. They cannot be changed or altered by you in any way and then sold as your own. If you are sharing these printables, you must direct people to my website and not to a link for the PDF. Do not store these on your website, on a file sharing website or on Facebook or Dropbox. These free worksheets are copyright Mess for Less.
You can get the Birthday Themed Free Kindergarten Worksheets by clicking here.
For more free worksheets check out:
Free Spring Preschool Worksheets
Story Box with Free Printables