My daughters have a lot of hair. When we are out and about people always stop to comment on their hair. Often those same people will ask me how I get rid ofhair tangles or just give me tips on what works for them. A typical comment will be: "Your daughters have beautiful hair. Do you have problems with tangled hair? I found a great product..." I had gotten pretty desperate in this department so I would usually run out and buy whatever was suggested. I found those products rarely worked but I have found some that absolutely work on tangled hair. I share them with you here along with a recipe for DIY hair detangler. Hopefully this makes mornings easier for you. If you are looking for more morning tips check out how to create a stress free morning routine.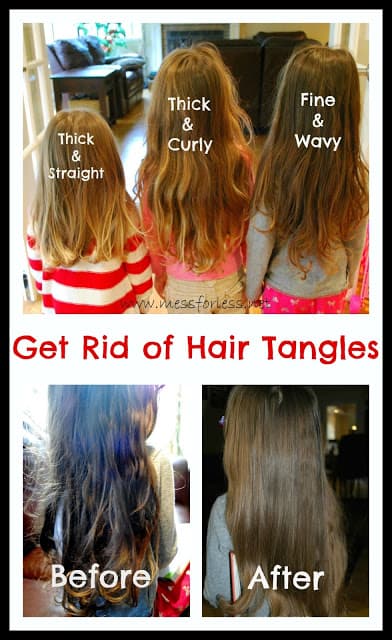 Get Rid of Hair Tangles
I counted 7 items under our sink that I bought in the hopes of solving our hair tangling problem. I only use a few on these on a daily basis and the rest collect dust. Some of these products might work great for you but we did not have success with all of them. So here is my guide to getting rid of tangled hair for good.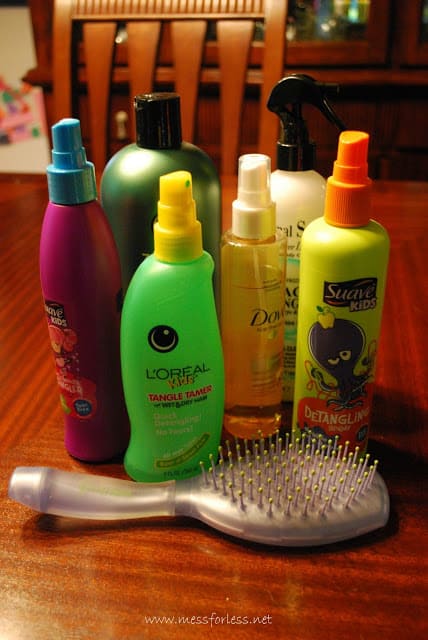 Below are my main go-to hair detanglers (Original Sprout Miracle Dentangler, Zerran Equilizer Leave in Conditioner, Suave Kids Detangler and a Goody Ouchless Cushion Brush). Read on to find out how we get rid of hair tangles with these products as well as how to make your own hair detangler.
The Zerran Equalizer Conditioner (large green bottle above) is my first line of defense to get rid of hair tangles. It is a leave in conditioner and detangler that I use in my girls' hair before they get out of the bath. A woman at the gym told me about this when she saw me with my girls. She said that she also put some in her daughter's dry hair each day to help more with tangles. I tried that and just felt like the hair was getting weighed down with too much product. So I just use it after I wash their hair. What a difference it makes! We had just been using normal conditioner that you wash out, but it didn't make a difference. Zerran Equalizer can be pricey, but it lasts a long time. You don't need a lot at all.
In my experience, certain hair types are more prone to serious tangles. I happen to have girls who all have different hair types.
Thick & Straight
My youngest has thick, straight hair which tends to resist much tangling. She does get a few small tangles each morning so I use Suave Detangler Spray for Kids which you can find at any super market or drug store for under $3. This or the homemade detangler I will mention later and a good brush are all you really need to tame those tangles. Lucky you!
Thick & Curly
This kind of hair looks overwhelming but if properly managed, it can be easy to maintain. I use the same super market or homemade dentangler and it works fine. If you still have had a hard time with your child's curly hair, follow my advice for Fine and Wavy hair.
Fine & Wavy
In my experience, this is the type of hair that tangles most. Surprised? I was. It used to seem that even after I just combed it, my daughter could shake her head and it would be all tangled again. It was like it had a mind of it's own. I was at my wits end and spending tons of time each morning brushing through this kind of hair.
I now use the Original Sprout Miracle Detangler for the tough tangles. At around $20, it is pricier than what you'd buy at the supermarket, but it really gets rid of hair tangles. When I first got it I was skeptical because of the price, so I tried the cheaper hair detangler on my daughter and when I still couldn't get out certain hair tangles, I sprayed the Miracle Dentangler on it. The brush slid right through the tangles. Amazing! I've been using it daily on my daughter with fine and wavy hair since January 1st, and we haven't even used ¼ of the bottle. A little goes a long way so don't let the price deter you.My daughter's hair before the Miracle Detangler. No brush is getting through there!
When you spray on the Miracle Detangler, it comes out gloppy. It will look like you sneezed on your kid. This is normal. Rub it into the hair with your fingers.
Brush through with your Goody Ouchless brush and check out the results. Is she ready for a shampoo commercial or what?
Hair Detangler Recipe
Of course, if your child doesn't have very bad knots in their hair you can always make your own hair detangler which should get the job done. Get a spray bottle (you can find one for $1 at the dollar store or Target) and add 2 tablespoons of your favorite conditioner.
After you have added the conditioner, fill up the rest of the bottle with warm water and shake it up until the conditioner is totally mixed with the water. That's all it takes. I make sure to shake mine up before each use.
Whether you buy hair detangler or make your own, you will need the right brush and the right brushing technique to effectively remove tangles and make the experience painless for your child. I was using a normal plastic brush on my kids hair for the longest time until someone at the grocery store of all places, recommended I try the Goody Ouchless Cushion Styling Hair Brush. You have to like a brush that has "ouchless" in it's name. The brush doesn't pull or snarl hair like others I have tried.
Okay, so you chose you detangler and brush but you still need to brush your child's hair the right way. My kids never complain or fuss when I brush their hair and I believe it's because of my pain free brushing technique. You want to grab a section of your child's hair and hold it tightly in your hand. Make sure to hold the hair close to the scalp. Then you can brush the remainder of the hair without hurting them if you come across a tangle.
My final tip to get rid of hair tangles is to brush your child's hair every night before they go to bed. This is really a must if your child suffers from tangled hair. The hair will tangle a bit while they sleep, but it will be much harder to comb through in the morning if you don't comb it the night before.
Wishing you less tangles and tears in the mornings.