This fun Jumping Sight Word Game will keep kids moving and learning. Such a fun way to burn off energy and practice important skills. This gross motor skills game is very easy to set up.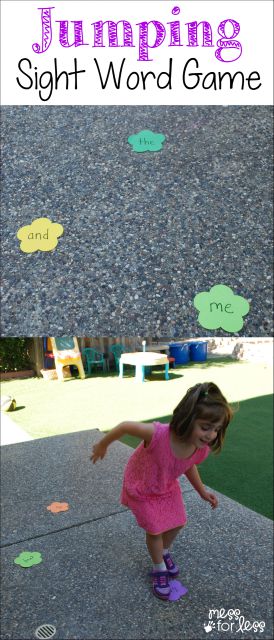 To play this jumping sight word game, you will need some cutouts and a marker. I used foam cutouts, but you can make your own out of construction paper as well. I wrote sight words on the cutouts with a marker. The sight words I used were: be, you, go, to, me, and, the, on, we, my, like, see, is. You can use these same words or any sight words that your child is struggling with or working on.
I placed the cutouts outside in our yard spaced far enough apart that they would require a good jump to navigate. If it is windy where you are, you might need to tape the cutouts to the pavement to prevent them from blowing away. The object of the game is simple. Jump your way through the words shouting out the word after you jump on it.
If you have kids that love to be on the move like my daughter, this is the perfect learning game for them. It allows them to burn off some energy while learning. If the weather isn't cooperating where you live, you can play this game indoors as well.
After a few rounds of jumping, my daughter tried new ways to play including stretching her legs to be on two words at once.
You will also love these 10 Letter Activities for Kids.