.
This post brought to you by Stride Rite. The content and opinions expressed below are that of Mess For Less.
Shoe shopping with kids can be exhausting, but I recently had a fun experience buying a pair of Surprize by Stride Rite shoes for my daughter. What made it so fun you wonder? Well, since the Surprize line are found exclusively at Target, I was able to order them online and have them delivered to my local store. Since my kids wear Stride Rite shoes, I knew what size would work for my daughter. I just stopped at Target (the same day I placed my order) and picked up the shoes at customer service. No trying on dozens of pairs of shoes or dealing with a cranky kids. Now this is the way to shop! My daughter loved wearing her new sneakers to play a fun jumping sight word game that I'll be sharing with you.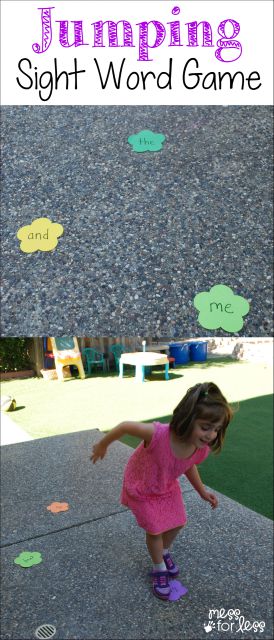 You are probably already familiar with Stride Rite. Stride Rite knows kids. Since 1919 they have been making shoes that are not only stylish, but made to stand up to whatever kids get into. Surprize for girls and Surprize for boys are available for the first time exclusively at Target and can found at U.S. Target locations and at Target online. My daughter loves pink and purple, and soon as I saw these pink and purple Kala sneakers, I knew they would be perfect for her. Besides being stylish, these sneakers have comfort memory foam footbeds, anti-stink lining and a rounded rubber bottom for durability.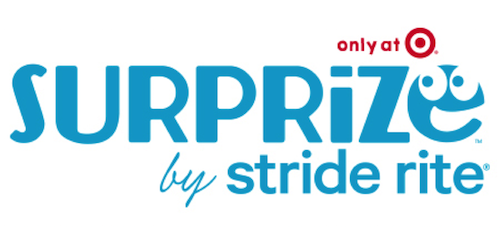 My daughter is pretty picky with her shoes and finds many brands uncomfortable, but she never complains about Stride Rite shoes. They are made with comfort in mind.
The flexible outsoles ensure that the shoes fit well whether a kid is at rest or play.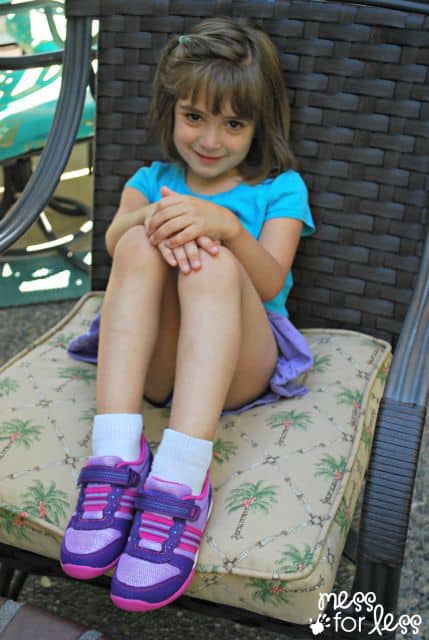 Now that we have some comfy footwear, it is time to get moving and learning. To play this jumping sight word game, you will need some cutouts and a marker. I used foam cutouts, but you can make your own out of construction paper as well. I wrote sight words on the cutouts with a marker. The sight words I used were: be, you, go, to, me, and, the, on, we, my, like, see, is. You can use these same words or any sight words that your child is struggling with or working on.
I placed the cutouts outside in our yard spaced far enough apart that they would require a good jump to navigate. If it is windy where you are, you might need to tape the cutouts to the pavement to prevent them from blowing away. The object of the game is simple. Jump your way through the words shouting out the word after you jump on it.
If you have kids that love to be on the move like my daughter, this is the perfect learning game for them. It allows them to burn off some energy while learning. If the weather isn't cooperating where you live, you can play this game indoors as well.
After a few rounds of jumping, my daughter tried new ways to play including stretching her legs to be on two words at once. However she played, her Surprize by Stride Rite shoes kept up with her and made jumping and moving fun and comfortable.
Want more Mess?