Besides Santa and Snowmen what do you see everywhere this time of year? Angels. Angels play an important role in the Christmas story so it's no wonder they are so popular. Last week my kids came home with paper plate angels they had made at church. I loved the concept but knew they didn't have the time or materials to really decorate the angel at church. I thought it would be fun to make our own angels and really jazz them up. It was simple to do with materials we already had around the house. For more Christmas fun, check out these Free Preschool and Kindergarten Worksheets for Christmas.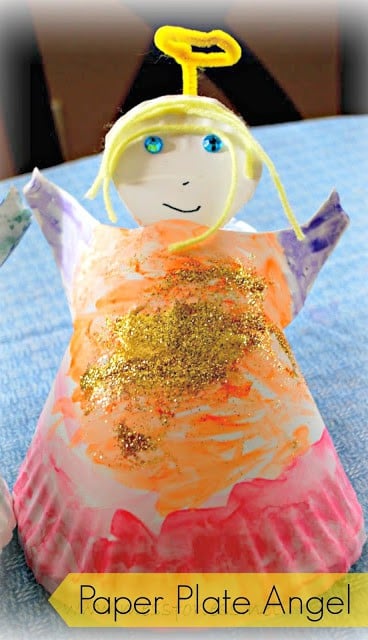 You will need:
White paper plate
Glue
Scissors
Yarn
Brush
Yellow pipe cleaner
Decorations for eyes
Markers
Tape
First I drew a head and arms in the up position on a paper plate.
I cut out the paper plate around the head and cut slits where the arms would go. I did not cut the arm slits deep enough in this photo as I realized when I tried to fold the angel back. I ended up cutting the bottom arm slits about 2 more inches.
We have not used water colors in a while, so I decided to use those to decorate the angel. But you can just as easily use markers or crayons. I wanted to make sure the kids didn't paint the angel's face since I had other plans for it.
When the girls finished painting and the paint had dried, we added some eyes to the angels. We used stick on jewels, but buttons, stickers or even drawn on eyes would be cute as well.
We added a nose and mouth using some markers.
Finally it was time for our angels to get some hair. The kids squeezed the glue onto the head and stuck on yellow yarn that I had cut into various lengths.
Our angels were looking pretty good, but when I think of angels I think of them dressed in shimmering gold. So we painted some glue on our angel's dresses and sprinkled on the gold glitter.
Next, I took the two ends of the paper plate, folded them back, and secured with tape to make a skirt.
At this point, my youngest decided she needed an angel hat. Angel hats are all the rage in Paris, haven't you heard?
For a finishing touch, I twisted a yellow pipe cleaner to make a halo and taped it to the back of the angels.
If you liked this paper plate angel, you'll love:
Christmas Fine Motor Skills Activities