I don't know when slime got so popular, but it is everywhere. Remember how hot fidget spinners were? Well, it seems to me like slime has over taken fidget spinners as the hot new sensory toy. But what do you do when your kids keep wanting to buy slime or even worse, keep asking you to make it. If you have ever tried making slime, then you know it doesn't always come out perfectly, which leads to disappointed kids and frustrated moms. But making perfect slime doesn't have to be difficult. I love this slime recipe because it includes colorful and squishy poms poms which just adds to the sensory fun for kids. Learn how to make pom pom slime for kids with this simple tutorial. Then check out these 25 Ways to Play and Learn with Pom Poms.
How to Make Pom Pom Slime for Kids
Please supervise your kids when making slime and have them wash their hands when they are done playing. This is not edible.
You will need:
1 5 oz container clear glue
1 cup hot water
⅓ tsp borax
¼ cup room temperature water
clear glue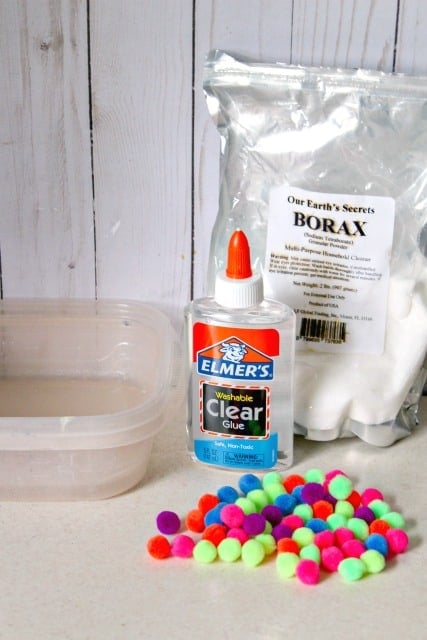 To make pom pom slime for kids you will start out by pouring 1 cup of hot water into a container. Add ⅓ tsp of borax and mix well until dissolved. Fill another bowl with ¼ cup room temperature water and empty an entire bottle (5 oz) of clear glue into it.
Add in your pom poms. If you would like to add glitter, to the slime now would be the time to do it. Mix well.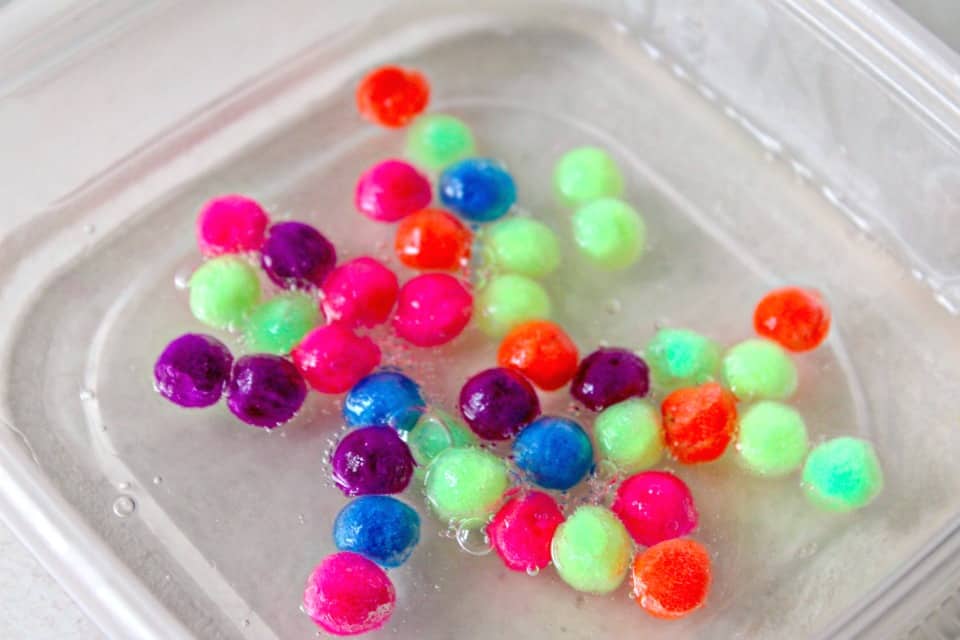 Pour the entire water/glue bowl into the first bowl of borax and water. The slime begin to form immediately.

Let the mixture sit for about 30 seconds to a minute and wipe out your empty bowl.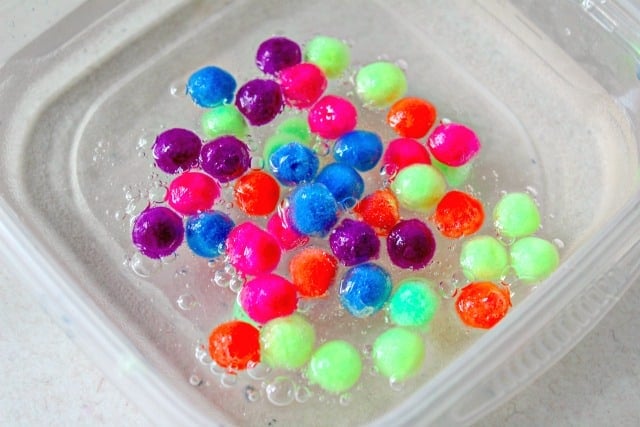 Pick up the slime from the water and borax solution and transfer it to the empty bowl. It will be sticky at first, but that is fine. Knead the pom pom slime and it will thicken up and finish forming. If your slime is still way too sticky, splash some of the borax water on it and continue kneading it.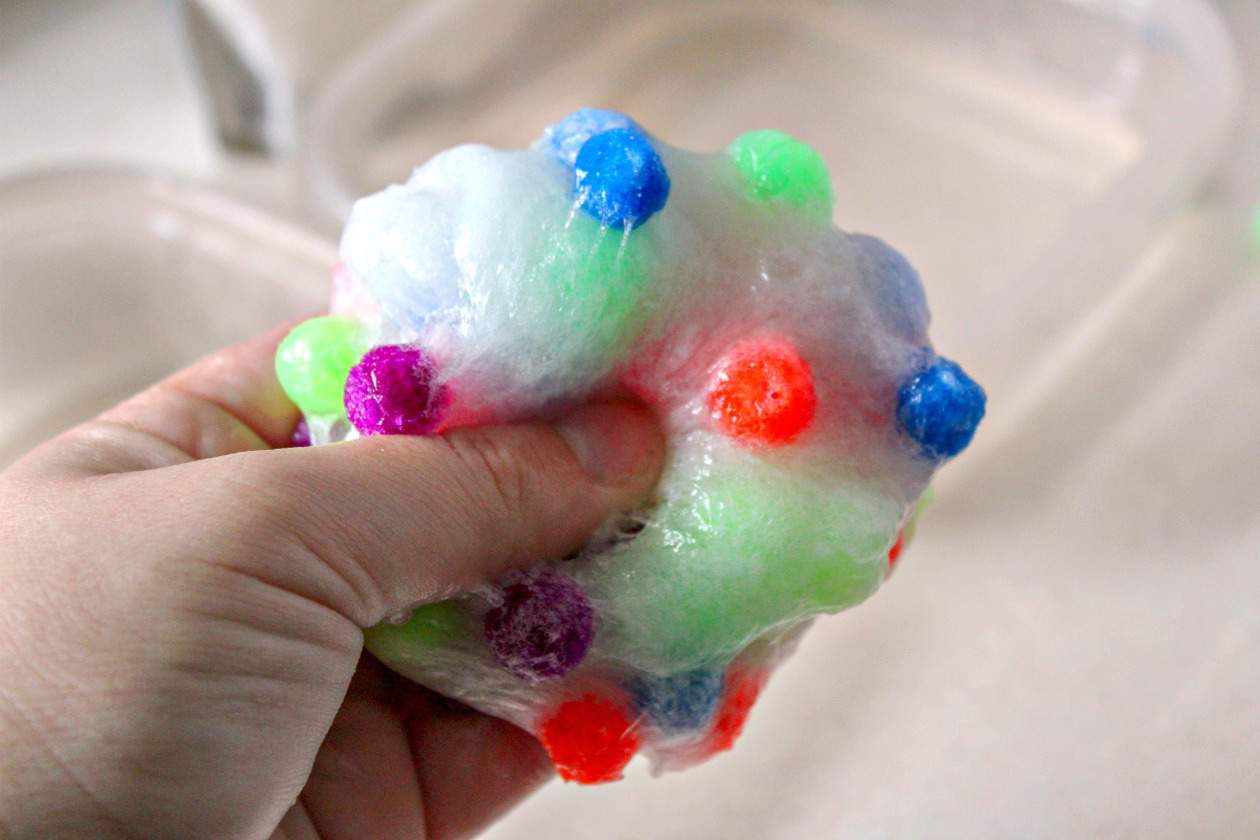 At first, your slime will appear a bit cloudy but it will clear up once you begin to play with it.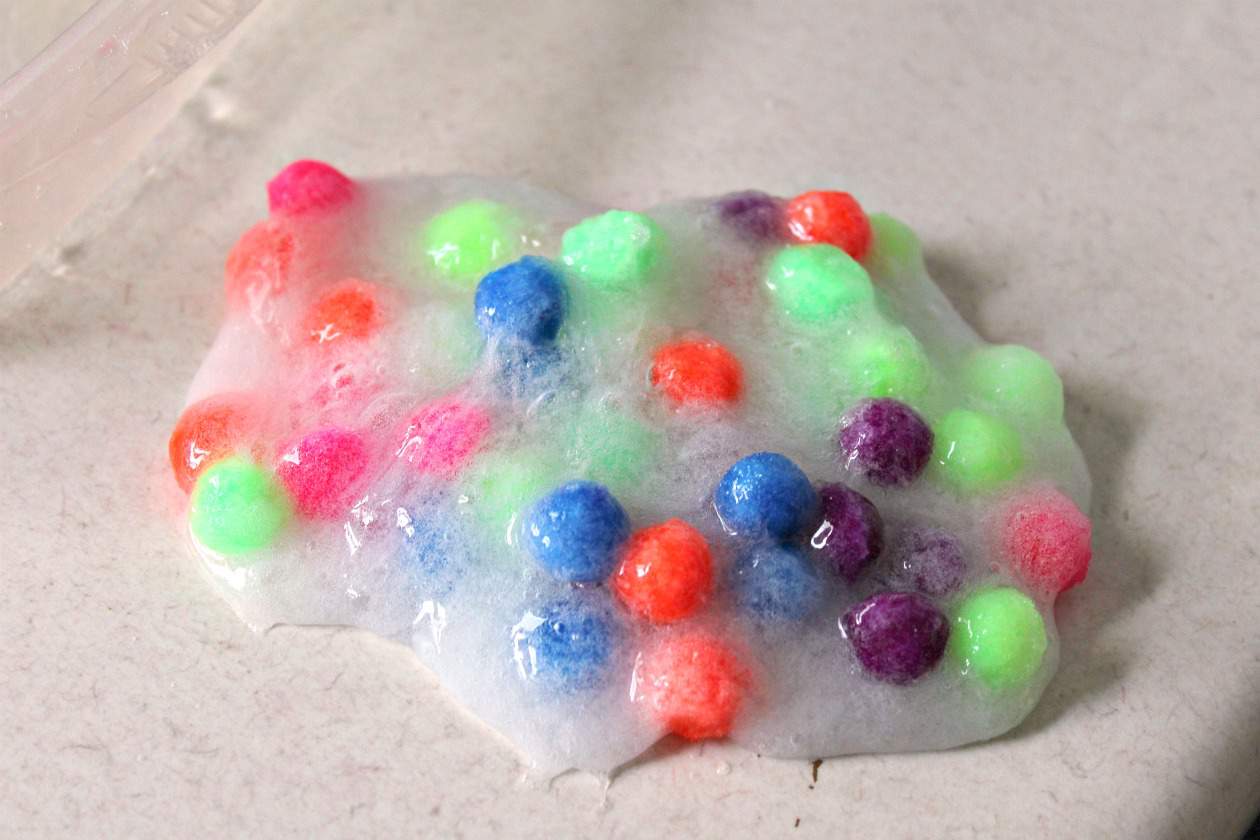 Store your pom pom slime in an airtight container.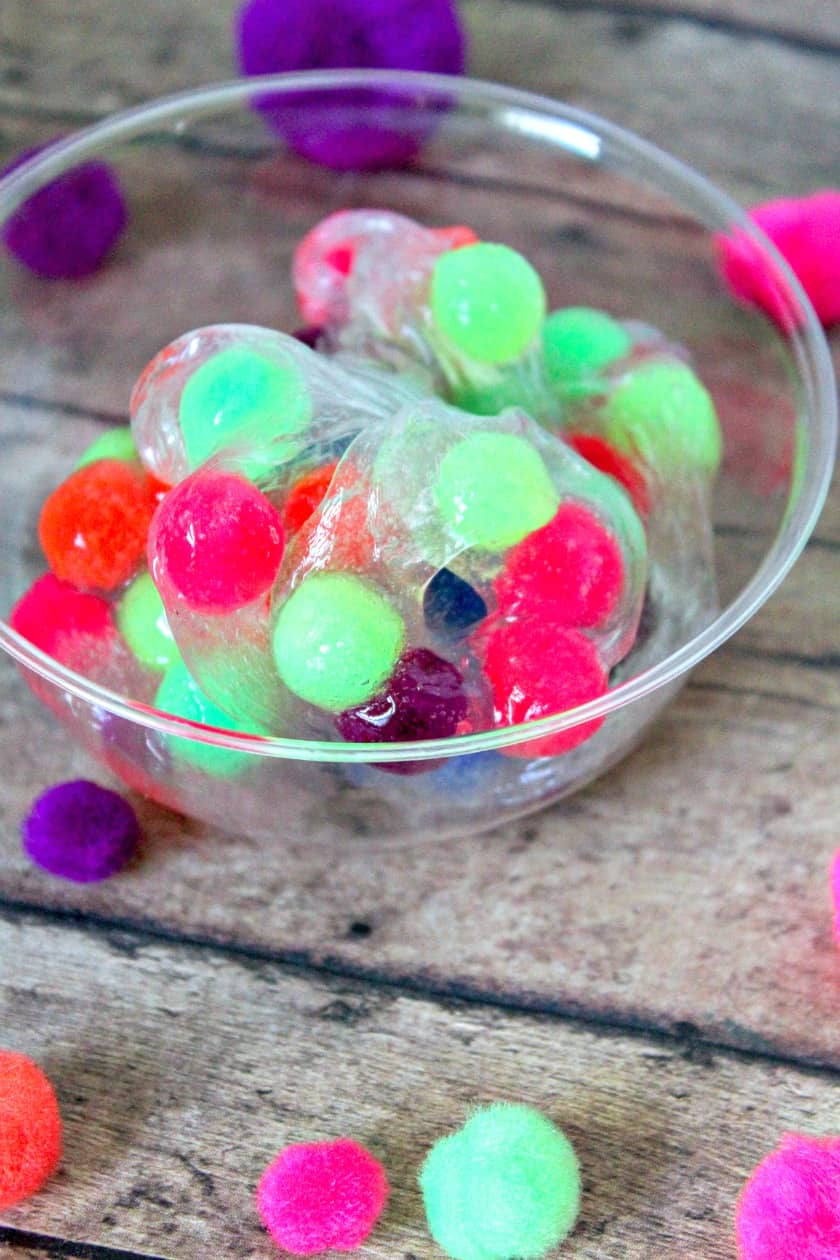 Kids will love the stretchy slime made with glue and pom poms. It is colorful and has a wonderful texture. Don't be intimidated by making slime. With the right recipe, you can have fabulous results! If you are looking for more fun ways to use pom poms check out this awesome Pom Pom Bubbles sensory bin from Happy Toddler Playtime.
If you are looking for more fun ways to engage your kids, I highly recommend KiwiCo. As a former teacher, I was really impressed with the quality of materials found in KiwiCo. Some moms have told me that they want to do activities like I do on Mess For Less with their kids, but they just don't have to the time to go buy all the supplies and prepare them for the activity. KiwiCo is the perfect solution. Every month your KiwiCo will focus on a particular theme like Colors, Dinosaurs or Gardening. KiwiCo offer a variety of projects ranging from crafts, imaginative play, science experiments and more.
If you liked learning how to make pom pom slime with glue, you'll love: