I don't know about you, but my kids are obsessed with slime. Homemade slime, store bought slime - it doesn't matter. They can't keep their hands off the stuff. Playing with slime is a great sensory activity for kids. Children can explore with their sense of touch, smell, sight and hearing when playing with slime. Playing with slime can be a great stress reliever too. It is no wonder that homemade slime is so popular. Today I'll be sharing a Slushie Slime Recipe that brings to mind a favorite frosty treat. This, amazing slime recipe is NOT edible, but it is lots of fun! This is the best slime recipe for slushie slime that I have found.
Jump to:
Disclaimer: Please supervise your children when making and playing with slime. This is not edible.
Why you'll love this icee slime recipe
This simple slime recipe is easy to make and comes together in minutes
The thick slime texture makes for a great sensory experience
Easy crunchy slime recipe
Slime supplies needed
How to make slushie slime
This easy recipe starts off like many basic slime recipes. To make this crispy slime recipe, pour the entire 5 oz bottle of clear glue in a mixing bowl.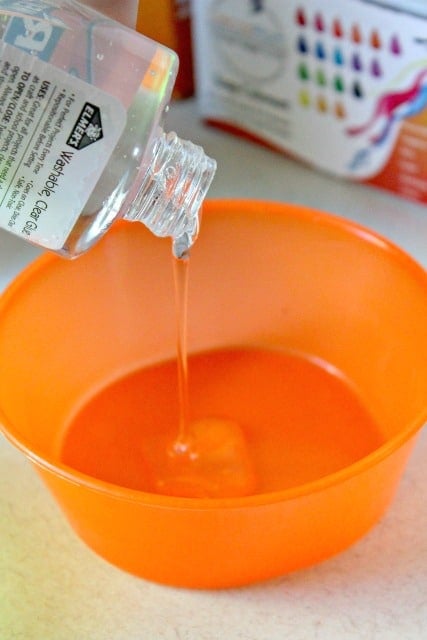 Next, add in ½ cup of water.
Then add in ½ teaspoon baking soda and stir together.
Add 1 tablespoon contact solution. It will instantly begin to form.
Drop a few colors of red food coloring. Stir to mix.
Next, add in the slushie beads or plastic pellets. The mixture will be STICKY! Don't panic! Simply mix the solution in the bowl until it starts to form.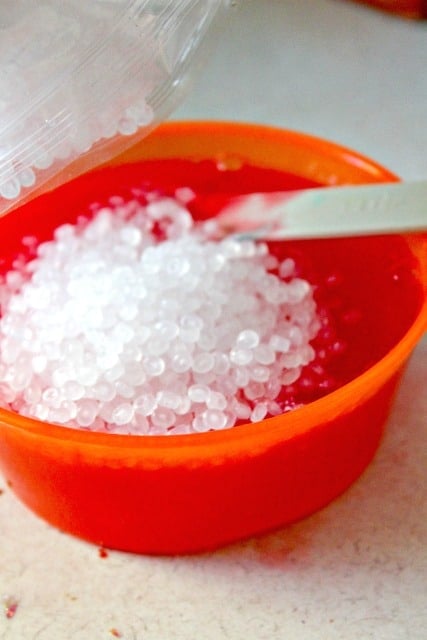 Knead the ingredients in the slime until it is no longer sticky. This fun slime recipe can be stored in an airtight container.
Note: After the slime sits for a bit, the foam beads will rise to the top and the slime will settle to the bottom. This is normal - just mix it and it will go back together. Kids will think that part is super cool.
As a mom who has kids who are obsessed with slime and sensory play, I do have some advice on how to keep the stuff from getting everywhere. I have found slime on carpets, sofas, clothes, the cat (don't ask!).
Make sure kids are in a "slime approved" area when playing. For us, this is typically at a table. This keeps the slime for slipping out of their hands and onto a rug when they are stretching it.
Another tip is to make sure the container for the slime is always within reach of where they are playing. If not, kids will leave the slime wherever they are working when they are done. Having the container nearby makes it easy for them to remember to put it away.
Hopefully these tips save your sanity and your kids have fun with this saline solution slime recipe.
Frequently asked questions
Can I use white glue for this crunchy slushie slime recipe?
No, you need clear glue for this recipe. We use clear glue from Elmer.
Can I use another color of food coloring?
Yes, we used red, but there are a ton of colors you can use.
Do your kids love science?
Easy experiments are so much fun for kids and they are not intimidating for parents. If you are looking for some more easy experiments, the Spangler Science Club delivers amazing hands-on science to your door every month. Join Today! These make great gifts for budding scientists. Each month, your child will receive the most amazing science experiments delivered to your door.
Related posts