If you have been around Pinterest for a while, you have probably seen the Ivory Soap Experiment where soap placed in the microwave expands to many times it's size. We did our own soap experiment and then added some food coloring and shaving cream to make a moldable Soap Dough Recipe. It's easy to create a fun sensory activity with just a few basic ingredients. For another fun sensory activity, check out Garden Sensory Bin.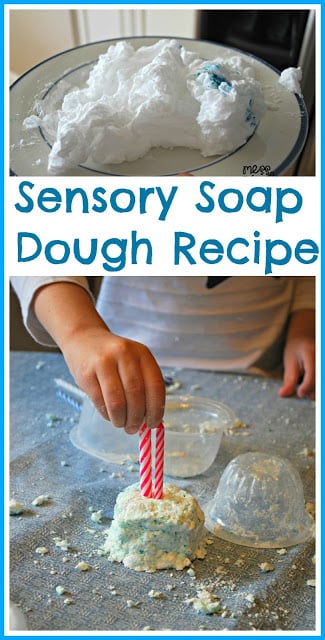 Soap Dough Recipe
You will need:
Bar of soap (I know Ivory Soap works; we used Jergan's Pure and Natural Mild Soap)
Microwave and microwave safe plate
Food coloring
Shaving cream
This experiment is usually done with Ivory soap but I didn't want to make a special trip out to get some, so we used Jergan's Pure and Natural Mild Soap which we found at the dollar store. I would recommend using one of these two soaps as I can't guarantee any other bar soap will work.
Before we started, I passed around a bar of soap and asked the kids to describe it. They said it was hard, smooth and smelled good.
We placed the bar of soap on a microwave safe dish and put in in the microwave. Within a few seconds the soap started to grow. It looked like smoke or clouds. We would stop it every so often so that the kids could see what it looked like. They were so impressed! Lots of "wows" were heard in the kitchen. We discussed what happened to the soap and their responses were "it melted" and "it became a cloud."
I added a few drops of food coloring to the soap and mixed it up with my hands. The food coloring doesn't entirely mix in with the soap, but it does give it a nice tint. Please make sure the soap is cool before touching and do not let your children touch the soap until you are certain it is cool. It is very hot when it comes out of the microwave.
I also added some shaving cream to the mixture. The shaving cream acts almost like a binder to make the soap moldable. You don't want to over do it with the shaving cream. Add a little at a time until it forms a moldable dough with the soap.
I put the dough in containers and gave my kids some cups and spoons to use with it.
We made a few batches of the dough since we bought a 3 pack of the soap. One of my daughters really wanted pink dough.
The kids wanted some candles so they could make birthday cakes. Time to blow out the candles!
We just used the dough one time so I am not sure how it would store. I love how this activity combined a sensory experience with a fun experiment.
Simple experiments are fun for kids and stress-free for parents. The Spangler Science Club delivers hands-on science activities to your door each month.
If you liked this soap dough recipe, check out some more sensory fun:
Creative Play with Water Beads