I participated in the National Pork Board Porksgiving program as a member of One2One Network. I received compensation but all opinions are my own.
To inspire people across the country to take the time to give and say thanks, the National Pork Board will celebrate "Porksgiving" – a time for giving back (with pork) to those who give back–through the end of the year. A home cooked meal is a great way to say thank you to someone in your life – and there's no better home-cooked meal than one made with pork.
My husband does so much for our family. He is truly an equal partner in every sense of the word. When he comes home from a long day at work he rolls up his sleeves and pitches in with child care and household chores. He never grumbles or complains even though he is tired from work. I love to show my appreciation for my husband by making him home cooked meals.
We rarely eat out, so this gives me the opportunity to experiment and try out lots of new recipes for him. Even if you don't consider yourself much of a cook, this easy recipe for Stuffed Pork Chops with Apples contains only 4 ingredients, (plus salt and pepper) so it's hard to mess up. I made this Porksgiving dish so that it would be ready when he got home from work. I wish I could say I had soft music playing and lit some candles while we ate, but we had three kids eating dinner with us, so this was not the case. Even so, he appreciated the effort and the home cooked meal.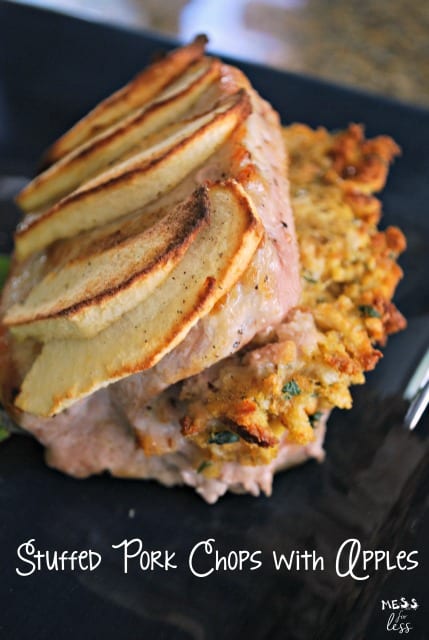 To make these stuffed pork chops, you'll want to start with a nice, thick boneless pork chop. I find 1 ¼- to 1 ½-inch chops work well.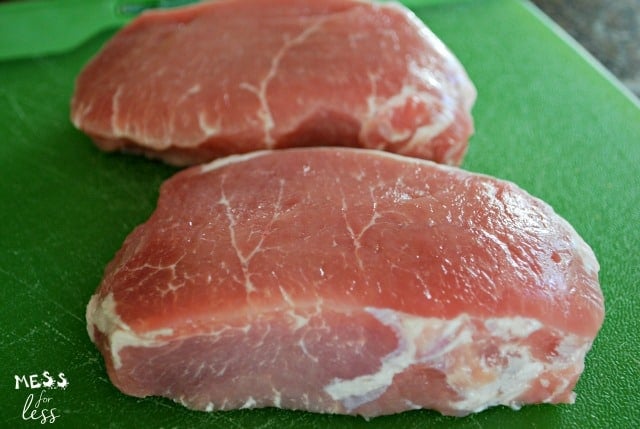 Stuffed pork chops may seem intimidating to make, but they are really easy. You'll want to cut a slit into the pork chop almost like you were slicing it in half, but not cutting all the way through.
I have a little short cut to this stuffed pork chop recipe and it is boxed stuffing. Hey, there is no shame in boxed stuffing. My husband actually prefers it to homemade stuffing. If you want to make your grandma's famous stuffing for the recipe, you are welcome to go ahead, but using boxed stuffing is such a time saver.
I like to stuff the pork chop pretty full and you can use some toothpicks to hold it together if you wish. I did not use toothpicks, but just carefully transferred it to the frying pan and oven and none of the stuffing fell out.
After browning the pork chop on both sides, I added some sliced granny smith apple to the top before popping it in the oven. The National Pork Board recommends using the following temperatures when preparing pork: cook pork chops, roasts and tenderloin to an internal temperature between 145°F (medium rare) and 160°F (medium), followed by a three-minute rest. For ground pork, cook to an internal temperature of 160°F.
Serve this with a green salad for a filling meal that is moist and flavorful.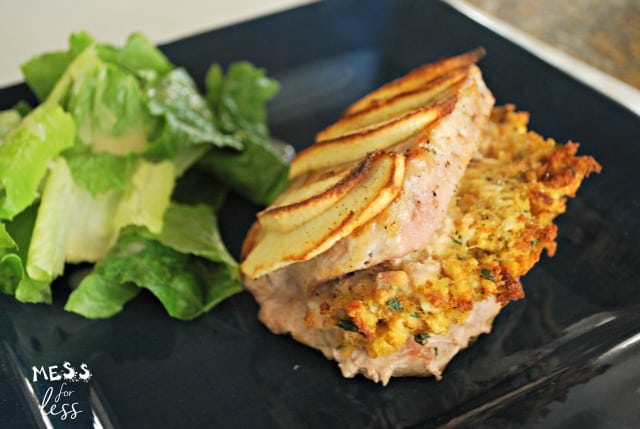 This dish has become one of my husband's favorites and he requests it all the time. I am all too happy to make it and show my appreciation for all he does for our family, such as working hard, bathing the kids, taking out the trash and a host of other thankless jobs. How do you show appreciation for your loved ones?
Get inspired to give back with juicy, tender pork all season by visiting www.PorkBeinspired.com/Porksgiving. There, the National Pork Board is sharing inspiration via stories that feature how Americans are giving back and saying thanks with the gift of pork. You can see our recipe for Stuffed Pork Chops with Apples there as well. Find more recipes to share during Porksgiving on Pinterest, Twitter, Facebook, Instagram and YouTube.
Stuffed Pork Chops with Apples
These Stuffed Pork Chops with Apples are moist and flavorful and contain only 4 ingredients!
Print
Pin
Ingredients
2

thick cut pork chops

1 ½ inches works well

1

cup

of stuffing prepared according to package directions

1

tablespoon

olive oil

1

Granny Smith apple

peeled and sliced

¼

teaspoon

salt

¼

teaspoon

pepper
Instructions
Preheat oven to 375 degrees.

Prepare stuffing mix according to package directions.

Heat olive oil in a skillet.

Cut a slit into the pork chop almost like you were slicing it in half, but not cutting all the way through.

Stuff each pork chop with ½ cup of the stuffing.

Brown in skillet for a few minutes on each side.

Peel and thinly slice Granny Smith apple.

Place a few slices on top of the stuffed pork chop and top with salt and pepper.

Place in a roasting pan and bake for 20 minutes, until the pork chop reaches an internal temperature between 145°F (medium rare) and 160°F (medium).

Let rest for 3 minutes before serving.
Nutrition
Calories:
494
kcal
|
Carbohydrates:
34
g
|
Protein:
32
g
|
Fat:
25
g
|
Saturated Fat:
6
g
|
Cholesterol:
89
mg
|
Sodium:
835
mg
|
Potassium:
671
mg
|
Fiber:
5
g
|
Sugar:
11
g
|
Vitamin A:
360
IU
|
Vitamin C:
4.2
mg
|
Calcium:
47
mg
|
Iron:
1.9
mg
If you enjoyed this recipe be sure to check out: