We recently returned from an awesome trip to Universal's Islands of Adventure. It was the ultimate family vacation and my kids (ages 9 and 7) can't stop talking about it. Obviously, going to a theme park with kids is little different than going with teens or adults. There are some rides kids cannot go on or rides they refuse to go on if they are less adventurous. If you hitting up a park like Universal's Islands of Adventure, you want to make sure to take advantage of all that it has to offer. Today I am sharing the Best Tips for Universal's Islands of Adventure with Kids. This isn't an all inclusive list of every single ride at Islands of Adventure. There are many headliner attractions I have not mentioned. I am only be suggesting rides and attractions that I feel would be enjoyed by children ages 4-11 (depending on their height). That being said, every child is different and you know your child best. Now are you ready? On to the rides!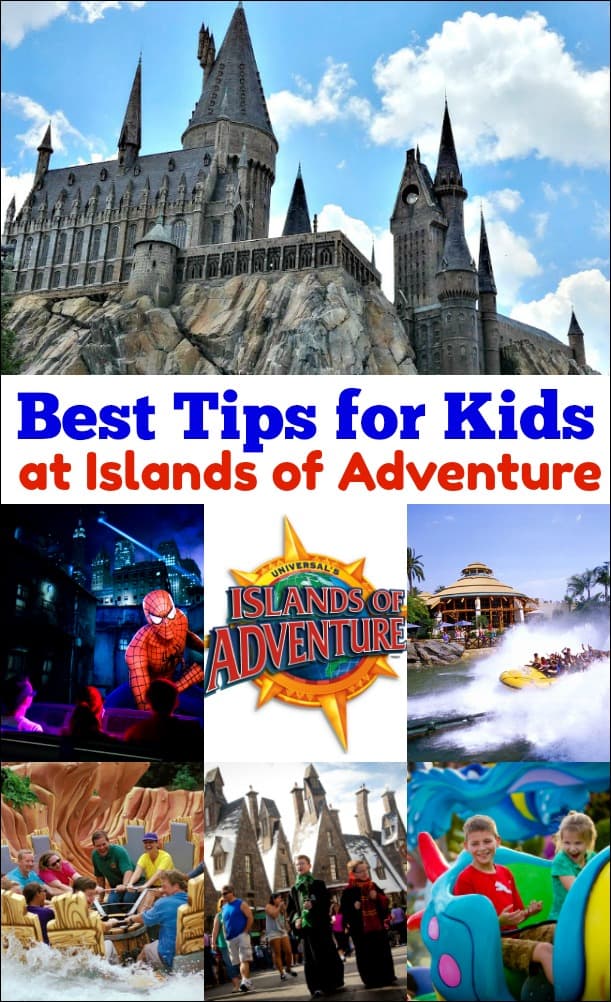 Photos in collage credit: Universal Orlando Resort
Islands of Adventure is comprised of eight themed islands - Port of Entry, Jurassic Park, The Lost Continent, Marvel Super Hero Island, Seuss Landing, Toon Lagoon, The Wizarding World of Harry Potter, and Skull Island. I will be discussing lands where we found the most kid friendly rides and attractions.
Best Tips for Universal's Islands of Adventure with Kids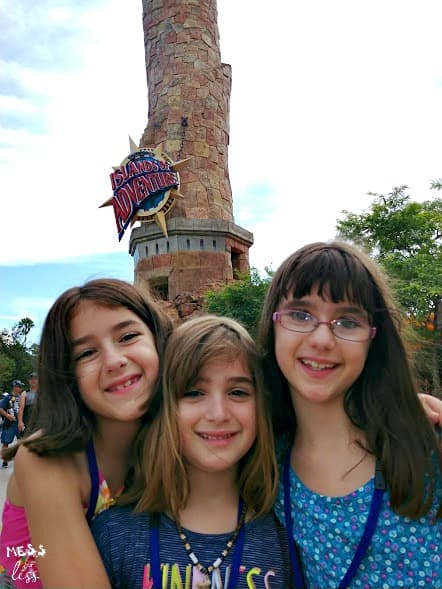 Jurassic Park
Jurassic Park River Adventure minimum height 42 inches
Take a step into the past as you enter this exceptionally well themed area of the park. Jurassic Park River Adventure gives kids a chance to get up close and personal with some dinosaurs, so if you have a dino lover at home, make sure to check this one out. The ride does contain one rather intimidating 85 foot drop, but it is not as bad as it looks. The drop part goes by so quickly that is over in the blink of an eye. Seriously, as you are going down and thinking "Ahhhh!" it's over. So if you have a child who is concerned about the drop, rest assured it is not as bad as it looks or sounds. Even if you can't convince your kids to ride Jurassic Park River Adventure, there is a fun splash area where you can watch the rafts drop into the water. You will get wet, but that is part of the fun.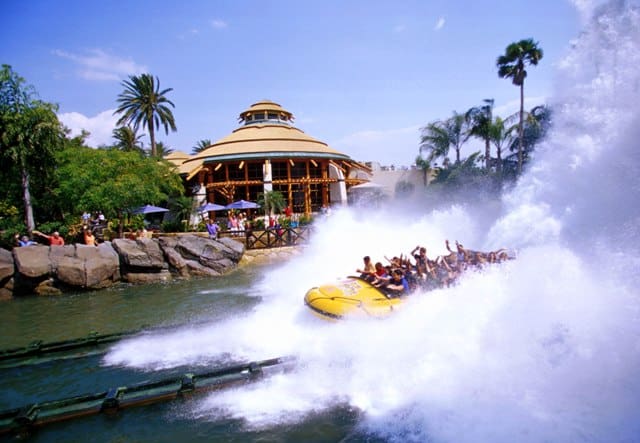 Photo credit: Universal Orlando Resort
Pteranodon Flyers minimum height 36 inches
This rides gives kids the best view in the park as they take flight on a prehistoric Pteranodon. Once your kids see this ride (it's pretty hard to miss) they will be begging to on it. This is a slow moving ride that is suspended from an overhead track. The movement is just right for kids - some side to side swaying of the seats with no drops.
Riding Pteranodon Flyers is easy. You just head to a ride kiosk and pick the time you want to ride. You'll be given a return time to come and take your ride. Adults and those over 56 inches need to be accompanied by a child that meets the 36 inch requirement.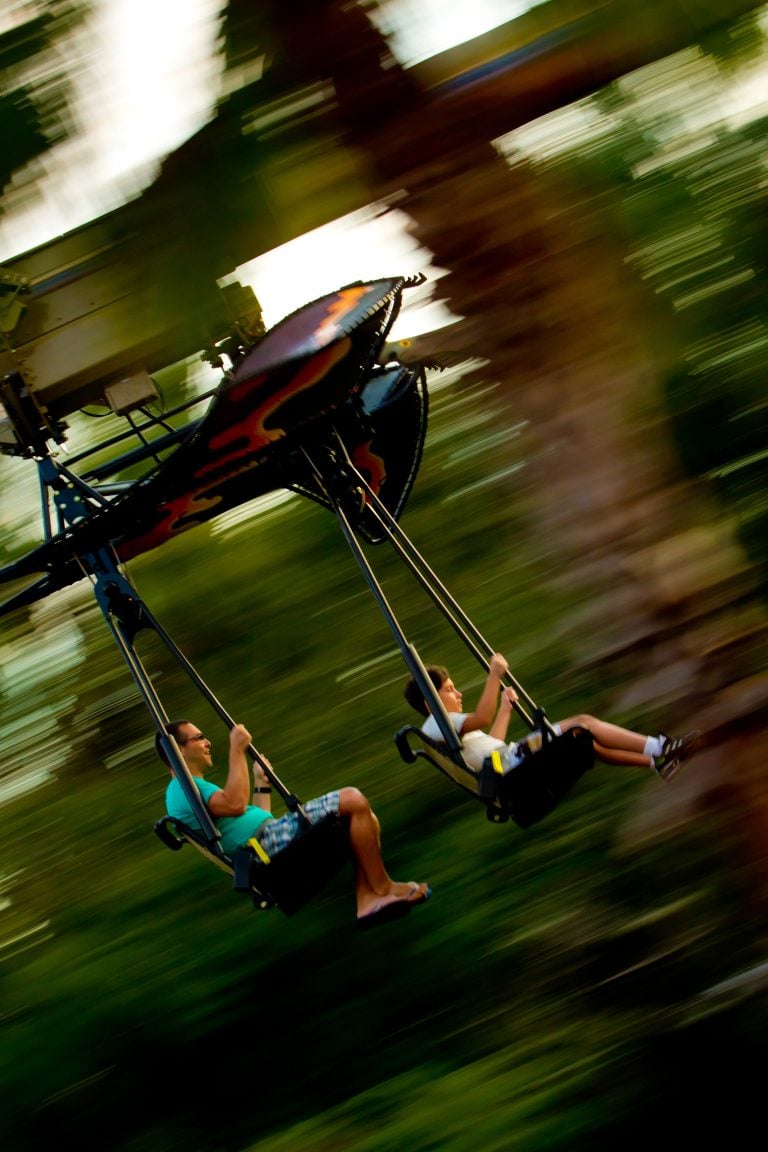 Photo credit: Universal Orlando Resort
The Lost Continent
Poseidon's Fury
The first time I went through Poseidon's Fury years ago, I was amazed. I don't want to give spoilers, but there is one astonishing effect that will stick with you.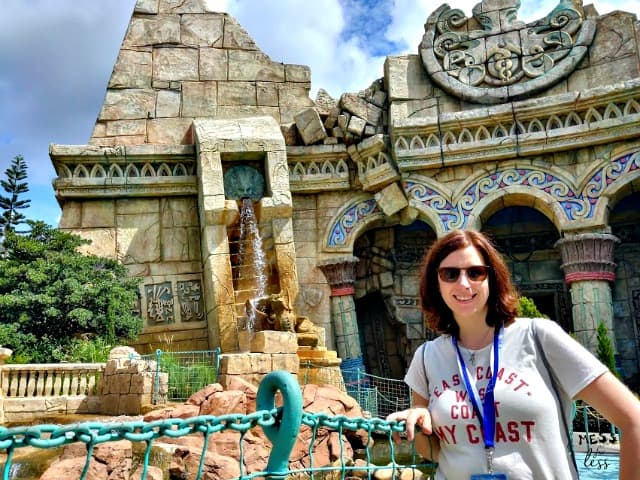 My kids were dying to know what Poseidon's Fury was about but I wanted them to experience it for themselves, so I gave them limited information. I'll let you in on some of the details. This is a walk through attraction that uses water and fire effects as well as a live actor. You'll head undersea to be wowed by an epic battle between Poseidon and the Lord Darkenon. My kids were shocked with all the impressive effects. This attraction does contain some loud sounds, so be aware of that if that is an issue for your child. I saw toddlers enjoying the attraction, but you know your kids best.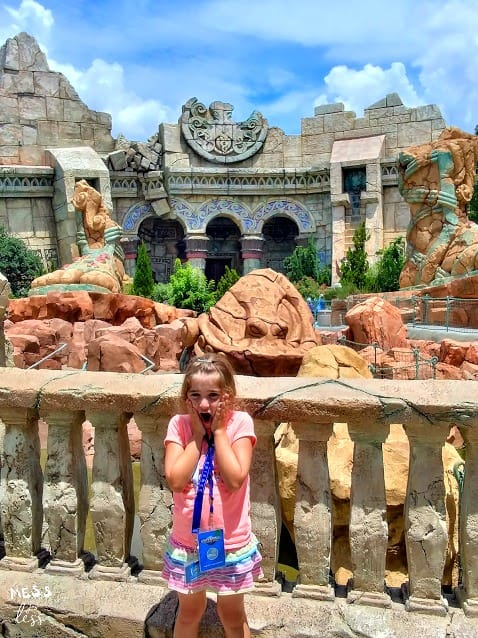 Marvel Super Hero Island
The Amazing Adventures of Spiderman
Simply put, this is one of the best rides you will go on anywhere. Step on to this motion simulator, put on your 3-D glasses and prepare to be a crime fighter. If your little ones love superheroes, this is the ride for them. My kids love how realistic this ride is. It truly feels like you are soaring above the streets and dropping from a tall building.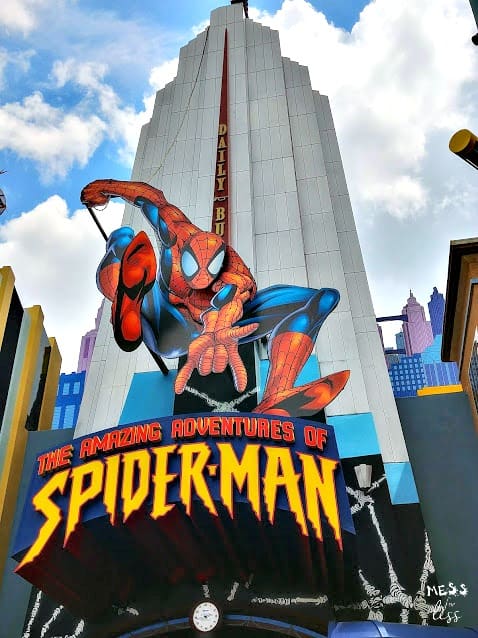 Storm Force Accelatron
If your kids enjoy spinning then this ride is a must. Based on the X-Men universe, kids can help Storm to defeat Magneto. Just sit in your vehicle and twist and turn to go faster and faster.
Seuss Landing
You will swear that you just stepped into the pages of a Dr. Seuss book when you enter Seuss Landing. Everywhere you look, you'll see beloved characters like The Cat in the Hat. There are tons of rides in this area that are perfect for children of all ages.
Photo credit: Universal Orlando Resort
The Cat in the Hat
Now is your chance to take a journey through a favorite children's book. Sit on a a couch shaped vehicle and twist and swerve a Dr. Seuss classic. We had fun playing a game where we battled to see how many Dr. Seuss characters we could identify.
Caro-Seuss-el
This is not your traditional merry-go-round. Instead, the things you can ride are Dr. Seuss characters. The ride is full of whimsy and fun especially when you add the ability to control the creatures. Just pull the reigns or push a lever to make them blink or make their heads turn.
The High in the Sky Seuss Trolley Train Ride minimum height 36 inches
This is my favorite ride in Suess Landing because the view is unmatched. You can really get a lay of the land and park as you travel around on an elevated track. Since there are two different tracks the ride can take, we enjoyed riding this multiple times to get the full experience.
One Fish, Two Fish, Red Fish, Blue Fish
A word of warning - you will get wet. But a little water never hurt anyone, especially on a hot day. This ride gives you the opportunity to ride a flying fish. My kids loved controlling the up and down motion of the fish, unfortunately, they kept steering us in the path of squirting fountains intent on soaking us.
Toon Lagoon
Popeye & Bluto's Bilge-Rat Barges minimum height 42 inches
One of my favorite things about Islands of Adventure is that there are lots of opportunities to get wet. No where is that more evident than on this fun rapids ride. We laughed and screamed as the raft turned and we weren't sure who would get splashed and soaked. When we got off of this ride we couldn't stop smiling. If you are concerned about getting wet, bring a change of clothes or a poncho.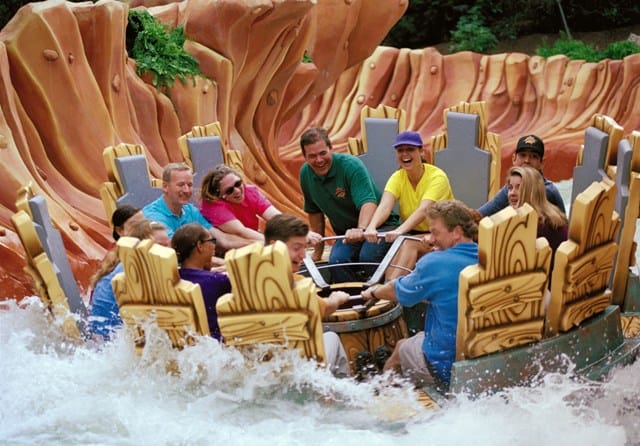 Photo credit: Universal Orlando Resort
The Wizarding World of Harry Potter - Hogsmede
Arguably, the most popular theme park land anywhere, The Wizarding World of Harry Potter will transport you into your favorite book series. Islands of Advneture is home to Hogsmede and you'll want to allow plenty of time to explore every nook and cranny. Magic is everywhere!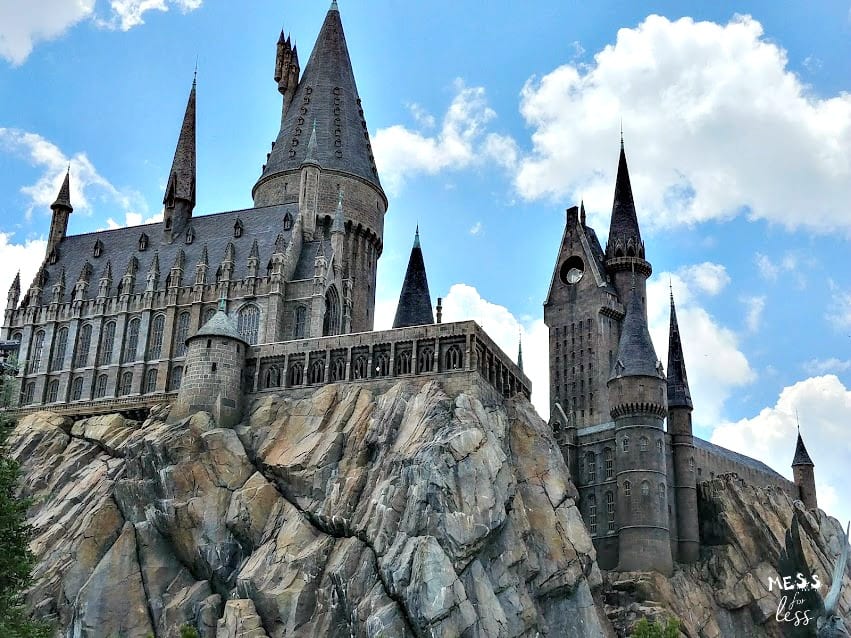 Hogwarts Express: Hogsmeade Station
Start your visit by boarding the Hogwarts Express at Hogsmeade Station. This is a magical train ride unlike any you have every taken before. My husband and I still have no figure out how this thing works. During the short train ride, you'll meet some of your favorite characters from the Harry Potter books and movies.
You will need a Park-to-Park admission ticket to ride Hogwarts Express to Diagon Alley which is located in Universal Studios.
Flight of the Hippogriff
If you are a fan of the Harry Potter books and films, then you are familiar with a Hippogriff, which is a magical creature that looks like a cross between and eagle and a horse. This family friendly coaster is a great one to try with kids who have not ridden a coaster before. The ride is short and not intense so little ones can build their confidence as they ride again and again.
Dining Options at Islands of Adventure
Now I would be remiss if I didn't mention all of the yummy dining options at Islands of Adventure. From snacks to full on meals, you will find something to satisfy your craving at Islands of Adventure. My favorite place to eat at Islands of Adventure is Mythos Restaurant. I am not alone in my praise of this restaurant. Theme Park Insider has rated it the #1 Theme Park Restaurant in the World for 6 years in a row.
If you are going to Mythos Restaurant, go hungry as the portions are generously sized. My husband ordered the Traditional Hamburger and was thrilled with the size and taste.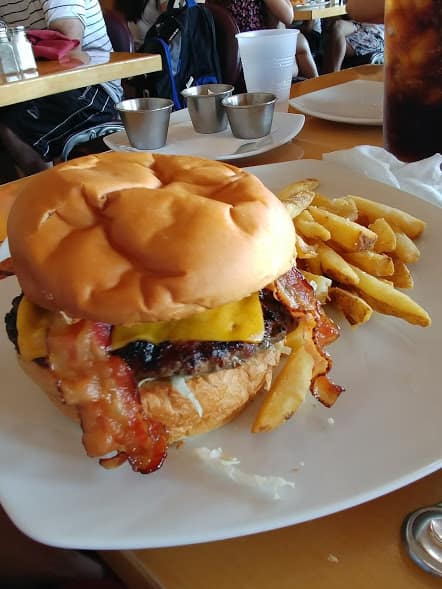 I ordered the Pad Thai and it was as good as you'd find anywhere. You wouldn't expect to get something so delicious at a theme park, but Universal is all about defying expectations.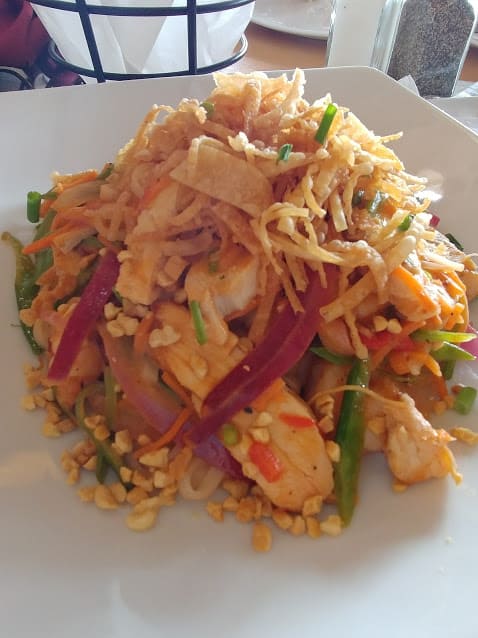 My daughter got a pizza off the kid's menu and couldn't finish this large serving that she received. Don't worry, my husband and I helped her and it was delicious!