We recently shared our favorite Toy Advent Calendars. It can be hard to find just the right Advent calendar for your child. We will typically use calendars with small toys or candy filled calendars where each day leading up to Christmas reveals a small chocolate or treat. This sweet treat is enjoyed by my kids as we talk about the Advent season and the meaning of Christmas. Another favorite holiday tradition is this Easy DIY Advent Calendar which reveals a fun family activity each day. I highly recommend an experience based Advent calendar in addition to these Candy Advent Calendars as they can both help create fun memories.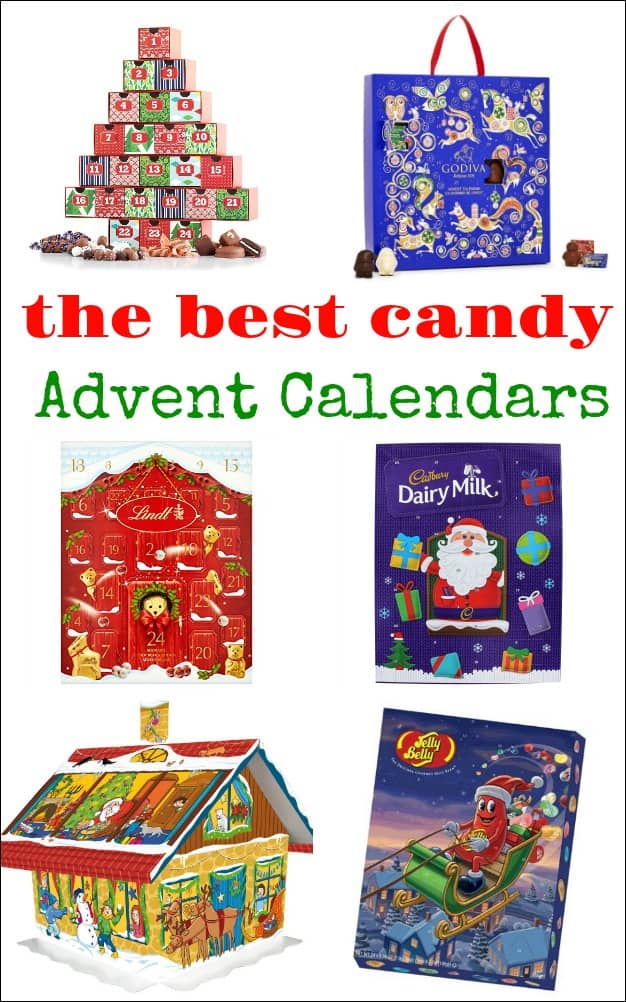 Candy Advent Calendars
Godiva Chocolate Advent Calendar- If you are a lover of fine chocolates, there is no match for this Godiva calendar. It comes with quality milk, dark and white chocolates that you'd expect from Godiva.
Hershey's Kisses- Give some kisses to your loved ones with this yummy calendar. As an added bonus for kids, there is a Christmas word search on the back of the package.
3d House with German Chocolate - One of the most unique Advent calendars you will find. This is imported from Germany. It is easy to build the house and it would be a fun family activity to put it together.
Santa's Here Chocolate Advent Calendar- I love this calendar because in addition to containing delicious chocolate, each window features a bit of the poem "Twas the Night Before Christmas." The outside of the calendar is done in a wonderful nostalgic look, making it great for adults as well.
Cadbury Dairy Milk Chocolate- One of our favorite chocolate treats is a Cadbury cream egg. This Advent calendar is made by Cadbury Dairy and is imported from the United Kingdom. A delicious way to count down to Christmas.
M&M and Friends- If love Halloween candy, this is the calendar for you. All of your favorites are here - Mars, Snickers, Twix, Milky Way and of course M&M's.
Chocolate Advent Calendar - 2 pack- I love that this is a 2 pack, making it ideal for families with 2 kids. Gourmet chocolates are hiding behind each window along with a Christmas rhyme.
HARIBO Candy Advent Calendar- Are you a fan of gummy bears and gummy candy? Then get this calendar from HARIBO, the company that makes gummy bears. There is a mix of chewy treats in this fun calendar.
Jelly Belly Advent Calendar- This enormous calendar is perfect for the jelly bean fan in your house. It comes with 24 tiny packs of Jelly Bellys.
Mickey Mouse and Friends Advent Calendar- Perfect for the Disney lover on your list. Celebrate each day leading to Christmas with a chocolate and a Disney friend.
Mrs Prindables Calendar with Assorted Chocolates- This is a unique Advent calendar in that you can use the box again and again. Each box is filled with delicious caramel chocolate confections from the famous Mrs Prinables.
If you enjoyed these candy Advent calendars, you'll love:
Gifts for Kids to Promote Thinking and Learning