I am embarrassed to say that the inspiration for these Carrot Cake Cookies came from the fact that I had bought a giant bag of carrots at Costco and was worried that I would not be able to eat them all. In the past, I have made carrot muffins and I wanted to try something new. I toyed with the idea of making a carrot cake, but that typically involves frosting. I have been trying to eat better, and frosting is one of the things I have a hard time resisting. So I decided to take the carrot cake idea and turn it into a cookie. The results were delicious! Don't forget to try out the rest of the family friendly recipes on Mess for Less.
You will be using grated carrots for this recipe. A box grater is perfect for this purpose, just don't grate the carrots down too far or you run the risk of scraping your fingers.
It would be interesting to try this recipe with raisins instead. One of my daughters is not a fan of raisins so I used dried cranberries.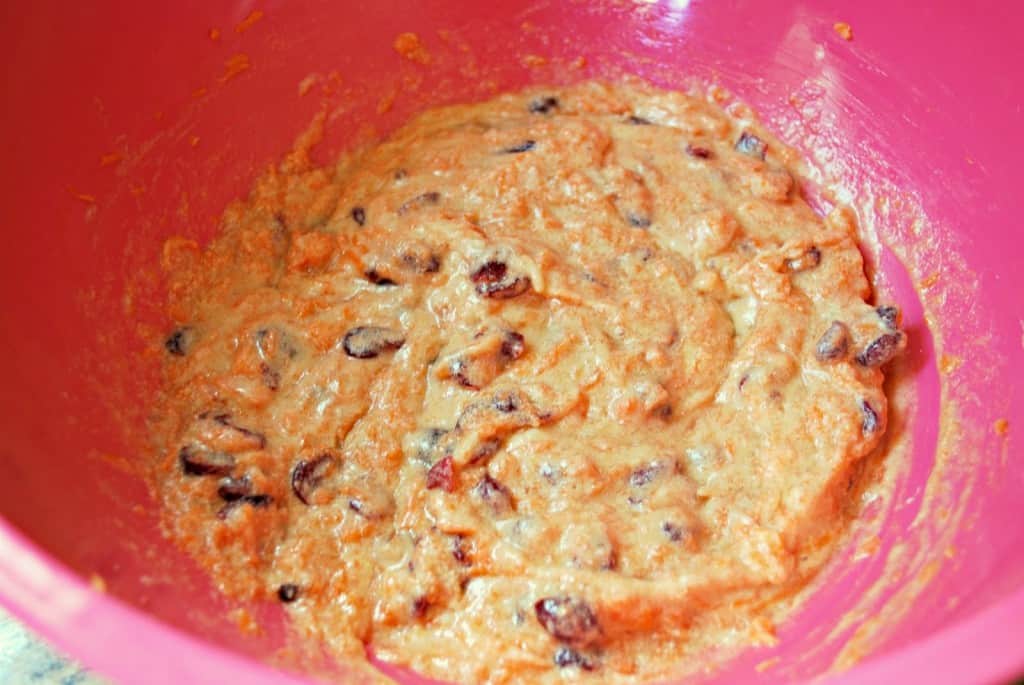 These cookies have the wonderful flavor of traditional carrot cake. Try them frosted with cream cheese frosting for a more authentic carrot cake flavor.
I just love the little bits of carrot. They are a message to the world that "yeah, I made these from scratch." Often, I am a packaged cookie dough kind of mom, so I love tooting the "I baked it myself" horn.
This recipe makes quite a bit of cookies (I got 40 out of it) so be prepared to eat a ton of cookies or give some away. I gave some away because I didn't want to be tempted by them for days. I think I have only had three so far, or was it four? I am trying to control myself.
Carrot Cake Cookie Recipe
Makes 40 cookies
Preheat oven to 350 degrees.
Ingredients:
½ cup butter
½ cup brown sugar
½ cup sugar
2 eggs
1 cup grated carrots
1 cup craisins or dried cranberries
2 cups flour
½ teaspoon baking soda
1 teaspoon baking powder
1 tablespoon cinnamon
½ teaspoon nutmeg
½ teaspoon allspice
½ teaspoon salt
½ cup chopped pecans
Directions:
1. Preheat oven to 350 degrees.
2. In a large bowl, cream butter and sugars.
3. Beat in the two eggs and add grated carrots and craisins. Mix well.
4. In another bowl, mix together the flour, baking soda, baking powder, cinnamon, nutmeg, allspice and salt.
5. Add the dry ingredients to the wet ingredients and mix to form cookie dough.
6. Fold in the pecans.
7. Drop by rounded tablespoon full onto a greased cookie sheet.
8. Bake for 15 minutes, then remove cookies and let them cool on a wire rack.
Eat at Home Meal Plans
Have you heard about Eat At Home Meal Plans? If the cost of eating out or the decision of what to make for dinner each night is stressing you out, then you must try these. When you sign up, you get access to four separate meal plans each month (Traditional, Wholesome Traditional, Slow Cooker, and No Flour/No Sugar). All you do is print the plans, color-coded grocery lists, and recipes you want for that month. Don't worry, there are lots of options, so even picky eaters will find something they like.
Then when it is time for dinner, make that night's recipe (choices include make-ahead, freezer meals, slow-cooker recipes, and other time-saving strategies).
That's it! Dinner is on the table and you can enjoy a home cooked meal with the family – without the stress!
We all have more important things to do than meal planning. Let someone else do it for you with Eat At Home Meal Plans. Monthly, quarterly and annual plans are available.
For more cookie recipes check out:
White Chocolate Chip Cookies