My twins turned 7 last month and to celebrate, we threw a mermaid themed party for them and their girlfriends. You may have seen our Sea Shell Craft and today I will be sharing how to make these adorable Clam Shell Cookies. They are easier than you think since I used pre-made cookies to make them.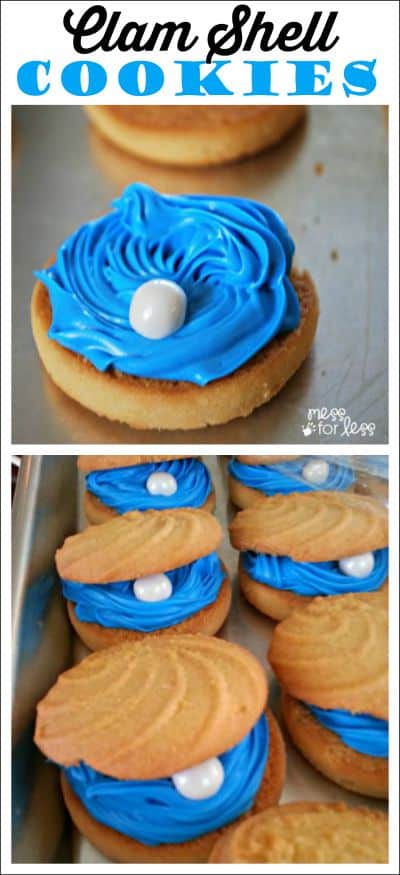 Clam Shell Cookies
You will need:
Shell shaped cookies and round shortbread cookies
Vanilla frosting
Blue food coloring
I went to many stores and on my third attempt found these brown butter rum cookies from Pepperidge Farm. I realized that I didn't need a fancy cookie for the bottom of the cookie so I found a big package of Sandies which were cheaper and used those for the bottoms. Make sure to get enough packages of the brown butter rum cookies since some were broken and unusable.
Lay out the bottoms of the cookies on a tray.
Now it's time to mix your frosting. Just mix in enough blue food coloring to get your desired color. Mix thoroughly before you put it into your frosting bag so that there are no steaks in the frosting.
I used a spoon to get the frosting into the bag. The tip that I used for these cookies was open star. Round tips and closed star tips would work as well.
Pipe the frosting onto the cookies in a circular fashion then add a white sixlet near the bottom for a pearl.
Now it is time to add your top cookie. You will want to place it on so that it stays open. This just involves getting it onto the frosting at an angle and holding it there for a few seconds.
How cute are these clam shell cookies? They were such a big hit at the party! For more party food ideas check out: