For my twins 5th birthday, we threw a circus birthday party. All the guests had a blast with carnival games, circus food and even a clown! I spent weeks scouring the Internet looking for ideas to make the party great and I even made some adorable Circus Popcorn Cupcakes, which I will be sharing today.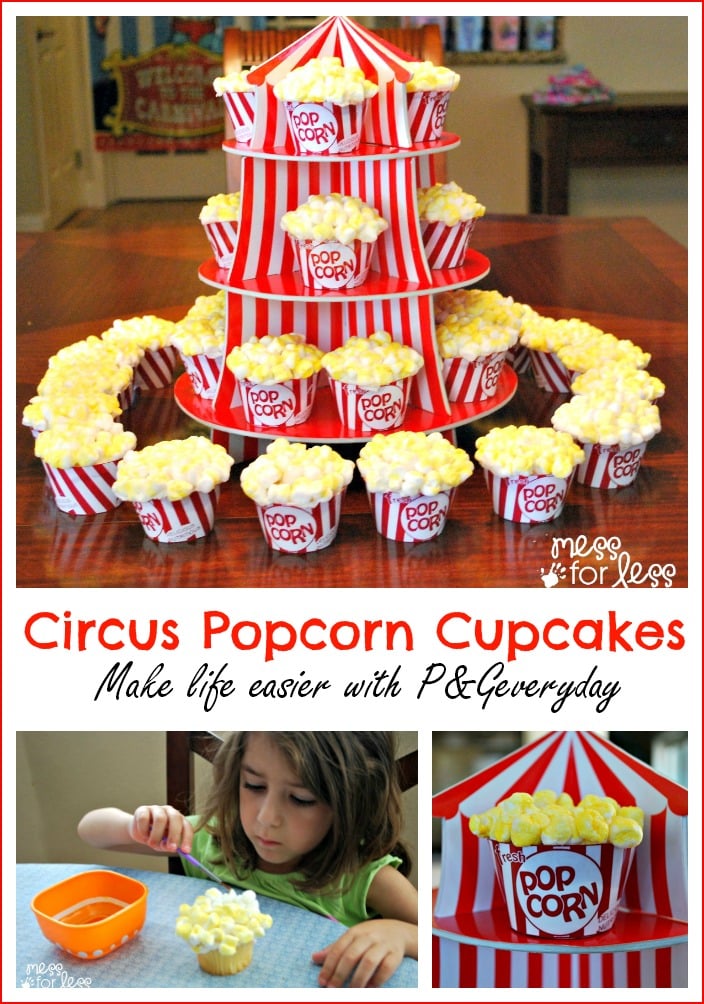 One of the big hits at our party were these Circus Popcorn Cupcakes. To make them, you will need:
Cupcakes
Frosting
Mini marshmallows
Yellow food coloring
New, small paintbrush
Popcorn cupcake wrappers (I found a free printable for some adorable ones on In Place of Her Crown)
Start off with your favorite cupcake recipe. It can even be from a box, no shame there! Frost the cupcakes with vanilla or cream cheese frosting.
Twist the mini marshmallows so that they look more like a piece of popcorn. This is so easy, a child can do it!
Place the marshmallow "popcorn" on the cupcake so that it looks like a tub of popcorn. You will want to cover all the frosting with the "popcorn."
Mix a few drops of yellow food coloring with some water. This will be the "butter" for your popcorn.
Using a new, small paintbrush, paint the marshmallows with the yellow food coloring/water mixture. You will want to leave some white spots on the mini marshmallows so it looks more like real popcorn.
Slip the cupcakes in a popcorn cupcake wrapper and put them on display. These cupcakes were the hit of our circus themed party! So many people thought they were really little boxes of popcorn!