Around here, cupcakes are not just for birthdays. We make them anytime the mood strikes. They are the perfect thing to bake with kids, because kids love to eat them and there are just so many fun ways to decorate them. There are so many things kids can learn when you cook together. Kids can practice simple math concepts along with their reading skills as they help to read a recipe. Also, you will create some wonderful memories with your child as you cook together. These Toddler Recipes to Make Together are a great starting point. When you are ready to expand your baking to cupcakes, try one of these Cupcake Recipes to Make with Kids.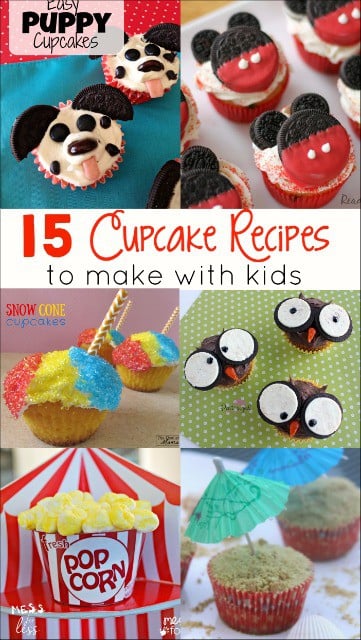 9
Cupcakes Recipes to Make with Kids
1.Popcorn Cupcakes from Mess for Less - these work well for a circus themed birthday party or after a trip to the circus. Kids will have so much fun decorating the "popcorn".
2. Monster Cupcakes from The Jenny Evolution - kids can unleash their creativity as they create these fun monsters.
3. Mickey Mouse Cupcakes from Reading Confetti - wouldn't these be fun to make before going on a Disney trip?
4. Vanilla Sprinkle Cupcakes from Simple Fun For Kids - simple for kids to make. This will become one of your go-to cupcake recipes.
5. Totally Epic Slime Cupcakes from Lemon Lime Adventures - kids just love slimy, gross things. While these taste delicious, the oozing "slime" will be a hit with little ones.
6. Rainbow Cupcakes from Mess for Less - kids will be so impressed when they bite into these cupcakes. They take a little more work than normal cupcakes, but it is worth it!
7. Polar Bear Cupcakes from Coffee Cups and Crayons - super simple for kids to make and just too cute!
8. Reddi Wip Cupcakes from Your Modern Family - you'll love this new take on the frosting on these cupcakes.
9. Snowman Cupcakes from Meaningful Mama - kids will have so much fun decorating these cute snowmen!
10. One Fish, Two Fish Cupcakes from Kids Activities Blog - these make a great accompaniment to a favorite children's book.
11. Pupcakes from The Joys of Boys - if your child loves puppies, then you must make these cute cupcakes.
12. Snow Cone Cupcakes from The Realistic Mama - what a fun way to celebrate summer!
13. S'More Cupcakes from Meaningful Mama - for those times you can't get outdoors to make s'mores.
14. Beach Cupcake Recipe from The Imagination Tree - these are perfect to make after a day at the beach.
15. Easy Owl Cupcakes from Pint Sized Treasures - whether you are having an owl themed birthday party or just love owls, kids can help make these.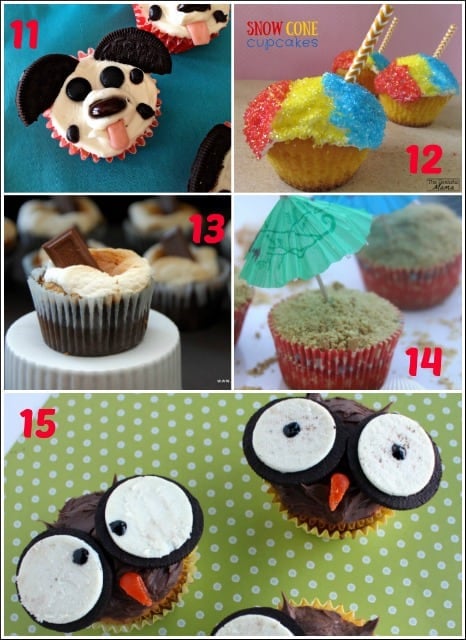 If you enjoyed these cupcake recipes, you'll love: