These Rainbow Cupcakes are easier to make than they look thanks to boxed cake mix. You are welcome to make your own cupcake batter from scratch, but I am all about easy! These colorful cupcakes are guaranteed to wow your guests!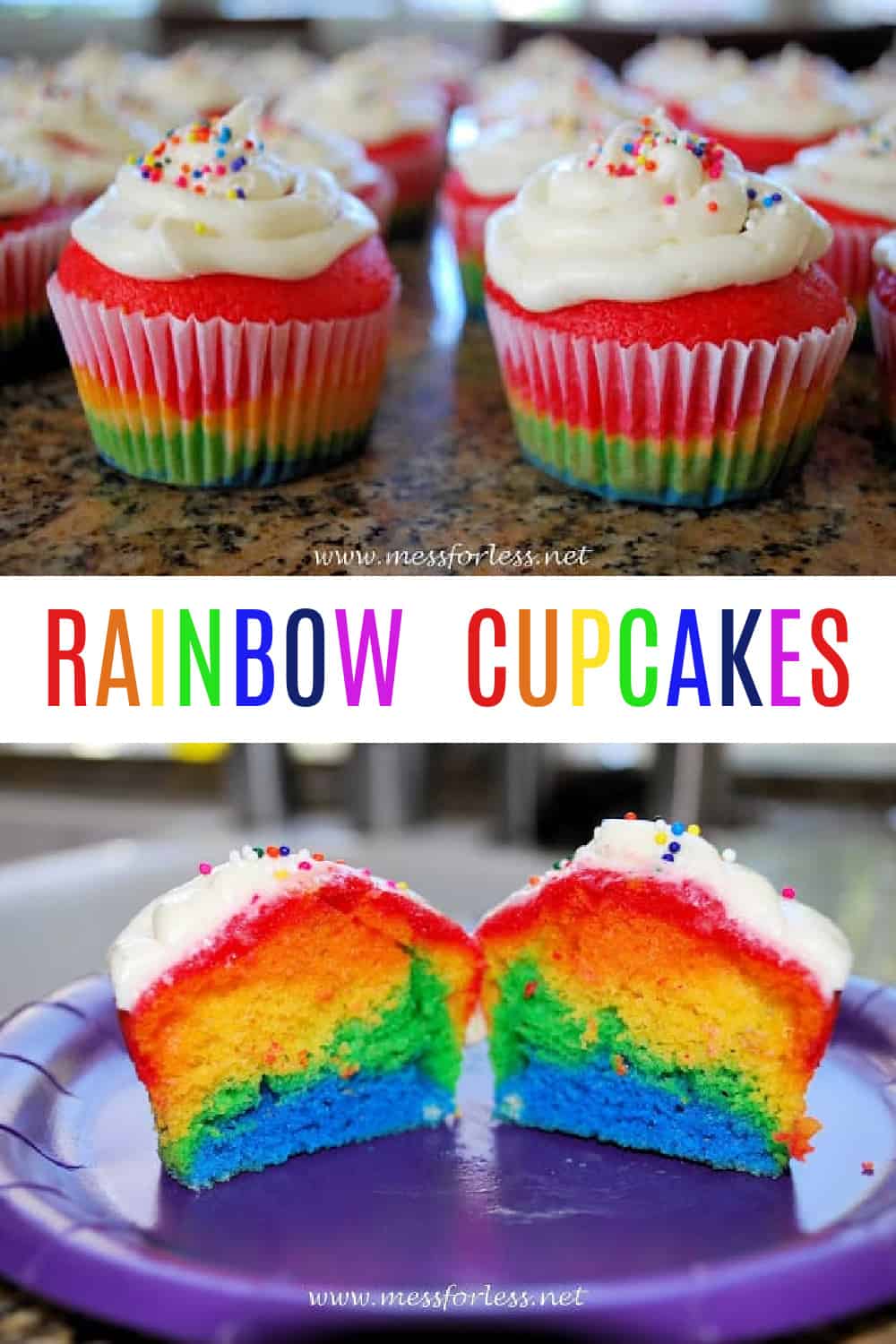 WHY THESE CUPCAKES ARE AWESOME
Cake mix shortcut makes this easy
Bold colors
Eye catching and impressive
HOW TO MAKE RAINBOW CUPCAKES
I decided to use 5 colors for my cupcakes: red, orange, yellow, blue, and green. You can just use these colors or go ROY G BIV on the cupcakes, but some of the colors are so similar, I think 5 gives you a good feel. How ever many colors you decide to use, prepare your batter according to package directions and divide your batter evenly into that many bowls.
I used five colors and divided my batter into five bowls. Next, I used some food coloring gel to color each bowl of batter a different color. Gel food coloring is pretty potent so make sure to start with a small amount to make sure you don't make your color to dark. I especially had to be careful with yellow since it quickly looked orange if I used too much. If you use regular liquid food coloring you will need to use a lot to get the colors bright and vibrant which will thin out the batter.
Line your cupcake pan with white cupcake liners.
I started by pouring the blue batter. You will need to push it around with a spoon if the the bottom of the liner is not fully covered.
You will layer each color on top of the previous one. I tried to keep as close to the actual rainbow pattern as I could.
Bake according to your recipe's directions.
Just out of the oven. Aren't they pretty!
I didn't want to take away from the visual appeal of the cupcakes so I chose to go with a basic vanilla frosting and sprinkles.
For the frosting I just used plain vanilla frosting and a cake decorating bag with a round tip.
I just did a basic circular pattern on the cupcakes. This was pretty quick and easy.
Add some rainbow sprinkles.
When you unwrap them you are left with a surprise on the wrapper.
And here's how it looks inside. These cupcakes take a little work, but will score major points with your guests.
I froze my cupcakes and thawed them the day of the party so I could frost them. They held up great. I would have never known that they spent time in the freezer.
IF YOU ENJOYED THESE RAINBOW CUPCAKES, CHECK OUT:
FREQUENTLY ASKED QUESTIONS
EAT AT HOME MEAL PLANS
I am a big fan of Eat At Home Meal Plans. Are you stressed about the cost of eating out or trying to decide what to make for dinner each night? Sign up for the plans, and get access to 4 separate meal plans each month (Traditional, Wholesome Traditional, Slow Cooker, and No Flour/No Sugar). Just print the plans, color-coded grocery lists, and recipes you want for the month. Don't worry, there are so many options, even picky eaters will find something they like.
When it is time for dinner, make that night's recipe (choices include make-ahead, freezer meals, slow-cooker recipes, and other time-saving strategies) and you are all set.
I know you have more important things to do than meal planning. Let someone else do it for you with Eat At Home Meal Plans. Monthly, quarterly and annual plans are available.