I will start off by saying this rainbow cake is not as complicated as it looks. I was a little intimidated to make it since it seemed like a lot of work. But as you'll see, this easy rainbow cake is something even a novice baker can make and it is sure to be a hit at your party. If you are having a rainbow party, don't miss our DIY Rainbow Party Ideas.
Rainbow Cake Recipe:
You will need:
White cake mix (2 boxes)or your favorite recipe for white cake
Food coloring
Vanilla frosting
Rainbow Sprinkles
Cake stand
I made my rainbow cake seven colors. Red, orange, yellow, green, blue, indigo and violet. If you are using a box mix then each box will make four thin cakes. I made eight cakes and used seven for the rainbow cake. We got the eat the extra one ourselves!
Divide the batter from one cake mix into four bowls and make each bowl a different color using food coloring. I used gel food coloring since a little goes a long way. Grease your cake pan and pour the colored batter from one of your four bowls into the pan.
I had two pans so I was able to bake two cakes at a time. I recommend getting more than one cake pan for baking. Borrow from friends or just buy an extra. This will make the whole process go much quicker.
These cakes cook pretty quickly because they are thin. Using the temperature suggested on the box, I baked each cake 8-10 minutes. Take them out of the oven and when they are cool, wrap them in saran wrap and pop them in the freezer. I left mine in the freezer overnight so they would be easier to work with and frost. This did not affect the taste at all.
When you are ready to frost the cake, take your layers out of the freezer to thaw for a little bit. Place your bottom layer on the cake stand and spread enough frosting to cover it. Then add your next layer and repeat the process until you have all your cakes stacked up. Please remember to start with the color you want on the bottom. My husband kept teasing me while I was making the cake that I got the colors in the wrong order.
When you have all your layers on the cake, you will do a crumb coat which is basically a thin layer of frosting all around the cake that will keep the crumbs in place so they don't show up in the final layer of frosting. The top of my cake had a dome shape to it. If you don't like this or want a flat cake then slice a sliver off the top layer of the cake to make it more even.
If you are covering the top with sprinkles like I did, then you don't need to worry about having a neat final layer of frosting. If you just want the cake to be white on the outside, there are lots of great tutorials online on frosting a cake. If you will be covering the cake in sprinkles then this is good enough.
Now comes the hardest part of the cake - the sprinkles. I bought these large rainbow sprinkle balls and thought I would just shake them on and they would stick to the frosting. Boy was I wrong. When I did that, the balls all slid off the cake and went rolling everywhere. It was quite comical actually. The only thing that worked was to pour some sprinkles in my hand and literally slap my hand against the frosted cake. This was time consuming but I really like the colorful effect.
So here is where I went into full mom mode and broke out of blogger mode. I was so into the moment when we sang to my kids and cut the cake that I did not get that one spectacular photo I was hoping for. Everything just moved too fast. But here are some photos I got of the inside of the cake.
Pretty impressive, right? The party guests were really blown away by the cake and the kids loved seeing the surprise rainbow inside.
I was so happy that the cake tasted as good as it looked. I love frosting, and this cake had plenty of it. If you are looking to wow a crowd but are not an expert baker, try this easy rainbow cake. You will be surprised how easy this rainbow cake recipe is to make.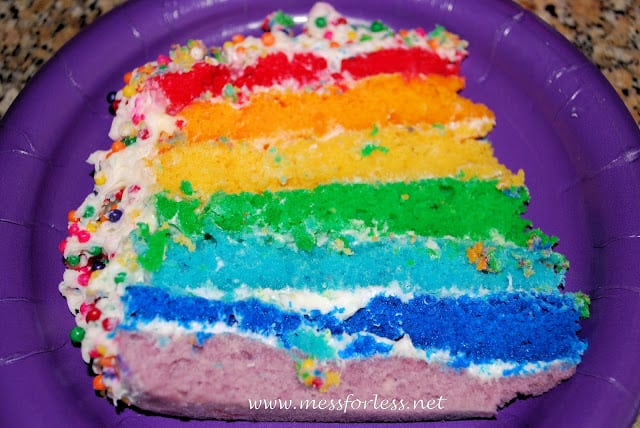 If you enjoyed this rainbow cake, check out: