A few days ago, I posted about the straws that we used for Straw Jewelry. Faithful readers will remember that I promised to use the straws for a few more activities so I could get my money's worth. Well I racked my brain and remembered an activity I had seen somewhere with colored pipe cleaners and an empty container. I have lots of empty containers and I have these colored straws. What game can I make? I came up with "Color Drop" which reinforces/teaches colors, and improves visual discrimination and fine motor skills. Not bad for some straws and a recycled container. You don't need to spend a lot to create an engaging experience for kids. This Fine Motor Skills Color Recognition Game is proof of that.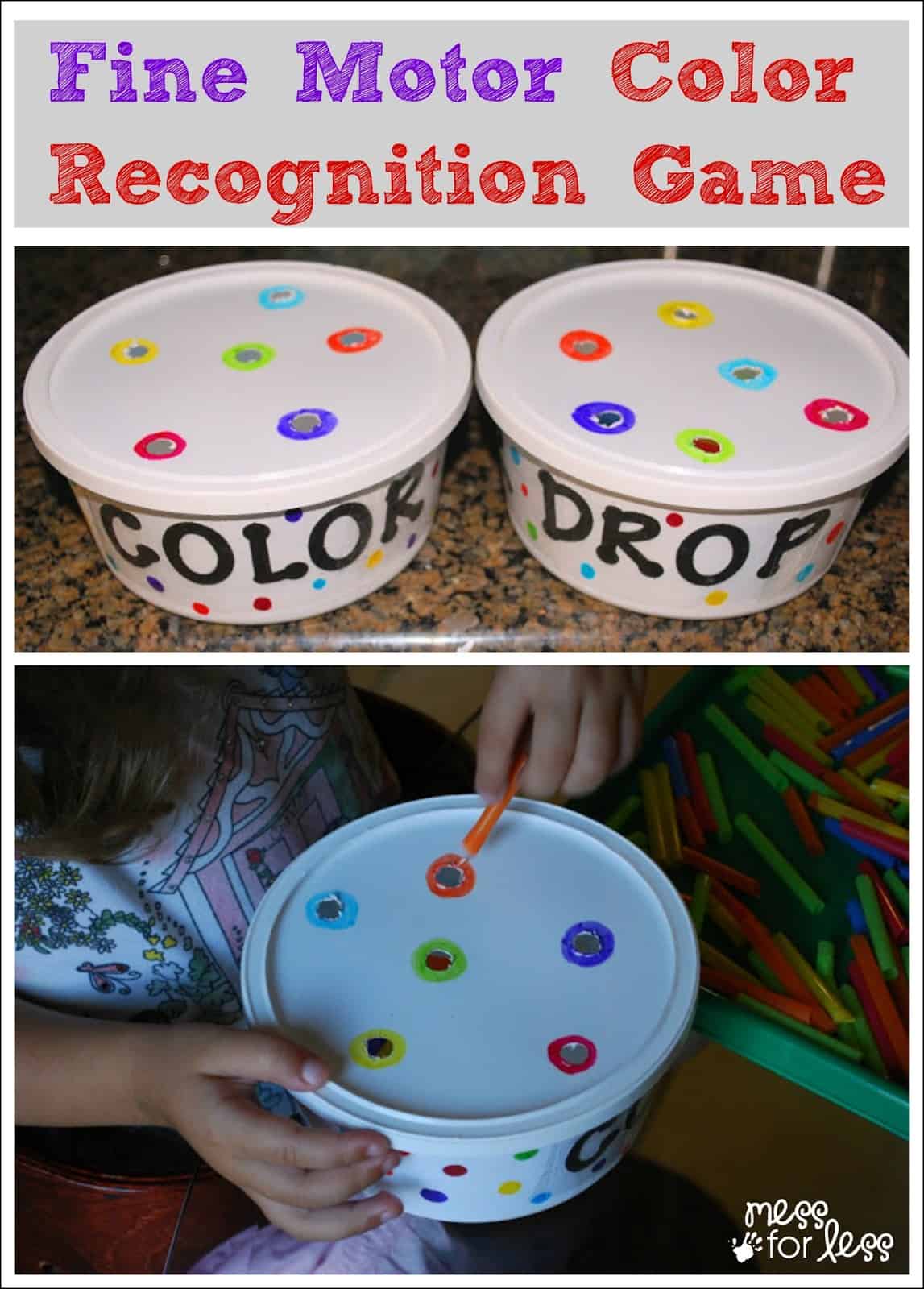 Fine Motor Skills Color Recognition Game
Container (I used a frozen whipped topping container that I cleaned)
Drill (to make holes)
Decorations for container (optional)
You can use a variety of containers to make this game, but you will want something with a plastic lid. I have been saving these Safeway whipped topping containers, and they were perfect for the project. The top of the lid is paper that just comes right off. This is the container I started out with and it's various looks before I got to my final game.
You will need to drill some holes in your container. Make the same number of holes as colors you are working with. I had 6 different colored straws so hubby drilled 6 holes into the container for me. If you don't want to do anything else, you can stop here. This alone makes a great game for younger kids who are doing fine motor work while having fun dropping straws. Little C loved doing this and shaking the container to hear the straws.
Next, I took some permanent markers and colored around the holes so the kids would know where to put the different colored straws.
I decided to cover up the part on the container that had the writing on it, so I used some address labels for that. Then I decorated it with some permanent markers and some scrapbook letters that I have left over from when I had time to scrapbook. I think it came out pretty cute. It really didn't add that much time to the project, and as you can see, really takes no artistic ability.
When it was time to play, I reviewed the colors with the girls and showed them how they could put a straw in the hole that was the same color. They did great at this. Even B, who is my rebel, followed directions!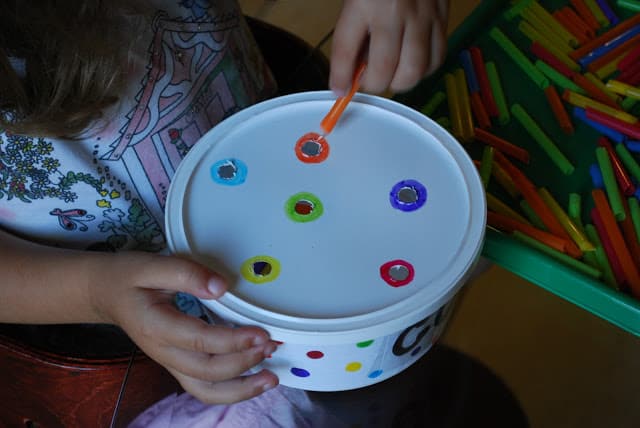 When "A" was done she wanted to open the container to see where her straws went. She was happy to discover that they were all inside.
My favorite thing about this fine motor kills color recognition game, other than the free-ness, was that various ages of kids could enjoy it and get something different out of it. For those of you who are not fans of messes, it is also very clean and quiet too. If you don't have colored straws around (haven't I convinced you to buy some yet?) cut-up pipe cleaners work well too.
If you enjoyed this Fine Motor Skills Color Recognition Game check out: