Yesterday, I was looking for a quick 
fine motor activity
 to do with the girls that would not take much time and not require a big cleanup.  I remembered a fine motor activity I had seen on 
Sugar and Spice
 that involved play dough, pasta and cheerios.  Doesn't that sound yummy?  Okay, so you don't eat the pasta or the play dough, but you can eat the cereal when you are done. I didn't have cheerios (what kind of mom am I?) but I did have fruit loops and they worked just as well. My kids were so proud of how high they made their 
fruit loop towers
. For more fun ideas check out 
18 Fine Motor Activities for Preschoolers
.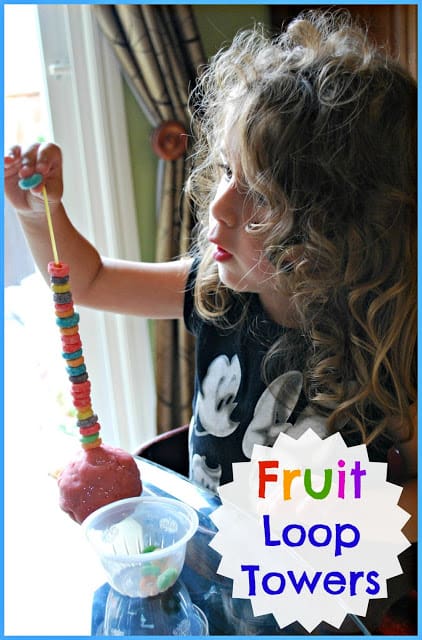 This post contains affiliate links. For more information please read my disclosure.
You will need:
Plastic cups (we used cleaned apple sauce cups)
Linguine
I gave each girl a ball of play dough and stuck a piece of uncooked linguine in it.  I then filled some cups with fruit loops (we were out of cheerios and you'll see why fruit loops may be more fun).  My girls think fruit loops are the biggest treats since they rarely have them, so I decided to make their day.
Have your child try and put each loop onto the piece of pasta.  This requires a great deal of concentration and careful fine motor work.  I was so excited that even B, who is a little weaker on the fine motor side, did this with no trouble.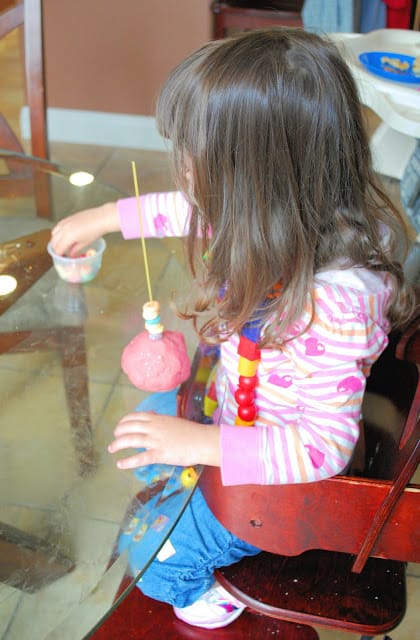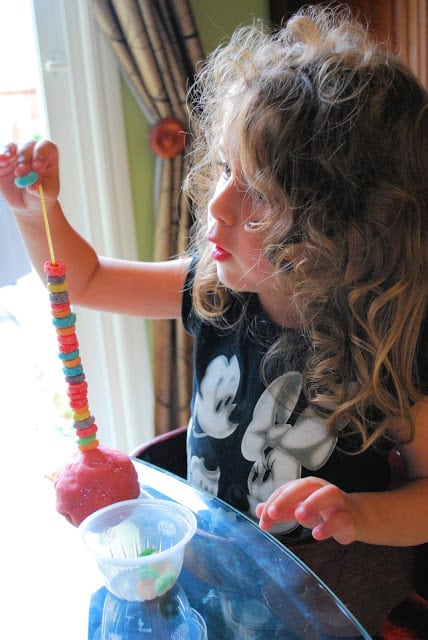 When they were done they were so excited to see the tower of rainbow colors they had made.  See, if you deprive your kid of fruit loops, you just get a beige tower.  The other plus to using fruit loops is this turned into a color identification activity as B went down her fruit loop tower and named each color.  A (middle name should be Not to be Outdone) did the same thing.  They were so proud of themselves.  I did this activity around snack time so when they were done I just had them eat the fruit loops for snack.  Lazy parenting at it's best!
Looking for another fine motor activity? Check out: