This post is sponsored by UnitedHealthcare. All opinions are 100% my own. Choosing a health plan can be overwhelming. There are so many choices and plans out there that picking the right one for your family can be frustrating. UnitedHealthcare wants you to be educated about health terminology since it can be confusing. They want consumers to be confident that they know what they are buying when it comes time to purchase a plan. Talking about health terminology and healthcare plans can be a dry subject, so UnitedHealthcare has made the process fun. Read on to find out how and to print out some free worksheets with a doctor theme for your kids.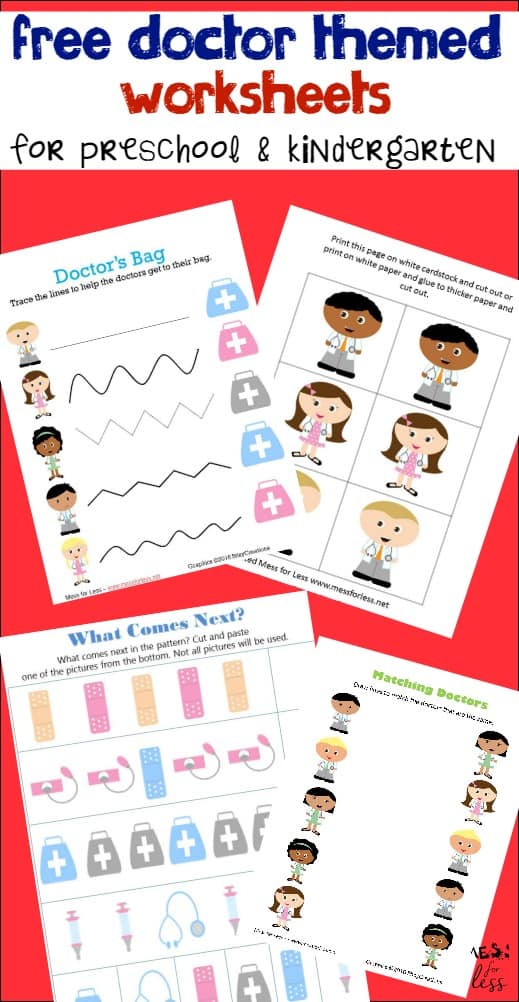 When you head on over to the UnitedHealthcare website you can play some fun games to learn about health terminology and even enter to win prizes. There are two separate sweepstakes and two separate chances to win prizes! First there is a crossword puzzle you can complete called "What's the Word." If you are a big crossword lover like me, you will appreciate this. There is even a timer so you can see how fast you can complete the puzzle. The crossword puzzle is a terminology game where you have to fill in the correct word in the puzzle for the definition that it matches with. If you complete the puzzle you will be entered to win a prize! There will be a $100 weekly winner and a $500 monthly winner.The contest runs until November 30th, so enter today!
Another game you can play is called "Are You a Health Plan Pro?" It just takes a few minutes to answer all the questions, and in the end you'll be entered for a chance to win. There will be a $100 weekly winner and a $500 monthly winner.
This game has 4 stages:
Stage 1: Answer a few quiz questions about health care (mostly terminology). If you get an answer wrong, it tells you the right answer so you are learning no matter what.

Stage 2: Play a matching game surrounding the three different types of health care accounts—the FSA, HSA, and HRA. You will be given three different descriptions of the accounts, and will have to drag and drop each account label to the description it matches.

Stage 3: Use the slide configurator to learn more about premiums versus out-of-pocket ratios. You will be given a family description and their health care needs (family of four/children 8 and 14...occasional need of prescriptions, visits ER once or twice a year, etc.) and must use the sliders to figure out the correlation between the premium and out-of-pocket costs for that specific scenario.
Stage 4. Use the ranker to organize 8 health care situations from least expensive to most expensive (examples are having a baby, going to urgent care, having a surgery). Once you rank them, it will correct any mistakes you made so you know which item belongs where in the list. It will also tell you how each item affects your out-of-pocket costs.
After you have completed each stage, you will enter your name and email to be entered to win a prize. Then you will receive a score on a scale of 1 to 5 stars for how ready you are to purchase a plan. That way, you know whether you need to do more research or that you feel confident in yourself to purchase the best plan for you and your family. This contest also runs until November 30th, so test your knowledge and enter to win today!
The quiz took me just about 5 minutes. I scored 4 stars which is good, but I still have some to learn. Luckily, I can learn everything I need to know on the UnitedHealthcare website.
Free Worksheets
But why should adults have all the fun? When you are done with these engaging activities on the UnitedHealthcare website, print out the free worksheets below that I created. The free worksheets have a doctor theme and are perfect for preschool and kindergarten aged kids. They cover fine motor and pattern making skills. There is also a fun memory game that you can print out and play with your child. See who can match the most doctors!
These free worksheets may not be copied and sold or reproduced in any way. They cannot be changed or altered by you in any way and then sold as your own. If you are sharing these printables, you must direct people to my website and not to a link for the PDF. Do not store these on your website, on a file sharing website or on Facebook or Dropbox. These free worksheets are created by Mess for Less and the clip art is from ©2016 BitsyCreations.
YOU CAN GET THE FREE WORKSHEETS - DOCTOR THEMED BY CLICKING HERE.