Do you love lasagna but hate the time it takes to prepare? Then this Lasagna Cups recipe is for you! You can enjoy all the goodness of your favorite lasagna recipe in half the time. These are easy to assemble as they use wonton wrappers in place of lasagna noodles. If you know how to make lasagna, then these cups will be a breeze to prepare. If you have never tried a lasagna recipe before, this is a great one to start with. It is simple and foolproof, I promise! Looking for more meal ideas? Check out our other family friendly recipes such as these Italian Appetizers - Tortellini Salad Skewers. Enjoy your meal!
I used a 6 cup muffin tin to make these since I was just cooking for a few of us. My husband and I each had two cups with some veggies and the kids split the rest. If you are cooking for more people, simply double the recipe and use a 12 cup muffin tin.
The wonton wrappers sometimes stick together in the package. Make sure you separate them or you will have super thick lasagna cups.
I used low fat ricotta cheese for this recipe because I don't think it really changes the taste and why not save a few calories when you can. You can use whatever version you like or happen to have on hand.
The cooked ground beef crumbles get mixed right in with the ricotta and shredded mozzarella cheese.
If you know how to make lasagna, these lasagna cups are constructed in a similar way. It is all a matter of layering.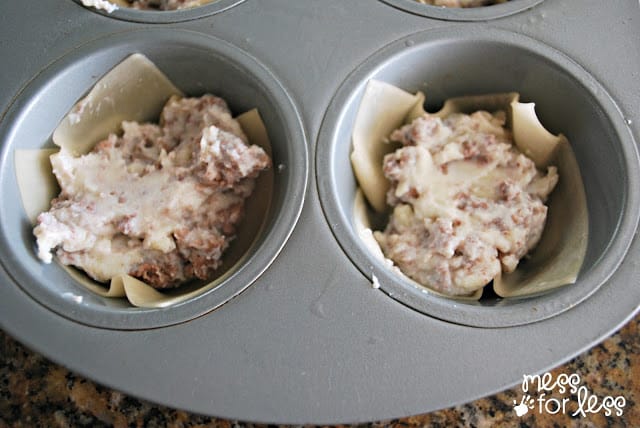 Each lasagna cup will use 3 wonton wrappers.
You simply layer a wrapper, the meat/cheese mixture and sauce.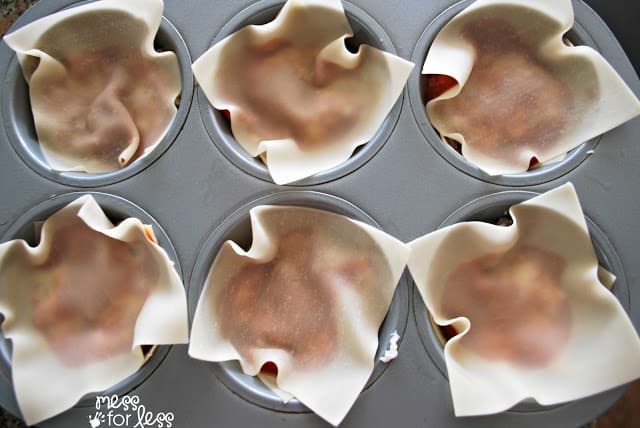 Then you repeat until you have used all three wrappers.
For the top layer, you will add some shredded mozzarella cheese.
If you are making a small portion of these and using the 6 cup muffin tin then you can just pop this in a toaster oven to bake. No need to heat up the entire house. That is a big selling point if you are making them on a 100 degree day like I did.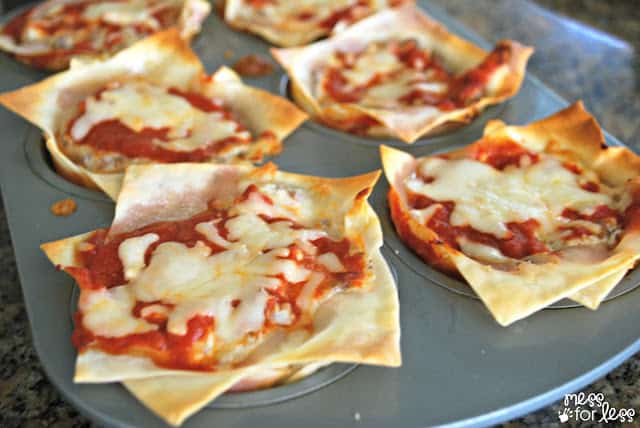 To get these out of the pan intact, use a fork to loosen up the cups before removing them.
Any leftovers you have make a great lunch the next day. Just a few minutes in the microwave and you are good to go!
If you have kids, this is a great recipe to have them help make. Mine enjoyed helping with the construction and layering.
How to Make Lasagna Cups
makes three 2 cup servings
makes three 2 cup servings
18 wonton wrappers
1 cup ricotta cheese
½ cup of shredded mozzarella cheese + ¼ cup for topping
¾ cup cooked ground beef
1 cup of marinara sauce
Salt and pepper to taste
Directions
1. Preheat oven to 375 degrees.
2. Spray a 6 cup muffin tin with cooking spray.
3. Cook ground beef and drain.
4. In a bowl, mix ricotta, ½ cup of shredded mozzarella and cooked ground beef.
5. Place one wonton wrapper in each muffin cup.
6. Fill each wonton wrapper with a heaping tablespoon of the meat/cheese mixture.
7. Top with a spoonful of marinara sauce.
8. Add another wonton wrapper and repeat the layering process.
9. When you add the final wonton wrapper, meat/cheese mixture and sauce, top with remaining ¼ cup of mozzarella.
10. Bake for 20-25 minutes. If the wonton wrappers start getting too brown, cover with foil for the remainder of the cooking time.
11. Add salt and pepper to taste if desired.
For more Italian food recipes check out: