I had a chance to make a delicious Cheesy Tortellini Bake as part of a sponsored post for Collective Bias® Social Fabric® Community. This is great to add to your collection of family friendly recipes.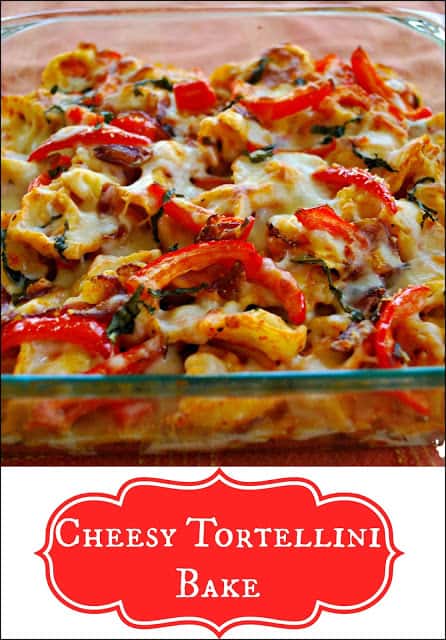 Sometimes I feel like my family lives off of pasta. They would eat pasta every day if I let them. I do get bored with the same old, same old, so I was excited to try a new pasta recipe for my family. I recently went to Lucky Supermarket and purchased some Pacific Coast Selections Marinara sauce. You can view our shopping trip
here
. I used the sauce to make a Cheesy Tortellini Bake. This family friendly recipe is sure to become one that is asked for again and again.
I have never tried a refrigerated pasta sauce before. I usually buy jarred sauces when I find a good sale. The Pacific Coast Selections sauces were in the refrigerated section next to the fresh finds pasta and cheeses. You can microwave it or warm it up right on the stove. Next time, I will have to try the Alfredo variety.
To make a Cheesy Tortellini Bake you will need:
(We used a 9x9 casserole pan and the measurements below are based on that. You will need more for a larger casserole dish)
1 cup of marinara sauce
1 pound of tortellini
1 clove of garlic, minced
½ of a red pepper, sliced
½ cup of sliced red onion
3-4 leaves of fresh basil, chopped
1 ½ cups of shredded mozzarella cheese
Cook the tortellini according to package directions. Preheat oven to 400 degrees.
Fry the peppers, onions and garlic in a greased pan. We used cooking spray but olive oil would work wonderfully here. Cook these until they soften and brown a bit and then set aside.
To me, the sauce is one the most important components to any pasta dish. The Pacific Coast Marinara sauce did not disappoint. Now I can't wait to try their refrigerated Alfredo sauce.
This marinara sauce was just the right amount of chunky. It had yummy pieces of tomato and was thick enough to stick to the pasta.
Add 1 cup of marinara sauce to the cooked and drained tortellini and stir to combine.
Spray a casserole dish with cooking spray. Scoop in half of the sauced tortellini and add half of the onion, pepper, garlic mixture on top.
Sprinkle with ¾ cup of shredded mozzarella.
Add the remaining tortellini and top that with the leftover veggies and another ¾ cup of mozzarella. Finally, top with the fresh basil.
Heat in a 400 degree oven for 20 minutes. Since I used a smaller casserole dish, I cooked this in a toaster oven and it worked perfectly.
Serve and enjoy! Don't be too surprised if you don't have any leftovers.