When my twins were 18 months old, we welcomed our third child to the family. Something like a new baby can be so exciting and rewarding for parents, yet be a traumatic experience for toddlers who are getting a new sibling. A new baby is one of the most exciting things that can happen to a family, but it is an event that can make a toddler feel displaced and confused. But with your help, your toddler can come to understand the changes and know what to expect. Let's take a look at how to prepare a toddler for a new baby. You might also find Helping Toddlers Deal with Change helpful.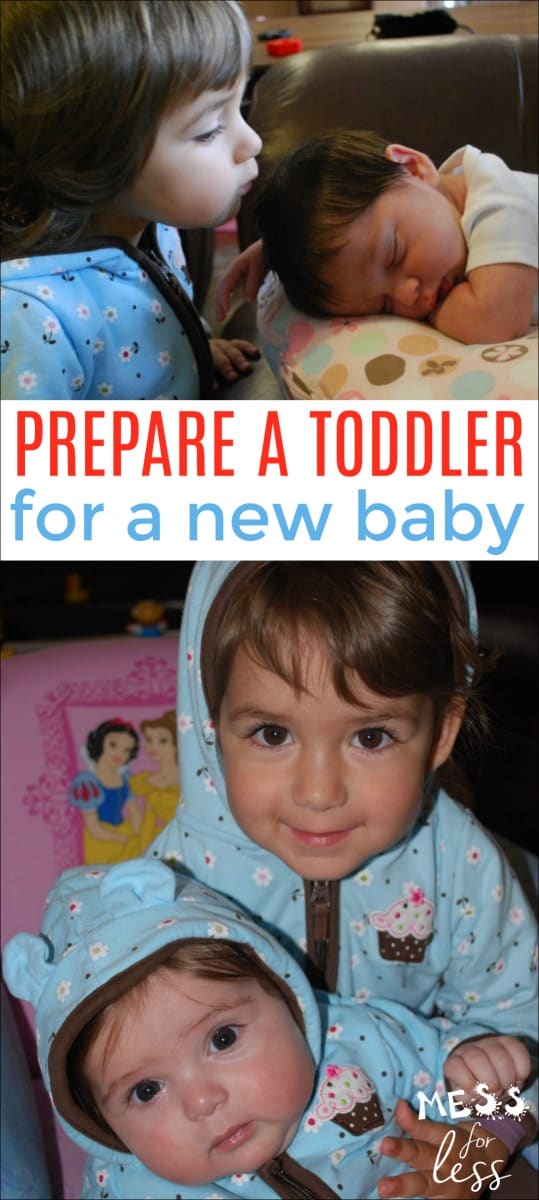 Jump to:
How to Prepare a Toddler for a New Baby
1. It all starts with the preparation.
You've had nine months to plan for and adapt to the coming of a new child. Your toddler has probably only had a few months. On top of that they really don't understand what a new baby will mean to their life. One of the best ways to help your toddler prepare for a new sibling is to help them understand what's going to change.
People don't like change and toddlers like it even less. They thrive on structure and routine. Helping your child know what to expect will ease the transition. Try to keep your conversations light while at the same time being honest and open.
For example, you can tell your child how the new baby will be a part of the family and that means a little extra work for everyone, but it also means another person to love. You can let your child know that they'll have extra responsibilities as the big brother or big sister and they may have to share. Also let them know that they'll still have time with just mommy or daddy and stick to it.
2. Get them involved in the process of caring for their new sibling.
Toddlers may be young, but they can do a lot to help. They can get you items you need to care for the baby such as bib or a baby wipe. They can play with the baby and they can help you around the house. When your toddler gets to help take care of their new sibling, they feel like they're making a contribution and they're a valuable member of the family.
3. Give them some one-on-one time.
Up until now, your toddler was used to having 100% of the attention. Parents, grandparents and friends all doted on your toddler. When a new sibling arrives, they're going to feel slighted. This is normal. Make sure to spend one-on-one time with your toddler as often as possible.
A good time to do this is when the baby is napping. In the evening before bed is also a good time. You can add a few minutes to your toddler's bedtime routine, read a story or just talk about their day.
Finally, it's important to let your toddler know how proud you are of them when they help and what a great brother or sister they are. Make room for them to grow and keep them busy with new activities such as classes and activities. They'll soon forget all about their jealousy or confusion, and they'll go from this:
to this:
Best books to prepare toddler for new baby
Related posts