What are tantrums? Merriam-Webster defines tantrum as a "fit of bad temper". All children have them. I know plenty of adults who have a "fit of bad temper" as well on occasion. Never me. 🙂 When you come to Mess For Less and get ideas for kids crafts and activities, you will see lots of photos of my happy and engaged children. If you don't know us personally, you might think things are always like that at my house. That is far from the truth. We deal with our fair share of meltdowns and temper tantrums. If you have a child of any age then chances are you have dealt with a tantrum or two as well. My kids are prone to them and some days are worse than others. Sometimes it just seems like they just wake up in a bad mood. Ever feel that way? Here are 10 Ways to Stop a Tantrum that I have found effective. You might also find How to Prepare a Toddler for a New Baby helpful.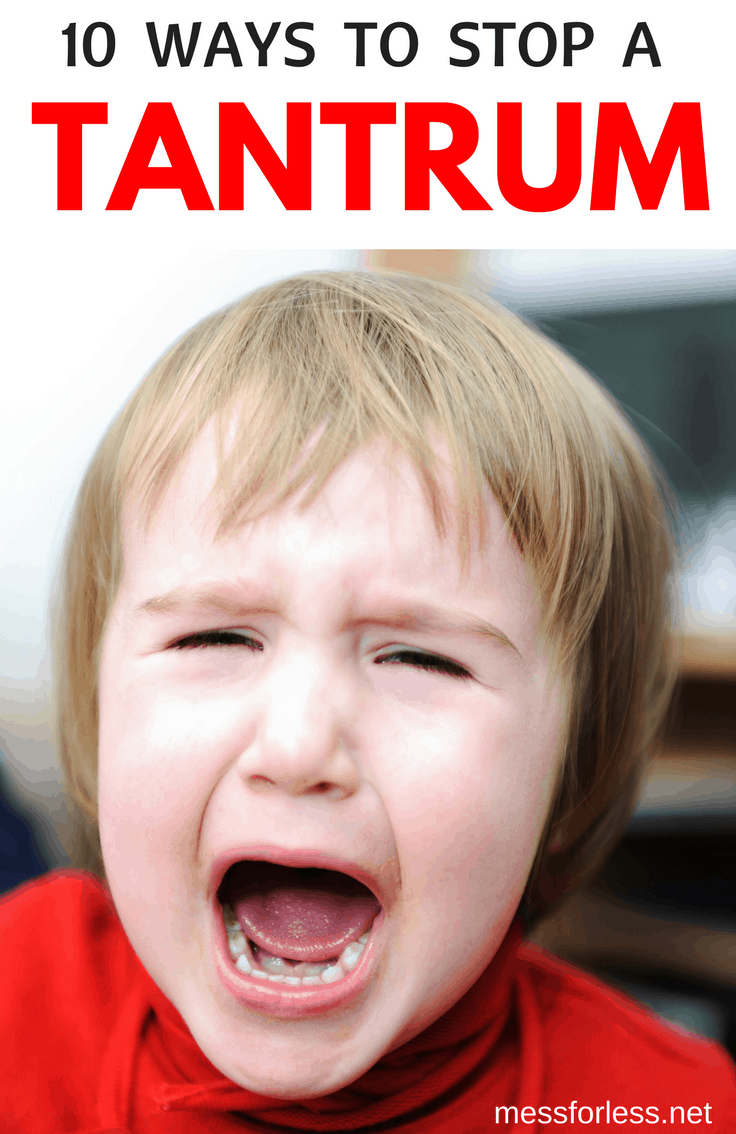 If you would like to purchase books that have helped me stop a tantrum, there is a list at the end of this post.
Ways to Stop a Tantrum
From a child's perspective, what are temper tantrums good for? Clearly, tantrums allow children to express their frustrations, but they are also a way for children to get attention. With that in mind, here are some tips and techniques we have used (in no particular order) to help stop a tantrum and restore calm to the household. You will notice many of them involve diverting a child's attention.
1. Distraction
This is a pretty easy one to employ and it works great for those times a child is upset because you won't give them something they want. "I have to tell you/show you something!" I'll say in a very excited voice. Often, that's enough to stop the tears and pique their interest.
2. Counting
We used to think my daughter B could not control her temper and outbursts. I would often think "poor kid, she can't help it." When she would be having a fit about something (she didn't get the color cup she wanted at lunch) we started counting to three and told her that if we got to three, she would go to time out. She did not want to go to time out and so she would stop crying. It would be pretty funny to see this kid going from full blown fit to quiet. It looks like maybe she could control her outbursts after all. Hmmmm...
3. Removing an item or privilege
In the midst of a meltdown, we say that we are going to take away something the child enjoys unless they can calm down. For example, "If you don't calm down and stop yelling then we will not go to the park later." Often the fear of losing something enjoyable can get kids back on track.
4. Deep breathing
Sometimes my daughters get so worked up about something that they forget to breathe and need to be reminded to do so. During calmer times, I have taught my kids how to take deep breaths and we will often do them together during a tantrum. This usually helps stop the crying and screaming on the part of the child, and truth be told, helps the parent calm down as well.
5. Tight Hugs
This goes hand in hand with the deep breathing. I find that a tight hug makes my child feel safe and they will often collapse into me since they are exhausted from the tantrum.
6. Quiet Spot
When one of my daughters was having frequent and severe tantrums, we established a "quiet spot" for her. We used a pack and play with pillows and a stuffed animal in it. Another option is a cozy corner in another room away from the action. Some pillows and stuffed animals help to diffuse the situation. We would let my daughter tell us when she was ready to come out. Sometimes when she sensed herself becoming upset, she would ask to go to her quiet spot.
7. Music
You can incorporate this with the quiet spot or use it alone. Give the child some headphones to listen to some calming music or children's songs. While a child is having a tantrum it is difficult for them to stop it and break out of their mood. The music automatically changes the mood and the headphones shut out the outside environment.
8. Using quiet voices
I find that if I am raising my voice or yelling in attempt to get the tantrum to stop, it only escalates things. It seems totally unnatural when you have a screaming and crying child to speak in a quiet voice, but it does help by not adding fuel to the fire.
9. Talk it out
This works better with older children. I use this one with my twins who are almost 4. Sometimes the fit will start so suddenly that I have no idea what caused it. When that happens, I will take the child to another room, sit them on my lap and ask them why they are upset. When they tell me, I ask "what can I do to make you feel better?" I think it helps them to have a say in the solution. Sometimes the answer is a kiss, other times it's an apology from a sibling.
10. Walk away
Sometimes, despite your best efforts, nothing works. I have found that occasionally the best thing to do is nothing. Walk away and ignore. This is the hardest of all the options because it's agonizing to listen to your child be so upset. When I have walked away and stopped giving attention, I have noticed that within a few minutes (2-10 or longer depending on how strong willed the child is) the child will stop and join the rest of the family.
Do these 10 ways to stop a tantrum always work to stop the whining and crying? No. If you have a technique that always works please let me know! Heck, even if you have a tantrum stopping technique that only works some of the time, let me know in the comments below. Every child is different. What works for one may not work for another. Try a few of these tips and see which your child responds to best. Good luck and remember when in the midst of a tantrum, this too shall pass.
Here are my favorite parenting books which contain great advice for dealing with tantrums:
Happiest Toddler on the Block
1,2,3 Magic
The Emotional Life of the Toddler
Setting Limits with Your Strong Willed Child
Boundaries with Kids
Don't forget to check out Part 2 - 10 MORE Ways to Stop a Tantrum with advice from our readers!
*No child was harmed in the writing of this post. The photo above of my youngest was taken when she was told that she could not have a third refill of juice.
If you enjoy reading about how to stop a tantrum you'll love:
10 Tips for Surviving the Terrible Twos
Stop Sibling Conflict Before it Starts