Have you found that you are spending more time indoors lately because of the harsh weather? While I know Spring is not too far away, some days it just doesn't feel like it. The days are cool and blustery and I am always wrapped up in a cozy sweater while I am at home. This kind of weather makes me want to have some friends over and hunker down with some comfort food like this Italian Pull Apart Bread. This simple recipe is always a crowd pleaser and it just might make you forget about whatever weather is going on outside. Thank you to ConAgra Foods for sponsoring this Italian Pull Apart Bread recipe. All opinions are 100% my own.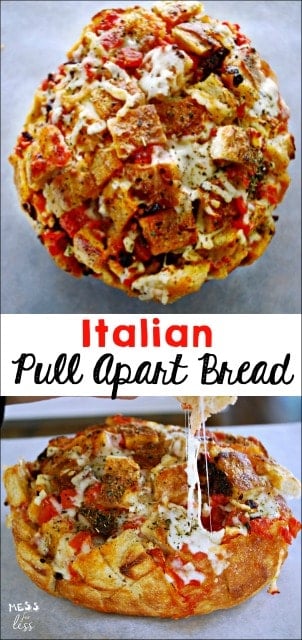 If you are entertaining friends this "Hibernation Season," then you'll be looking for some easy recipes to make that won't keep you in the kicthen for hours. This Italian Pull Apart Bread is one such recipe. You can even do all the prep work hours before and then just pop it in the oven when your guests arrive. I love to serve this bread when friends come over to group watch our favorite shows. Watching TV with a group is such a fun experience, with everyone offering up their theroies and opinions. Plus when the weather is nasty, there is nothing better than gathering with friends in front of a roaring fire while snacking and watching good TV.
Italian Pull Apart Bread
To make this Italian Pull Apart Bread I used a round sourdough loaf. It might seem a bit odd to combine sourdough with Italian flavors, but trust me it works. You can also make this with any other type of round loaf.
To start, you'll need to cut a checkerboard pattern into the round loaf, making sure to cut almost to the bottom of the loaf but not cutting all the way through. Once this is done, you'll pour melted butter over the loaf.
Now it's time to stuff the bread with the mozzarella, Hunt's Petite Diced Tomatoes and sun dried tomatoes. Be sure to thoroughly drain the Hunt's Petite Diced Tomatoes before using them.You will get your hands dirty on this step. If you have kids who like to play with their food, stuffing the bread may be just the job for them. Hunt's Petite Diced Tomatoes are perfect to use in this Italian Pull Apart Bread since they are already cut into small pieces. Hunt's juicy, red California tomatoes are picked at the peak of ripeness for an all-natural, fresh taste. They are the perfect ingredient to use in many recipes that call for tomatoes.
The easiest way I have found to stuff the bread is to do it one ingredient at a time. First, I stuffed the tomatoes into all the cuts I made in the bread. Then I added the cheese and the sun dried tomatoes. Finally I sprinkled some Italian seasoning on top.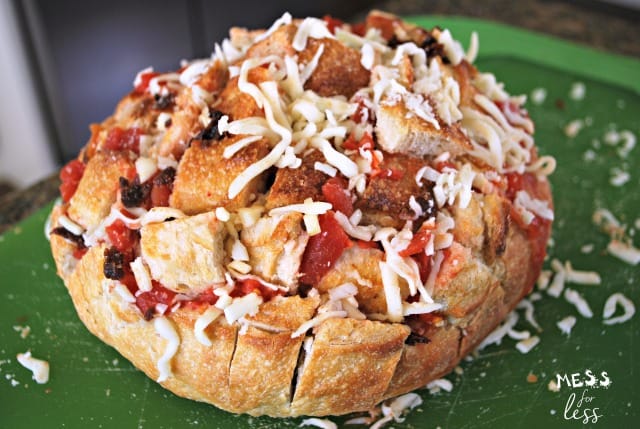 That is all the prep that is involved! Now all that is left to do is wrap the bread and pop it in the oven. Spray a length of foil with PAM Cooking Spray and wrap the bread with the foil, making sure to cover the loaf completely.
You'll bake the loaf for 20 minutes at 350 degrees then unwrap it and bake it for another 10 minutes.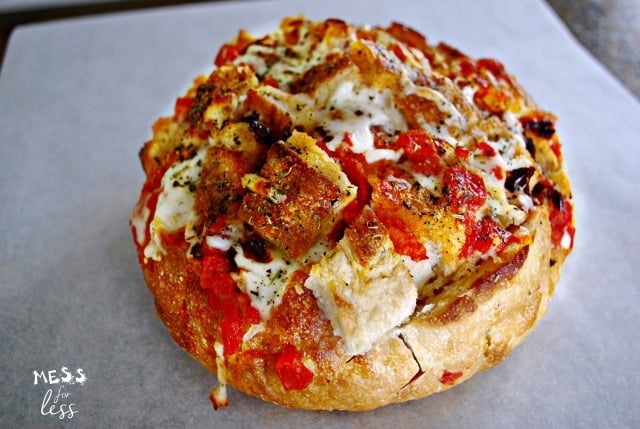 When it comes out of the oven, it will be this cheesy, crusty thing of beauty.
 You'll want to serve this to your guests while it is still warm and the mozzarella is at its gooiest.
This Italian Pull Apart Bread is the perfect thing to serve next time you host a TV viewing party during this Hibernation Season. It is warm, comforting, and simple to make.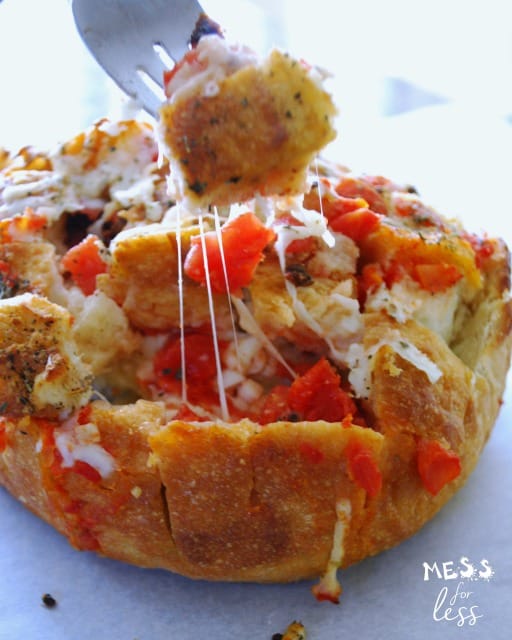 Hunt's and PAM Cooking Spray are part of ConAgra Foods. You can check out Hunt's on Facebook, Twitter and Pinterest. Visit PAM Cooking Spray at Facebook and Pinterest.
ConAgra Foods products can be found in 99 percent of American households, and include many iconic brands such as Hunt's, Hebrew National, Swiss Miss, Manwich, PAM Cooking Spray and many more. Whether on their own or as part of a delicious recipe, ConAgra Foods brands are perfect for nearly any eating or entertaining occasion.

Italian Pull Apart Bread
Ingredients
1 round loaf of sourdough bread
4 tbs butter
1 can Hunt's Petite Diced Tomatoes, drained
1 cup shredded mozzarella
2 tbs minced sun dried tomatoes
1 teaspoon Italian seasoning
PAM Cooking Spray
Instructions
Preheat oven to 350 degrees.
Cut the round loaf of bread into a checkerboard pattern, cutting almost to the bottom of the loaf, but leaving the bottom intact.
Melt butter and pour over bread, getting it in all the crevices.
Stuff the bread with the mozzarella, Hunt's Petite Diced Tomatoes and sun dried tomatoes, making sure to get into all the cuts.
Sprinkle Italian seasoning on top of the loaf.
Spray a length of aluminum foil with PAM Cooking Spray, Make sure the foil is long enough to wrap around the bread.
Wrap bread and bake at 350 degrees for 20 minutes.
Unwrap and bake for an additional 10 minutes.
Serve while warm.
Want more Mess?