Is there any better way to ring in the new year than with slime? If you ask my kids, the answer is no. If your kids are as slime obsessed as mine are, they will love this simple slime recipe. Just a few special additions turn ordinary slime into New Year's Eve Slime.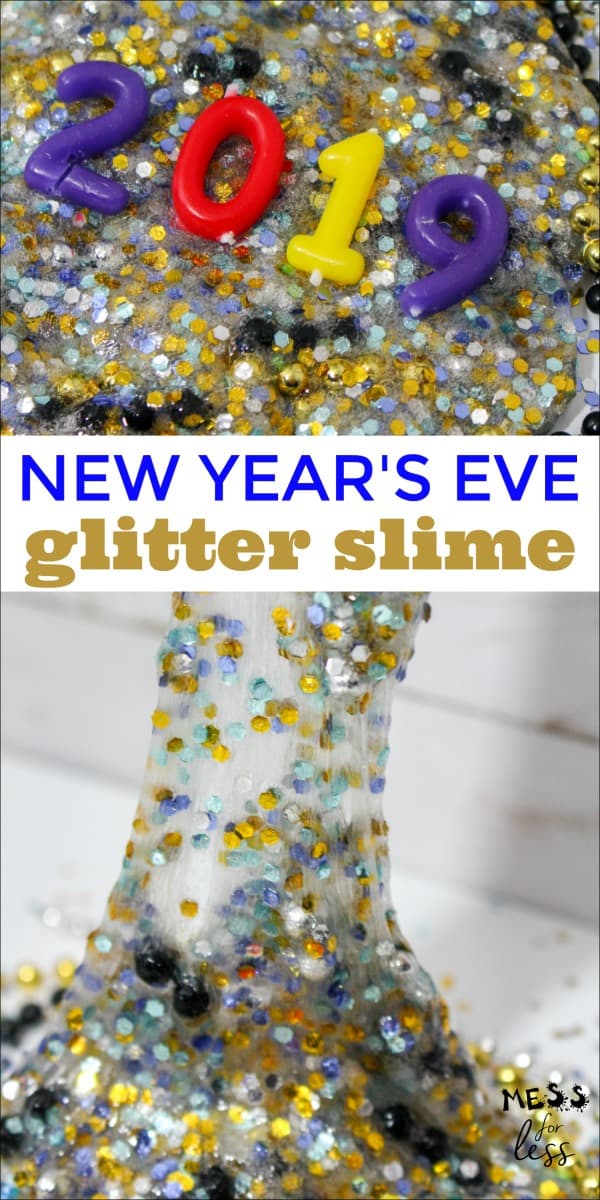 New Year's Eve Slime
Supplies to make New Year's Eve Slime:
How to make New Year's Eve Slime:
To make this fun slime recipe, cut a few of the beaded necklaces into small pieces. Have each piece range from 1-5 beads. The festive beads will give your slime extra texture.
Pour 5 oz clear glue into a large bowl. Then add 1/2 cup water. Mix the water with the glue until the glue has broken up and has been incorporated into the water.
Next, sprinkle in your glitter. I love glitter so I shake in quite a bit!
Add 1/2 teaspoon of baking soda to the slime mixture and mix. The baking soda will help determine the thickness of the slime.
Add 1 tablespoon of contact solution to the slime and mix. The slime will be ready to knead when the slime pulls away from the sides of the bowl as you are mixing. Contact solution helps to make the slime less sticky.
Knead the slime. It will be sticky at first, so just keep kneading it! If you need to, you can add a little bit more contact solution, but be careful not to over activate the slime.
Just look at all the cool colors of glitter in this New Year's Eve slime!
It sure gets me in the mood to celebrate!
To add a more personal New Year's touch, cut the sticks and wicks off the candle numbers.
Add the numbers to your slime to complete your New Year's Eve Slime.
You can use candles for whatever the new year happens to be at the time you make this slime.
Happy New Year!
This slime can be stored in an airtight container if your kids don't want to play with it right away. After noticing my kids leaving slime everywhere and finding lots of messes, I purchased these containers and they have been a life saver.
Try KiwiCo
Looking for more fun activities to do with your kids? I highly recommend KiwiCo, which you can enjoy no matter the weather. As a former teacher, I was really impressed with the quality of materials found in KiwiCo.
Some moms have told me that they want to do activities like I do on Mess For Less with their kids, but they just don't have to the time to go buy all the supplies and prepare them for the activity. KiwiCo is the perfect solution. Every month your KiwiCo will focus on a particular theme like Colors, Dinosaurs or Gardening. KiwiCo offer a variety of projects ranging from crafts, imaginative play, science experiments and more.
If you liked this New Year's Eve Slime, you'll love: