This is a sponsored post written by me on behalf of Famous Footwear for IZEA. All opinions are 100% mine.
During the summer the last thing my kids want to do is practice math. School is out, the days are long and the weather is warm. They want to be outdoors enjoying the season. With all that in mind, I created this outdoor math game which disguises learning with some fun physical activity and good old friendly competition. This math game requires just a few basic supplies and is easy to set up. So strap on those sneakers and head outside to learn and play!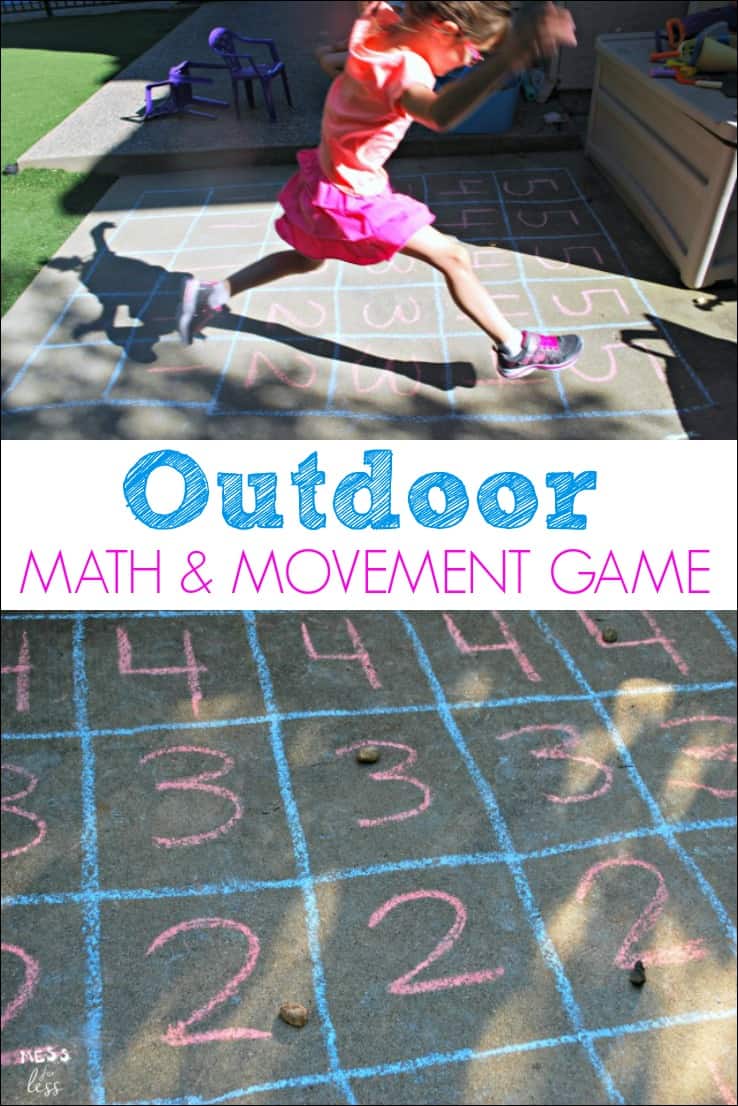 If you are going to be playing outdoors and doing lots of running and jumping, then the right footwear is essential. My girls recently got some stylish sneakers from Famous Footwear. Famous Footwear has lots of styles, both in store and online, that my kids love so it's easy to find something for every member of the family.
Don't you love the bright colors on these Adidas Lite Racer shoes in Rainbow? They are just perfect for summer! These sneakers will let my girls put their best feet forward all summer whether they are playing a math game in the backyard or strolling through our favorite theme park.
If your child still struggles with shoe tying, they will love these Skechers Kids' Swift Kicks Sneaker Pre/Grade School.They look like they have pink laces but they actually close with Velcro. These Skechers are super comfortable which make them ideal for outdoor play or any time you and the kids will be doing a lot of walking.
To enjoy some outdoor playtime with a learning twist all you need to do is create this math game in your backyard. You will need a large area of concrete, sidewalk chalk and five rocks. I drew a large grid with 30 squares and wrote 5's on the top row, 4's on the second row, 3's on the third row, 2's on the fourth row and 1's on the fifth row. I left five boxes on the bottom blank as that is where players would stand when they took their turns.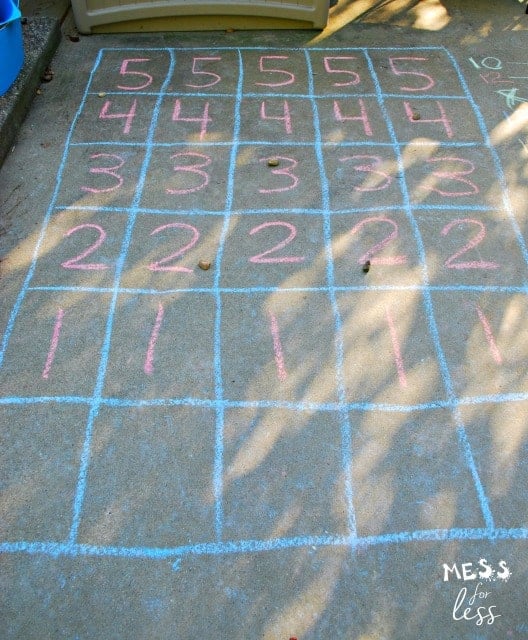 Before you start the game, gather your five rocks. My kids had fun scouring the backyard looking for rocks for the game. You will want rocks that have a little heft to them as those will land better on the numbers.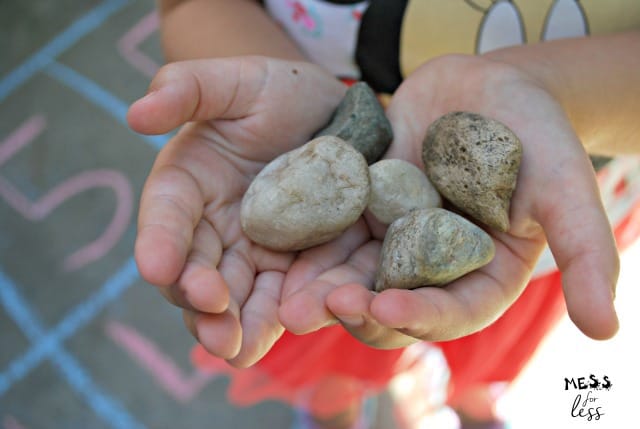 Object of the game:
To have the highest cumulative score after each round.
How to play:
A player takes turns standing in each of the empty boxes at the bottom of a row while holding a small rock. They then try to throw the rock into one of the numbered boxes in each row. A number does not count if it is in a different row than the one you are standing in. For example, if you are standing in the first row and you rock lands on a five in the 3rd row, that does not count and you have to take that rock and take the turn again. Also, if a rock lands on a line that does not count and the player takes another turn. If the rock goes off the grid either outside or to the side, the turn for that row is over and they get zero points for that row.
After a player has made throws from each of the blank boxes, they can jump to the numbers where rocks have landed and add them up. That number is their score for the round.
Here, my daughter started off standing in the first blank box. She threw a rock attempting to get it into one of the numbers in that row. Obviously, the higher the number her rock lands in, the higher the score.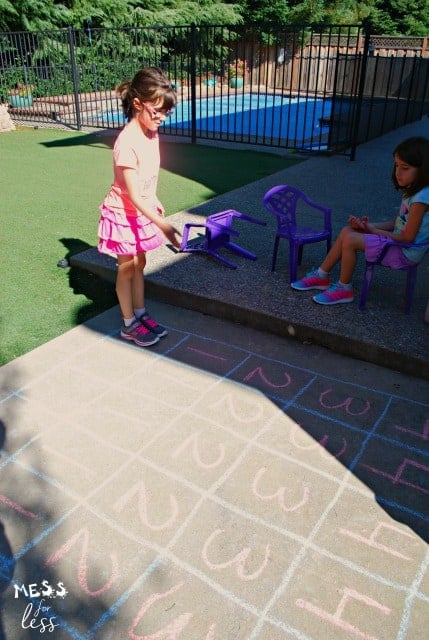 When she finished the first row she stepped in the next blank box on the bottom and threw her rock in that row. She continued the same process for each row.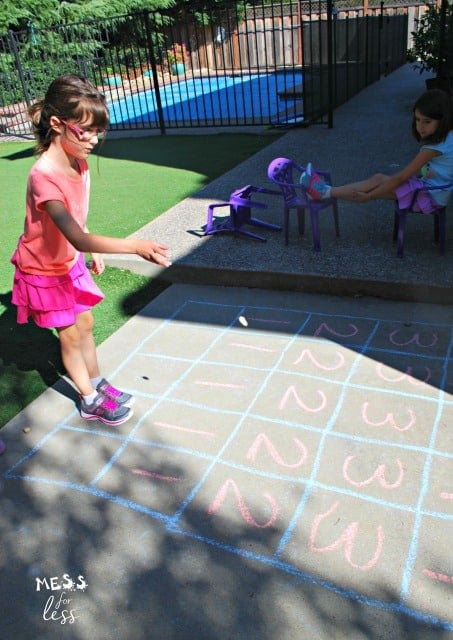 After all the rocks have been thrown, the player jumps across the game board landing on every number where a rock landed and putting their addition skills to the test. Our Skechers Swift Kicks handled the jumping, running and hopping like a champ. Plus, they helped my daughter look great while playing. They gave her outfit a fun, sporty look.
This game is great for getting kids moving and adding. As my daughter jumped around, she added up her scores from each row. We kept a tally on the side of everyone's scores from each round and whoever scored the most after everyone took their turn won the round. She ended up winning the first round and was convinced it was because of her new Skechers Swift Kicks from Famous Footwear. I'm loving how a new pair of sporty shoes made her feel super confident to rock this game!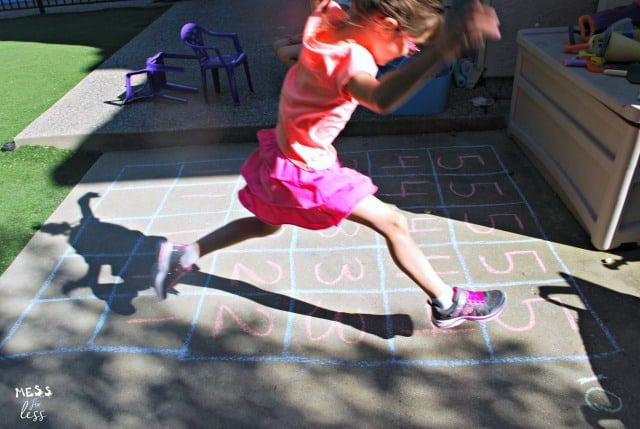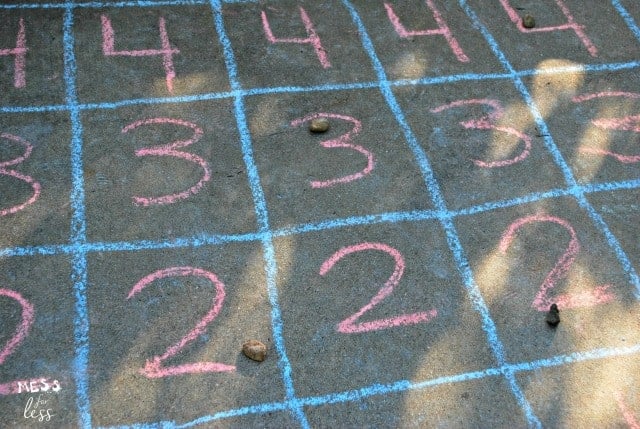 All my kids had fun playing the math game and enjoying some new shoes. My girls can be pretty picky about what they wear. During summer they are all about sandals and strappy shoes. But as soon as they laid eyes on their sneakers from Famous Footwear they were sold. The Adidas Lite Racer shoes in Rainbow were a big hit. My kids loved the bright colors and how soft these sneakers felt to the touch.
These Adidas Lite Racers are totally stylish and cool enough for my even my fashion conscious daughters. They are also great for running and jumping rope which is super important when you are 7. These shoes made my girls feel strong and powerful which I love to see. Let's all put our best foot forward this summer!
Please leave a comment and let me know your top shoe picks from Famous Footwear and how they can help you put your best foot forward. You can follow Famous Footwear on Instagram.