It's going to be a little while until we put out our Christmas tree, but there's no reason the kids can't start decorating now. I picked up some felt at my local craft store and made a fun Christmas tree math game for them to play that reinforces math and counting skills. For more Christmas fun check out these
Contact Paper Christmas Trees
.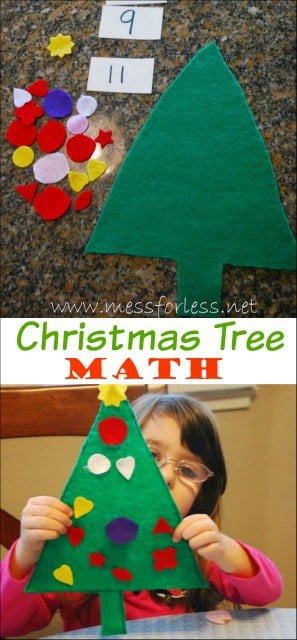 This post contains affiliate links. If you click one of them and make a purchase, Mess for Less will receive a small percentage of the sale, at no extra cost to you. These proceeds help keep the blog running. Thanks for your support!
You will need:
Scissors
Index cards or small paper
Marker
You really only need a larger piece of green felt to make a Christmas tree. If you have leftover felt, you can use that to make the ornaments and decorations.
Cut a tree out of the green felt. You can get fancy here and make a tree with branches and stuff, but my my ability in this area is limited, so I just did a triangle shaped tree.
Cut out some ornaments out of the various colors of felt that you have. I cut out some circles for balls and then remembered that I had some pre-cut felt pieces around. My decorations are a mix of pre-cut felt pieces and ones I cut out myself.
Write some numbers on your index cards. The numbers will depend on the level your child is at. My kids are pretty good at recognizing numbers and counting, so I used bigger numbers.
Give each child a stack of number cards turned face down along with an empty tree and plenty of ornaments. They can turn over the first card and count and place that many ornaments on the tree.
My daughter working on getting 10 ornaments on her tree.
When she thought she was done, she counted her ornaments to make sure she had 10 on the tree. When she finished, she removed all the ornaments, and picked a different card with another number.
One of the best things about decorating a felt tree is that the ornaments don't fall off even when you pick it up.
When the kids are done with the game they can just have fun decorating the tree however they wish. I cut out some strips of felt to use as garland and my youngest added it to her tree.
The possibilities are endless!
If you liked this Christmas Tree Math activity, you'll love:
Want more Mess? Subscribe via Email or follow us on Twitter, Facebook, or Pinterest