This Rainbow Hand Print Flower Pot post is sponsored and written by me on behalf of Huggies®. As always, all opinions are my own. I love crafting with my kids. It is a wonderful opportunity to bond, create memories and unleash our creativity. My six year old daughter and I recently made a Rainbow Hand Print Flower Pot to help get ready for St. Patrick's Day. While the rainbow makes it a fun St. Patrick's day craft, it can be used all through the Spring for planting and flowers.

For this craft you will need:
Terra cotta pot - about 6 inches high
Acryllic paint in white, light blue and rainbow colors - red, orange, yellow, green, blue, indigo, violet
Paint brushes - 1 for each color of paint
Huggies® Wipes
If you are going to make a messy craft like this Rainbow Hand Print Flower Pot, then you'll want to have Huggies® Wipes on hand. Since Kids Outgrow Diapers, Not Messes™, we always stock up on Huggies® Wipes even though my kids are now school age. Huggies® Wipes are not only found in the baby department, but in other parts of the store as well because they have so many uses.
I love the Clutch N' Clean package because it is easy to take with me thanks to the handy carrying strap. I keep one package in the car and keep one in our art area at home. I am also a fan of the colorful packaging. Aren't these patterns pretty? Huggies® Wipes come in an assortment of fun and convenient sized packages the whole family will love.
To make this flower pot craft you will start off by painting your child's hand in the colors of the rainbow. Paint stripes on the hand in this order: red, orange, yellow, green, blue, indigo, violet.
You will want to be sure that the rainbow stripes cover the entire hand. The paint starts to dry quickly on hands, so to make the process faster, use one brush for each color. This way, you don't have to clean the brush in between. When you are done, you may need to reapply the color once more if you notice that is is drying.
My daughter loved this step. She laughed as I painted her hand and just loved the way the brush felt as it ran across her fingers.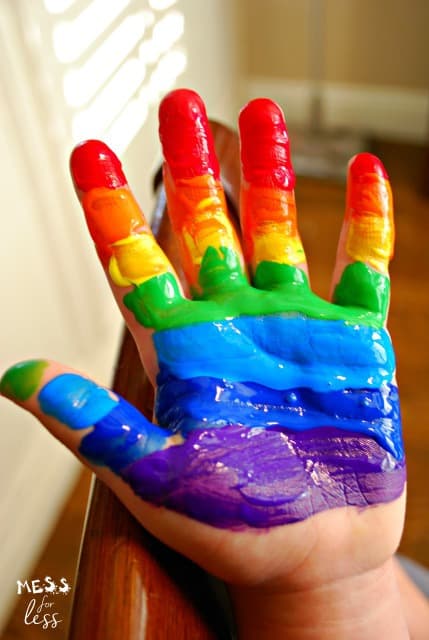 You'll want to move quickly for the next step. Take your child's hand and press it onto the base section of the terra cotta pot. If you wish, you can reapply the paint and make hand prints all the way around the base of the pot. Or you can do just one hand print in the center.
Now you are left with a child with a messy hand. Or if you have a kid like mine, two messy hands. My daughter was so delighted with her rainbow hand that she rubbed it all over her other hand, resulting in two messy hands.
Yikes! When I saw the mess I was a little intimidated. A lot of the paint had dried and I figured my daughter's hand would probably be stained. Luckily, not all baby wipes are created equal. Huggies® Wipes have TripleClean* layers that are gentle on skin and thick enough to clean the mess, even one this big. I gave my daughter some Huggies® Wipes and she got to work cleaning her hands.
Well, in a matter of moments, her hands went from mess to clean and it only took a few Huggies® Wipes to get there. So don't worry about messy hands when you make this craft. #HugTheMess with Huggies® Wipes.
Now that we had clean hands, it was time to continue working on our Rainbow Hand Print Flower Pot. In the time it took my daughter to clean her hands with Huggies® Wipes, the hand print had dried and she was able to paint the rim of the pot a light blue color. It took two coats of light blue paint to cover the rim without appearing streaky.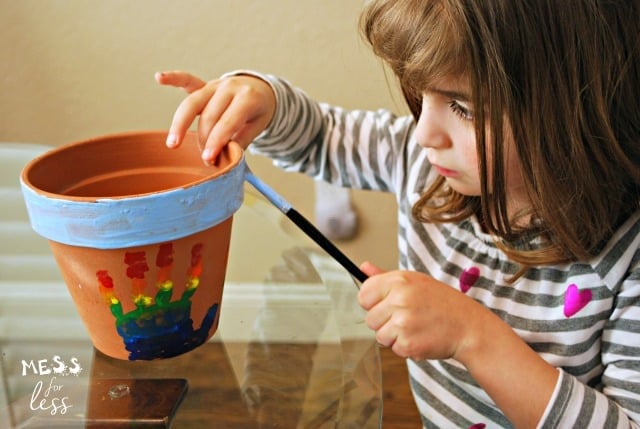 When the light blue paint dried, we added some puffy white clouds all around the rim using white paint.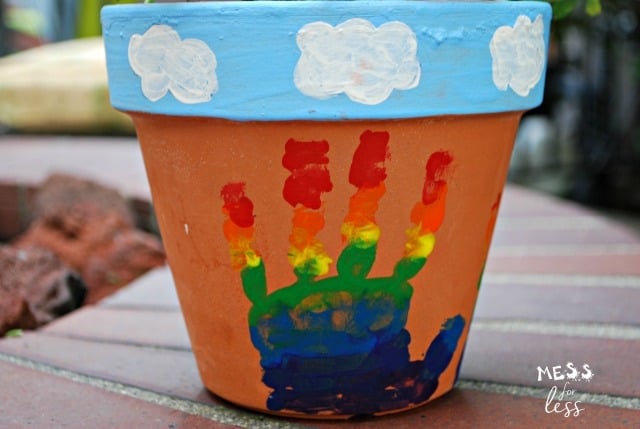 I put the pot outdoors to dry and soon it was ready to be used to display some pretty Spring flowers. Since the pot hasn't been sealed in any way, keep it out of the rain. We use it as an indoor pot and outside under our covered porch. This Rainbow Hand Print Flower Pot is a wonderful keepsake and just brightens up any area. I am going to have the kids make some for Mother's day and give them to grandma with some of her favorite flowers.