Are you looking for some new and fun ways to snack? Maybe you have guests coming over and you want to serve something simple that will please everyone. Or maybe you're just looking for snack ideas that you can enjoy while spending quality time with your family. These Southwestern Style RITZ are an easy-to-prepare snack with a bit of a kick. Check out how easy they are to make and get some other Simple Snack Ideas that you can use anytime. This is a sponsored conversation written by me on behalf of Safeway. The opinions and text are all mine.
I was at my local San Francisco Safeway and picked up these new Limited Edition RITZ Ultimate Butter. If you love RITZ and a rich buttery flavor, then you must try these. My kids usually eat traditional RITZ, but they really loved this variety.
Of course, RITZ make a great snack on their own. I often pack some in my kids lunchbox each day. But there is so much more you can do with RITZ crackers. One of my favorite ways to enjoy them is to "Stack It Up" and enjoy a RITZwich. You can use RITZ to create easy snacks that you can enjoy any time of day or for simple snack ideas when entertaining.
What's a RITZwich? A easy-to-make snack that lets you enjoy RITZ in lots of new ways and interesting flavor combinations. RITZwiches take hardly any time to put together and they use just a few ingredients. If you are looking for simple snack ideas, you must try this Cream Cheese & Mango Salsa RITZwich recipe. This recipe is especially delicious when made with Safeway's Signature Farms Fresh Made Mango Salsa.
Southwestern Style Ritz
I like serving snacks with a bit of kick so I was so excited to make these Southwestern Style RITZ with ingredients I picked up at my local Safeway. Using just 3 ingredients, they seriously could not be easier. I love to make these for entertaining because they can be put together quickly and always have my guests asking for the recipe. All you need to make them is RITZ Crackers (I used the Limited Edition RITZ Ultimate Butter), cream cheese and diced tomatoes with green chiles.
The base of the RITZwich will be a  RITZ cracker which you will top with 1/2 tablespoon of cream cheese and 1/2 tablespoon of diced tomatoes with green chilies.
You have a few options when it comes to serving these Southwestern Style Ritz. You can just top them with the cream cheese and tomatoes and serve.
Or you can top them with another RITZ cracker. I love this option because you get double the RITZ!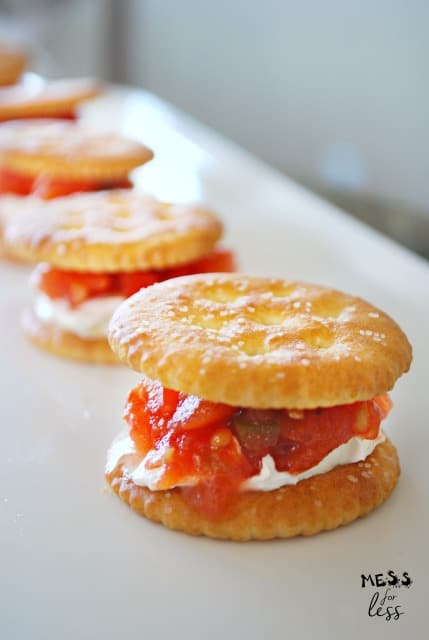 The possibilities to Stack It Up are endless when you pair RITZ with your favorite ingredients. What would you put on a RITZwich? Leave me a comment and let me know so I can give it a try.
Be sure to #stackitup and check out more simple snack ideas in this video:
Simple Snack Ideas - Southwestern Style RITZ
Ingredients
Box of RITZ Crackers
Tub of cream cheese spread
Can of diced tomatoes with green chiles
Instructions
Top RITZ cracker with ½ tablespoon of cream cheese and ½ tablespoon of diced tomatoes and green chiles.
Optional: top with a second RITZ cracker.
This is a sponsored conversation written by me on behalf of Safeway. The opinions and text are all mine.
Want more Mess?