You are going to love these Snoball Monster Cupcakes I am sharing with you today! They are fun and adorable and super easy to make. So if you signed up to bring in Halloween treats at school, I've got you covered. Start off with colorful Snoball cupcakes and add some fun details to create a snack that kids will go nuts over. Be sure to also check out this Apple Spiders Halloween Snack.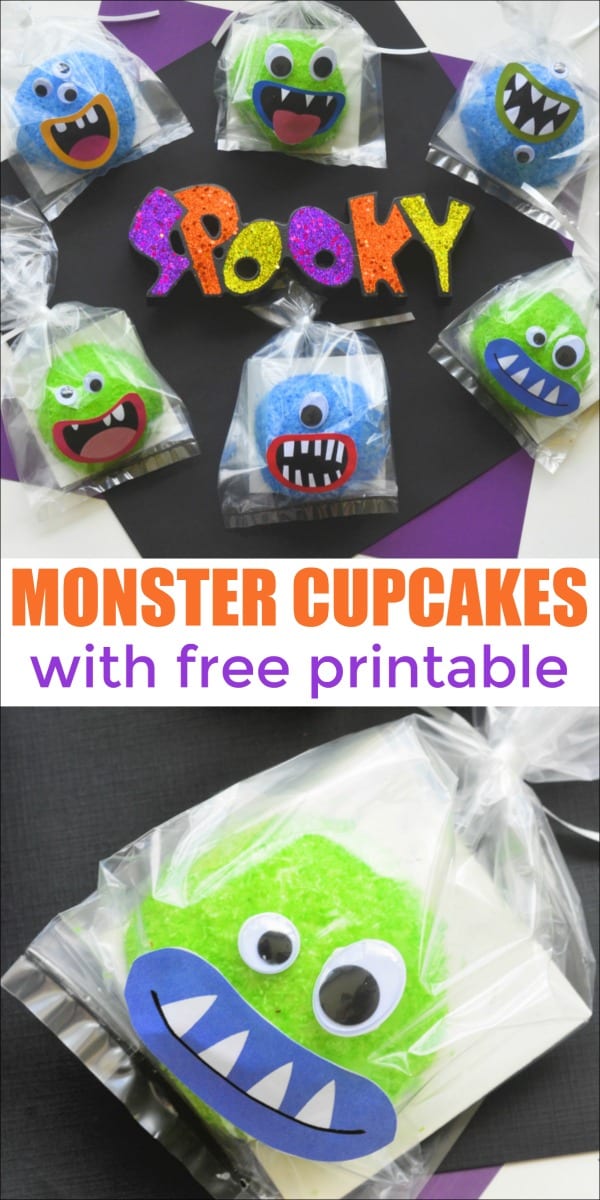 Snoball Monster Cupcakes
TERMS OF USE
This free printable may not be copied and sold or reproduced in any way. It cannot be changed or altered by you in any way and then sold as your own. If you are sharing this, you must direct people to my website and not to a link for the PDF. Do not store these on your website, on a file sharing website or on Facebook or Dropbox.
You will need:
Hostess Snoballs in green or blue (enough for your child's class if bringing to a party)
Monster mouths (free printable)
Scissors
Glue
Start by transferring the Snoballs to the treat bags. If you get a Snoball package that contains two cupcakes, simply cut the package in half.
Hold the Snoball package up to the opening of the treat bag and keep the white square underneath the Snoball. Then slide the Snoball into the treat bag. You want to do your best not to touch the Snoball with your hands.
Tie the treat bags closed right above the Snoball, using the ribbon. Try to keep the front of the bag as flat as possible when tying the bags, since you'll be gluing items to it.
GET THE MONSTER MOUTH TEMPLATE BY CLICKING HERE.
After you print the monster mouth template, cut out the monster mouths you want to use. Glue the monster mouth to the front of the treat bags, over the Snoball inside.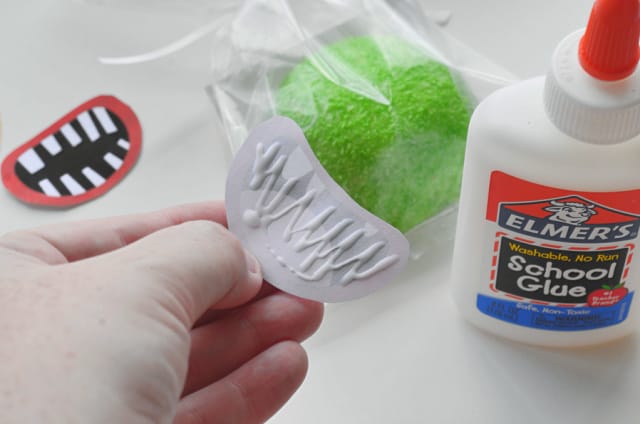 Glue the googly eyes to the front of the treat bags. I like using a variety package of googly eyes since you have so many types to choose from. You can do one large eye and one small eye, or just one big googly eye in the middle. The weirder the better!
You can also use some tape rolled behind each eye if you are finding the glue doesn't stick the eyes well. Another option is to use hot glue if you want to reduce the drying time. If you decide to use hot glue, be careful not to use too much or it might burn through the packaging.
Allow all of the glued parts to dry before sharing these Snoball Monster Cupcakes.
While these Snoball Monster Cupcakes are perfect for Halloween, they can be used any time of year as well. They would be super fun for a monster themed birthday party or anytime you want to make snacks a little more fun.
If you liked these Snoball Monster Cupcakes, you'll love: