I love cooking with fresh springtime ingredients and spinach is one of my favorite ones to use. I use spinach in salads, soups, egg dishes, and lasagna. Recently, I decided to add fresh spinach to one of our favorite meals, stuffed shells. The great thing about this recipe is that if you have family that won't touch spinach, you can introduce it in a familiar and well loved meal like stuffed shells. They will be much more likely to give it a try. Thanks to Bounty for sponsoring this Spinach Stuffed Shells post. All opinions are 100% my own.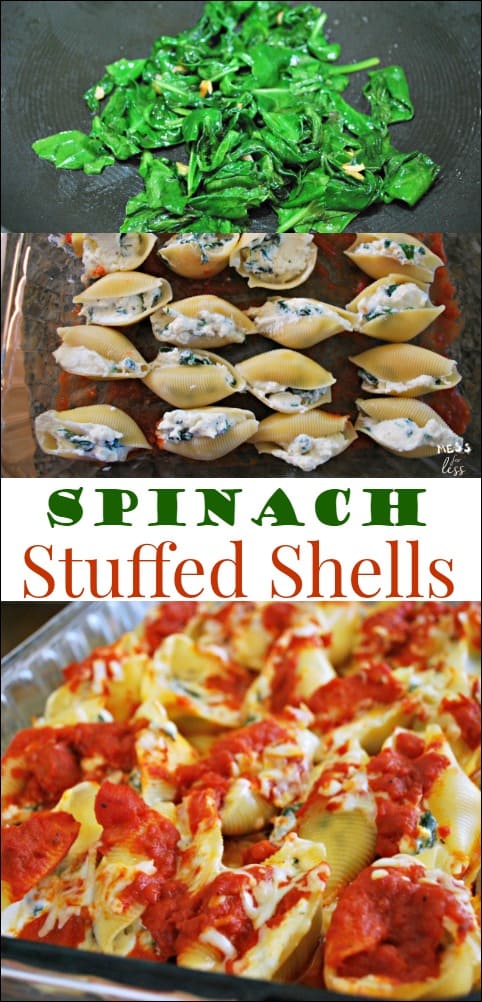 Jump to:
Why this spinach and ricotta stuffed shells is awesome
You'll love this recipe because it contains fresh veggies. There is nothing quite like fresh vegetables. The taste, the scent, and the bold colors just get me excited. On my last trip to a local farmers market, I found some beautiful spinach and I could not wait to run home and use it in a recipe. The decision to make stuffed shells was an easy one as it is one recipe that the entire family (even the kids) loves. What my kids love less are vegetables, so getting them to eat spinach is a challenge. But it becomes easier when I mix the spinach with lots of cheesy goodness.
Ingredients
jumbo pasta shells
spinach
garlic
olive oil
ricotta cheese
mozzarella
salt
black pepper
marinara sauce
How to make spinach and ricotta stuffed shells
I started by boiling the shells in a large pot under medium-high heat. I cooked them for 6-7 minutes so they were al dente since I wanted the shells to remain firm and not fall apart when I stuffed them.
To make the filling for our spinach stuffed shells, I cooked the spinach and minced garlic in olive oil. This smelled so good!
Next, I mixed the cooked spinach with ricotta, mozzarella and some traditional Italian spices. Thoroughly blend the ricotta mixture.
Then I spread some marinara sauce in a 9x13 casserole dish. I stuffed the jumbo shells with the spinach and cheese mixture and placed them in the baking dish. I made 20 shells which makes four servings.
Then it was time to pour marinara sauce on top and sprinkle more mozzarella cheese because who doesn't love more cheese?
This spinach stuffed shells recipe takes just 30 minutes to cook up in the oven. I like serving it with a salad and some Italian bread. Yum!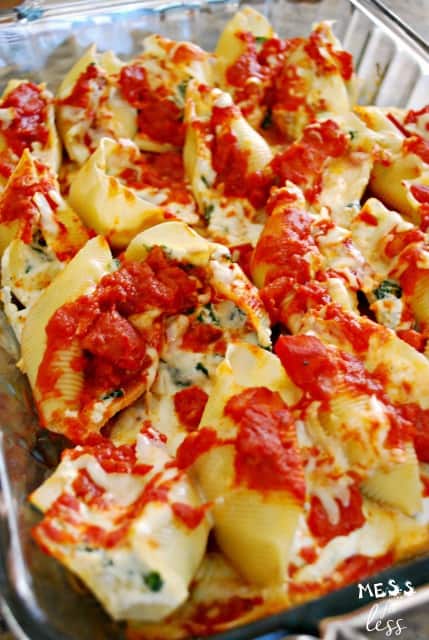 While this recipe is easy and delicious, it does not come together without a mess. I had olive oil drippings and sauce spills to contend with after this meal. But I don't need to stress out about any mess that occurs during springtime cooking because I have Bounty at my side to quickly pick up the mess.
Since Bounty is a more absorbent paper towel, the roll lasts longer and you don't need to use as much to tackle all of the saucy, cheesy mess that comes with spring cooking.
Bounty's quickness and absorbency made this mess go away real quick and my family made the spinach stuffed shells disappear just as fast!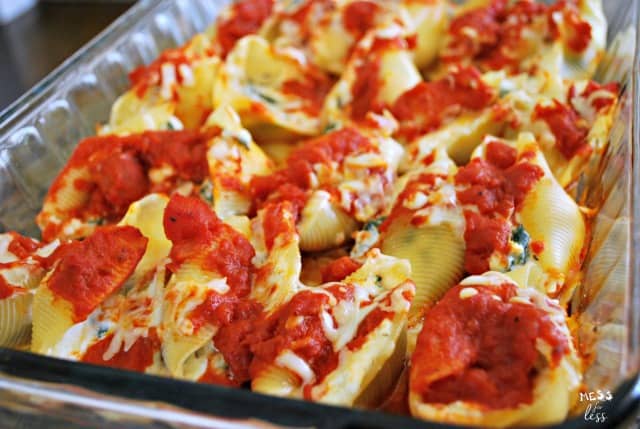 📖 Recipe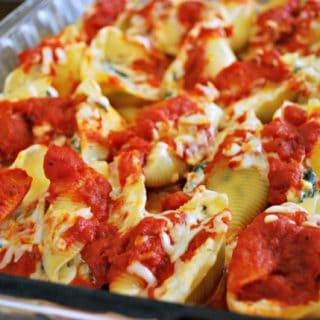 Spinach Stuffed Shells
Have a picky eater who will not touch veggies? Try this recipe for Spinach Stuffed Shells and get kids to try spinach in a familiar dish.
Print
Pin
Rate
Instructions
Preheat oven to 350 degrees.

Cook pasta shells in boiling water for 6-7 minutes. Remove, drain and set aside.

Heat olive oil in saute pan and cook garlic and 4 cups of packed spinach (remove large stems) for a few minutes until the spinach starts to wilt.

Add the spinach and garlic mixture to a large bowl containing the ricotta cheese, 1 cup of the mozzarella, salt, pepper, and Italian seasoning. Mix until well combined.

Stuff the shells with the cheese and spinach mixture.

Spread ½ cup marinara sauce on the bottom of a 9x13 casserole dish. Add stuffed shells so you have four rows of five shells.

Top shells with remaining 1 cup of mozzarella and remaining 1 cup of marinara sauce.

Bake at 350 degrees for 30 minutes.
Nutrition
Calories:
495
kcal
|
Carbohydrates:
15
g
|
Protein:
29
g
|
Fat:
35
g
|
Saturated Fat:
18
g
|
Cholesterol:
106
mg
|
Sodium:
1541
mg
|
Potassium:
654
mg
|
Fiber:
2
g
|
Sugar:
5
g
|
Vitamin A:
4135
IU
|
Vitamin C:
15.3
mg
|
Calcium:
590
mg
|
Iron:
2.7
mg
This nutritional information is approximate and was calculated using online calculators. Your nutritional information may vary depending on numerous factors.
Frequently asked questions
Can I use tomato sauce instead of marinara sauce?
Yes, that will work fine. I prefer a chunkier sauce, but use what you prefer/have on hand.
Can I use frozen spinach in this recipe?
You can use frozen spinach. If you do, then thaw according to package directions and squeeze out the liquid before using.
Can I add any meat to this?
You sure can. You can make a meat sauce using ground beef to substitute for the marinara sauce. You can also chop up cooked Italian sausage and add it to the ricotta mixture. There are many recipe variations you can use.
Related posts