I grew up on the East coast where rough winters were the norm. Eight years ago, my family moved to Northern California where the winters are not so rough. Even so, you might be surprised to know that we still get a cold, rainy winter and have many chilly days. Just a few weeks ago it was in the 30's every morning as I brought my kids to school. There was a definite chill in the air and I tried to stay indoors as much as possible, enjoying the company of friends and some comforting food like this Tex-Mex Bruschetta Recipe.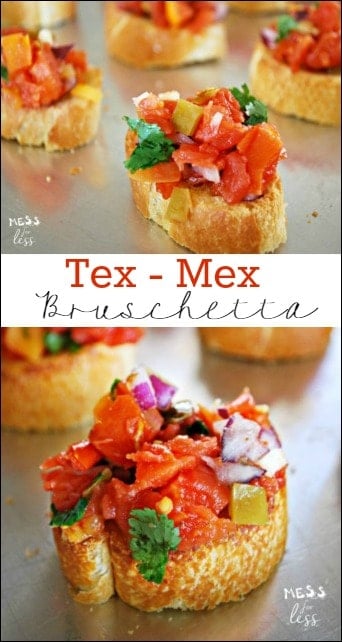 This chilly "Hibernation Season" is the perfect time stay indoors and be cozy and warm while enjoying your favorite TV shows with family and friends. We often like to enjoy snacks while group watching our favorite shows. I mean when you have a gathering of family and friends it would be rude not to provide some delicious bites, right? When I am looking for food to serve to my guests during hibernation season, I keep a few things in mind. First, I need to make something that cooks up quick. I don't want to spend all my time in the kitchen and miss out on my favorite shows. Second, I look for something that is easy to eat and doesn't necessarily require cutting or utensils. Lastly, because of the chilly weather outdoors, I try to provide my friends with hearty comfort food. This Tex-Mex Bruschetta Recipe meets all of my criteria.
Whether you are group watching a sporting event or your favorite drama, comedy or action TV show, try this Tex-Mex Bruschetta. Watching TV with friends and family is so much more fun than watching alone. I must admit, we pause quite a bit to stop and discuss or just shout out "oh no they didn't!" but that just adds to the fun!
Tex-Mex Bruschetta Recipe
Being from an Italian background. I am big fan of traditional bruschetta. I make it often when entertaining. My husband is a lover of Mexican food and thought it would be fun to add a Tex-Mex twist to traditional bruschetta. The recipe starts out like a typical bruschetta recipe - get a loaf of French bread and cut it into ½ inch slices.
After cutting your French bread, brush some olive oil on each piece. A pastry brush works perfectly for this step. Pop the bread in a 400 degree oven for 5 minutes to toast it.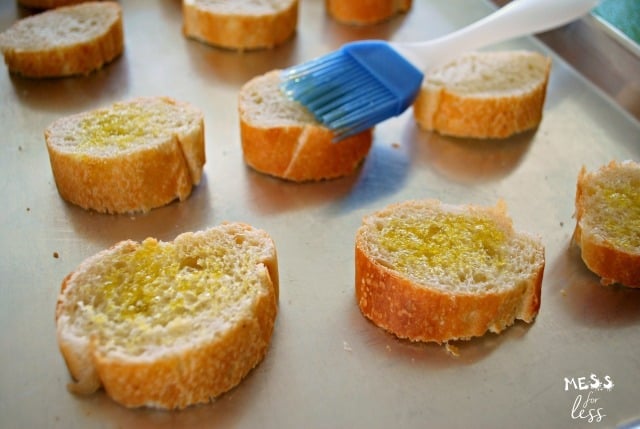 While the bread in in the oven, get the bruschetta mix ready. This is where the recipe deviates a bit from traditional bruschetta. The key to this Tex-Mex Bruschetta recipe is Diced Tomatoes and Green Chiles. The green chiles add a kick to this bruschetta that will surprise your guests in a great way.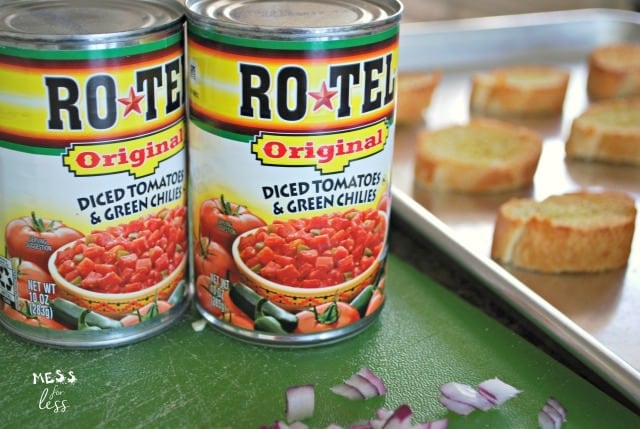 Mix all the ingredients together. I added some cilantro because I really love the fresh flavor. Some people are not fans of cilantro, and if that is the case with you, simply leave it out.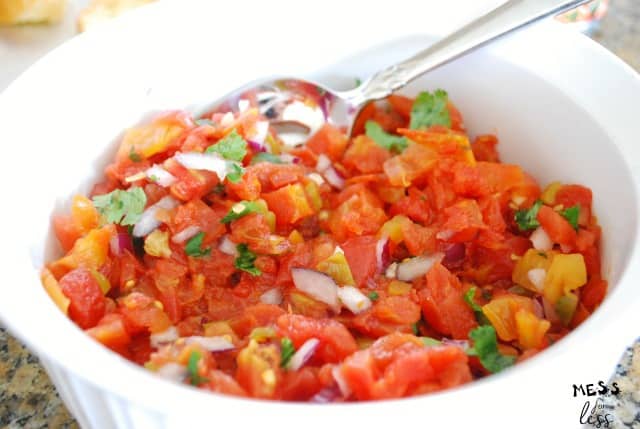 Scoop a spoonful of the bruschetta mixture onto each toasted slice of French bread and serve.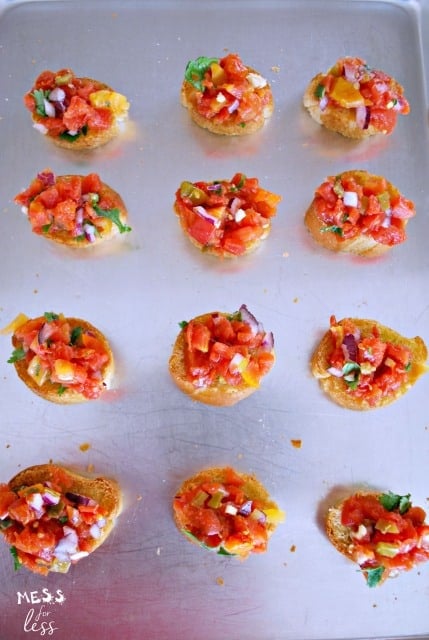 This bruschetta recipe also makes a great topping for chicken. It's versatile and easy, which is why I have been making it so much lately.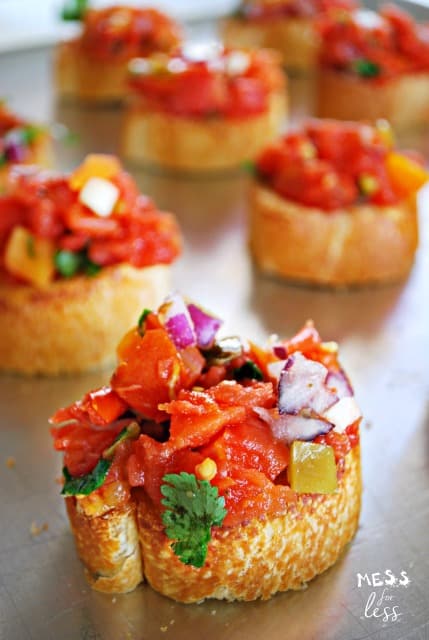 This Tex-Mex Bruschetta recipe has become one of my go-to recipes for entertaining. I love that it comes together in just a few minutes.
Hibernation season is a wonderful time to gather with friends and family and enjoy some quality entertainment and easy comfort food.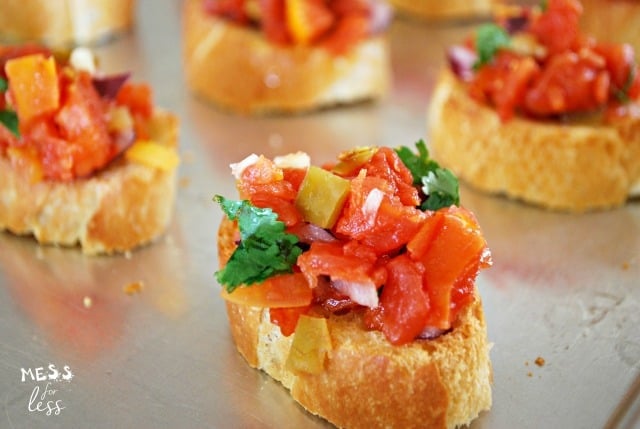 📖 Recipe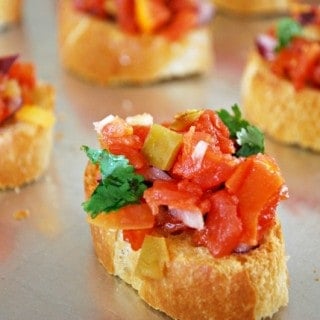 Tex-Mex Bruschetta Recipe
This Tex-Mex Bruschetta Recipe has a kick that satisfies. It takes minutes to make and is super easy. My guests kept begging for more.
Print
Pin
Rate
Instructions
Preheat oven to 400 degrees.

Cut the loaf of French bread into ½ inch slices and place on pan.

Brush the top of each slice with olive oil.

Bake at 400 degrees for 5 minutes until the tops have started to brown.

Open and drain cans of RO*TEL.

In a small bowl mix RO*TEL, garlic, onion and cilantro and set aside.

Remove bread from oven and top with RO*TEL mixture and serve.
Nutrition
Calories:
57
kcal
|
Carbohydrates:
3
g
|
Fat:
4
g
|
Sodium:
7
mg
|
Potassium:
142
mg
|
Sugar:
1
g
|
Vitamin A:
90
IU
|
Vitamin C:
7.2
mg
|
Calcium:
25
mg
|
Iron:
0.7
mg