This sponsored post about Grilled Flatbread with Pesto and Mozzarella is written by me on behalf of Kenmore Elite Grills.
One of our favorite things to make on the grill is flatbread. If you haven't tried grilled flatbread before, you are in for a treat! What I love about it, is that from one batch of dough you can make many varieties of grilled flatbread, both savory and sweet. Today I am sharing a recipe for Grilled Flatbread with Pesto and Mozzarella. For more outdoor recipes check out these Camping Recipes to Cook Outdoors.
This flatbread recipe is easy to prepare when you have an awesome grill like the Kenmore Elite Grills kenmore.com/grills. You can trust Kenmore for all your summer grilling needs. Kenmore is the most awarded brand in the industry and with good reason. Kenmore grills can turn your backyard into an outdoor kitchen. You can go from a backyard chef to a true "grill master." While mom will certainly enjoy and use a Kenmore Elite Grill, I think it would make an awesome Father's day gift. My guy loves cooking and eating outdoors. It is just such a relaxed way to do things and there is no easier way to feed a crowd than by grilling. Anytime we have a large party, we fire up the grill.
Check out these awesome Kenmore grill features:
Higher BTUs provide more power for those large gatherings.
Interior lights and exterior LED control panels so you can even grill at night.
A stainless grate that prevents rust.
Variety of attachments (only available on certain models) such as rotisserie attachments, smokers and ovens, side streamers and even a refrigerator to make grilling and entertaining easier.
Even heat distribution provides even grilling results from corner to corner.
A larger cooking surface and more burners for lots of cooking room.
Now through July 4th you can get a great deal on a kenmore.com/grills at your local Sears store. You can find awesome grilling accessories here. You can find a variety of brushes, scrubbers and covers designed to keep your Kenmore Elite Grill looking its best.
Now that you have a great grill, lets get to grilling some flatbread! You'll start off by making an easy dough. We use this same recipe to make pizza dough. It works for flatbread or pizza.
You'll get between 8 and 10 flatbreads from this recipe depending on how big you make them.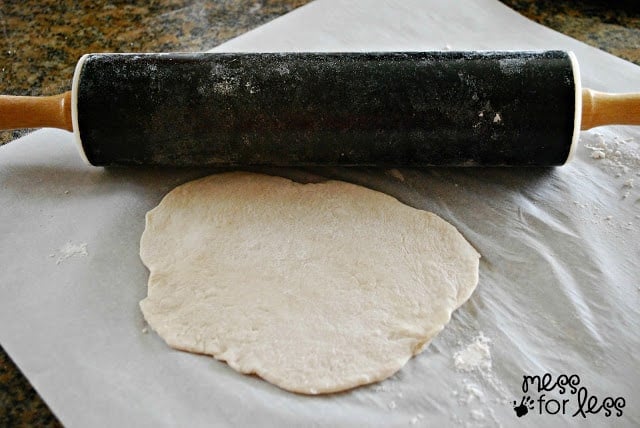 This stuff cooks up quick on the grill. Just love those char marks!
We used basil pesto on this grilled flatbread. I recently saw some sun dried tomato pesto at the store and can't wait to try that on these flatbreads. I am getting hungry just thinking about it!
Topped with perfection in the form of fresh mozzarella cheese and sun dried tomatoes.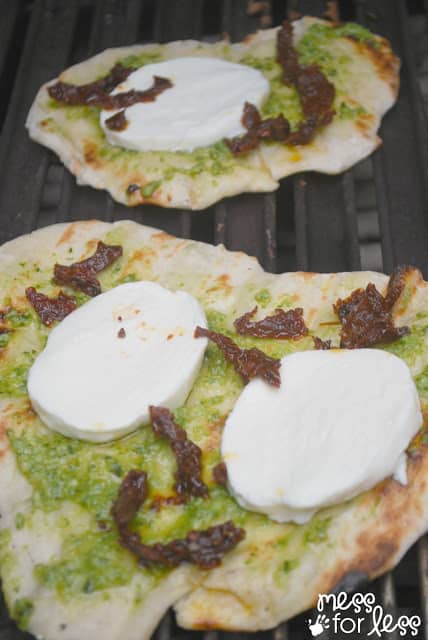 The fresh mozzarella melts beautifully with the top of the grill closed.
You can also try this with goat cheese and the results would be equally fantastic!
These cook up fairly quickly, making them a great party appetizer that your guests can personalize.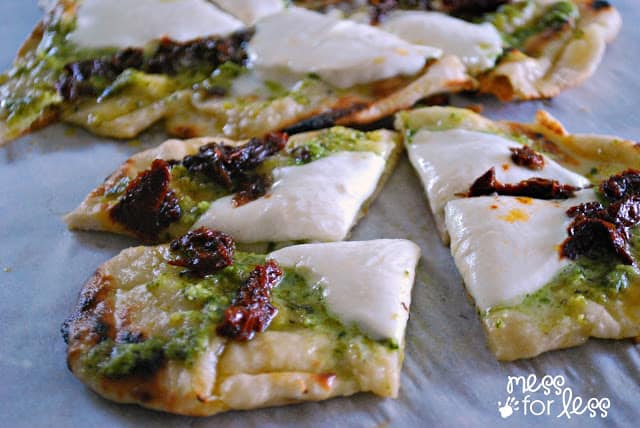 Grilled Flatbread Recipe
Makes 8-10 six to seven inch flatbreads
Ingredients:
For flatbread
2 cups flour
Dash of sugar
1 package of yeast
½ tsp salt
¾ cup warm water
Topping for each flatbread:
2 tablespoons of pesto
2 slices of fresh mozzarella
2 tablespoons sun dried tomatoes
Directions:


1. In a large bowl, mix flour, sugar, yeast and salt.
2. Heat water to 120-130 degrees and add it to the flour mixture.
3. Mix to form into dough,
4. Knead on a floured surface and form into a ball.
5. Cover the dough and let it rise for an hour until it has doubled in size.
6. Return dough to a floured surface and divide into 8-10 equal portions.
7. Roll out each portion so it is fairly thin and 6-7 inches in diameter.
8. Cook dough on a hot grill for 2-3 minutes on each side. Turn flatbread over when the dough starts getting darker and appears cooked.
9. When the bread is cooked, remove from grill and spread on pesto. Cover with sliced mozzarella and sun dried tomatoes.
10. Return to grill and set heat to low. Shut the cover and leave the flatbread in for a few minutes
until the cheese starts to melt.
For more grilling information, tips and recipes check out the Kenmore community, and the Kenmore cookmore site.
If you really want Dad to start drooling, show him this video of the Kenmore 5 Burner Island Gas Grill with refrigerator.
This is a sponsored post written by me on behalf of Kenmore Elite Grills.
Want more Mess?