Whether you have plans to go camping at some point or are looking for some fun ideas for eating outside in your yard, there are lots of great and easy recipes you can cook over an open fire. You don't even need a special reason to cook over a fire outdoors. You might just be tired of cooking every meal inside. So enjoy some variety with these Easy Camping Recipes. They are perfect for a real camping trip or just backyard camping.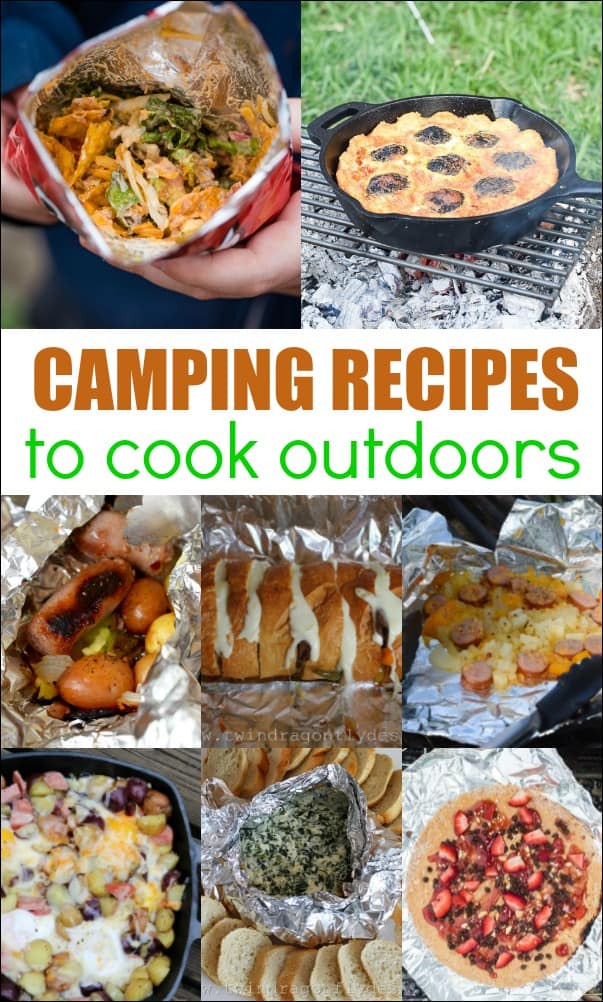 Jump to:
Why classic camping food is awesome
There is just something about sitting around a campfire cooking your food and swapping stories with family.
When you think of camping food, things like trail mix and breakfast burritos might come to mind. Maybe you have memories chili cooking in a Dutch oven on the fire.
But there are a lot more options when it comes to camping recipes. So pack up your camping stove and grill and try these easy camp meals and dishes that will make your time outdoors even better.
Camping breakfast ideas
Campfire Breakfast Pizza from Our Handcrafted Life - Is there anything better than a hot meal to start the morning after an evening camping? This campfire pizza contains eggs, sausage, cheese and potatoes. Tastes so good!
Easy camping meals for family
Campfire Philly Cheesesteak Sandwiches from Twin Dragonfly Designs - all of your favorite Philly Cheesesteak flavors cooked over an open fire.
Campfire Stew from Recipes from my Pantry - This hearty and easy stew is perfect after a long day of being in the great outdoors. Smelling it cooking in the pot just invigorates you. It contains pork, garlic, tomatoes, tomato sauce, onions, black beans, peppers and veggies. Talk about filling!
Cheesy Potato and Sausage Aluminum Foil Packet from Who Needs a Cape - You get some meat, some starch and some dairy all in one meal. The flavors work great together!
Campfire Baked Potatoes from My Turn for Us - Baked potatoes are a filling and tasty option when eating outdoors.
Campfire Walking Tacos from Adventures of Mel - Enjoy all of your favorite taco flavors in an easy to carry pouch!
Quick and Easy Skillet Enchiladas from Scattered Thoughts of a Crafty Mom - This recipe is so versatile. You can make this on the stove top or over a fire outside in a pan.
Campfire Spinach Dip from Twin Dragonflies Designs - Serve this straight out of the foil or in a bowl with some cut up French bread or crackers. You can't go wrong!
Campfire Macaroni and Cheese from Nellie Bellie - Make this ahead of time and cook it over fire for a hearty and warm way to fill your bellies on a cold night. Also makes a great side dish.
Brat and Veggie Foil Packet Meals from Who Needs a Cape - a foil packet meal is just as it sounds - throw some of your favorite ingredients in some foil and cook over fire. Perfect for a long camping trip or a short trip to the backyard.
Camping desserts
Campfire Cones from Come Together Kids - Bananas, chocolate, marshmallows and peanut butter are a winning mixture, especially when enjoyed in a cone. Easy to make over a campfire. These make a great snack.
Campfire Dessert Pizza from Spaceships and Laserbeams - You can still have a delicious dessert even when camping or cooking outside. I love the addition of white chocolate chips and strawberries in these treats.
Blackberry Cobbler from Ginger Snap Crafts - This is the perfect dessert to make and serve outdoors. If you are doing this in the backyard, you can serve it with some vanilla ice cream for extra sweetness. Yum!
Backyard S'mores from Ginger Snap Crafts - What says camping more that s'mores? Head outdoors and enjoy these graham crackers, chocolate and marshmallows any night of the week!
Related posts
Cherry Almond Granola Recipe