If you have spent any time at all at Mess for Less (first of all thank you!) then you know that crescent rolls and I are friends. Good friends. There are so many
family friendly recipes
you can make with store bought crescent rolls, whether you are looking for a sweet or savory treat. Plus they are loved by kids, always a win in my house. We have made more
crescent roll recipes
than you can shake a stick at
such as
Pepperoni Pizza Crescents
and
Peach Pie Crescents
. Today, I am combining three of my favorite ingredients: crescent rolls, cheese and pesto for these simple
Cheesy Pesto Crescents.
Crescent Roll Recipes: Cheesy Pesto Crescents
Ingredients:
8 count crescent rolls
4 string cheese
8 teaspoons pesto sauce (approx. 3 tablespoons)
This post contains affiliate links.
One of my favorite things about most crescent roll recipes are that they can be made in the
toaster oven
. Simply preheat the toaster oven to 350 degrees and in a few minutes you'll be enjoying this cheesy treat.
Unroll the tube of crescents and separate them into triangles. In each triangle place a teaspoon of pesto sauce and ½ of a string cheese. Roll into a crescent shape. Seal the edges as much as you can at this point. It might require some stretching of the dough to get the edges sealed.
Bake these cheesy pesto crescents at 375 degrees from 11-13 minutes, until the tops turn golden brown. Mine were done closer to the 11 minute mark. They are at their best when they are warm and the gooey cheese just oozes out of them.
If you are looking to feed a family and save money with make ahead meals, then one of the best resources I have found is
MyFreezEasy
. You will be able to create your own meal plans so you can make 10 to 12 meals for your freezer in less than one hour. You can choose from gluten free, slow cooker and clean eating options. You'll be able to get
10 meals
into your freezer without spending all afternoon in the kitchen.
For more crescent roll recipes, check out: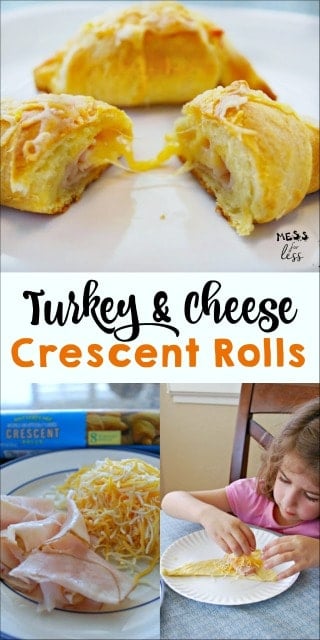 Want more Mess?